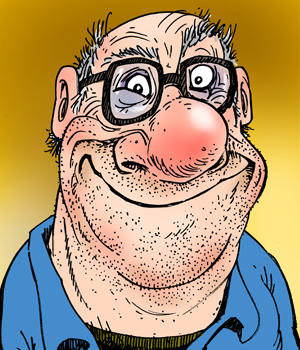 Hunt Emerson
Hunt Emerson was born in Newcastle-upon-Tyne in 1952 and he has drawn cartoons and comic strips since the early 1970s.
His work has appeared in countless magazines and comics, and he has regular long-running spots in The Beano (children's comic), Fiesta (sex magazine) and Fortean Times (journal of unexplained phenomena and weird stuff).
Hunt has published around 30 comic books and albums, mainly with Knockabout Comics (London).
Titles of Hunt's books include Calculus Cat, Hot Jazz, You are Maggie Thatcher (with Pat Mills) and his hilarious comics adaptations of Lady Chatterley's Lover, Casanova, The Rime of the Ancient Mariner and Dante's Inferno. His latest work Bloke's Progress (with Kevin Jackson) is based on the ideas of Victorian critic and philosopher John Ruskin.
Hunt has been given several comics industry awards including Strip Cartoonist of the Year and he has been the guest of comics and cartoon festivals around the world ranging from Rathdrum, Ireland to Murmansk, USSR. In 2000 he was named as one of the 75 Masters of European Comics by the CNBDI, the noted French comics Academy.
Hunt Emerson ONLINE
Web: largecow.com
Web: www.huntemerson.com
Twitter: @HuntEmerson
Facebook