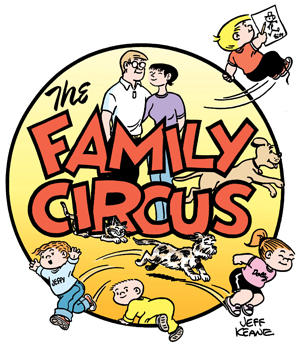 Jeff Keane
Jeff was born in 1958. Two years later, his father Bil Keane started chasing him around begging him to do something funny. So began his career as a cartoon model for "The Family Circus".
After many years and with his father's guidance, he now creates that comic, which appears daily in nearly 1,400 newspapers worldwide and is the most widely syndicated panel cartoon in the USA.
Jeff lives in Laguna Hills, CA where he created three cartoon characters of his own. Keane now chases his kids around begging them to do something funny. So "The Family Circus" keeps going around in circles.
Jeff Keane Online
Web: familycircus.com
Twitter: @dottedlines