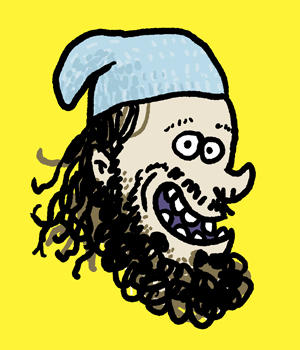 Jeroen Funke
Jeroen Funke founded comics collective Lamelos with his buddies Aleks Deurloo, Boris Peeters and Sam Peeters at the Kampen art academy in 1997 and between the four of them they've made nearly 200 comic books.
In 2018 he started his ONE BOOK A MONTH project. The subscribers, from nine different countries so far, receive a freshly made book at home every month.
Last year Lamelos had a main exhibition at Fumetto, Switzerland celebrating their 20th anniversary. Jeroen has exhibited with Lamelos or solo in Barcelona, St. Petersburg, Angoulême, Lucca, Budapest and many other places.
Together with fellow comic artist Tommy A. he successfully launched a new comics magazine for children this year. It's called BRUL! (ROAR!) and is to be published four times a year. He is also an editor for children's magazine BoekieBoekie, for which he makes a comic about Victor & Vishnu. Other characters he frequently draws are Cheesehero & Poophead and Pinky.
He sometimes makes stuff on his sewing machine and he's a part of Cardboarders, a collective of people going to festivals to build fun stuff out of 'a certain specific material' that he chooses to keep a secret.
Jeroen wears a beard on his chin and enjoys licorice and other sweets.
Jeroen Funke Online
Web: www.lamelos.nl
Instagram: @jeroenfunke
Facebook