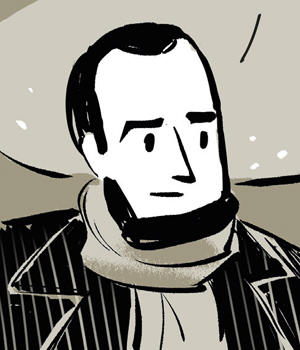 Joonas Sildre
Joonas Sildre was born in Estonia, Tallinn, where he currently lives with his wife and four kids.
He studied graphic design at the Estonian Academy of Arts (graduated 2004). Since then he has been working as a freelance comic artist, illustrator and designer.
Sildre likes to experiment with different ways of telling stories in the comics medium.
He has published two children's comic books (in 2009 and 2016) and one graphic novel "Between Two Sounds" (2018), a biography of Estonian composer Arvo Pärt.
He has compiled anthologies and organized several comics exhibitions of Estonian contemporary comics.
Sildre has been teaching comics in art schools for about 10 years and sometimes gives workshops on the subject. In 2013 became co-founder of Estonian Comics Society.
Joonas Sildre Online
Web: sildre.blogspot.com
Twitter: @tabularasaart
Instagram: @joonassildre
Tumblr