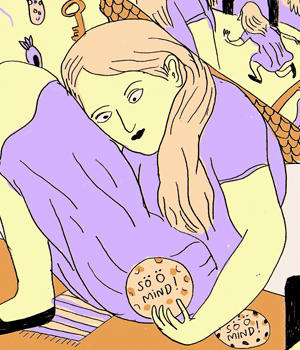 Liisa Kruusmägi
Liisa Kruusmägi is a freelance artist who mostly uses painting and drawing and works as an illustrator.
Born in Tallinn in 1988, Liisa Kruusmägi obtained a BA degree in the department of painting and an MA degree in drawing at the Estonian Academy of Arts in 2013.
Kruusmägi has taken additional courses in Rhode Island School of Design and participated in residence programmes in James Black Gallery (Vancouver), AIRY and Yosuga (Japan) and Kitokia Grafika risograph studio (Lithuania).
She has held personal exhibitions in Portugal, Sweden, Canada, Japan, USA, Lithuania, Latvia, Germany and Estonia.
She has participated in group exhibitions in London, Berlin, Slovakia, Italy, Finland and Russia.
She has been a member of the Estonian Artists' Association since 2013.
Liisa Kruusmägi Online
Web: liisakruusmagi.com
Twitter: @liisakruusmgi
Instagram: @liisakruusmagi