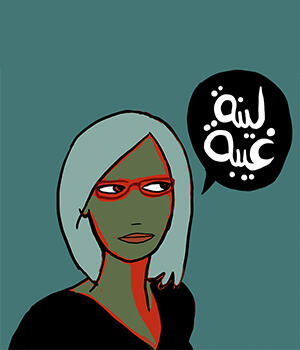 Lina Ghaibeh
Lina Ghaibeh is a half Syrian, half Danish comics and animation artist living in Beirut.
She is an associate professor at the American University of Beirut where she teaches, and is founding director of the Mu'taz and Rada Sawwaf Arabic Comics initiative at AUB.
Her academic research focuses on Comics in the Arab world as part of contemporary Arab Culture.
Lina's animation and comics work has been screened and exhibited at several international film festivals and comics Salons, and her animation shorts explore issues of identity & belonging with Beirut as a site of inspiration.
Lina is an identical twin, the evil one.
Lina Ghaibeh Online
Web: linaghaibeh.wordpress.com
The Mu'taz and Rada Sawwaf Arabic Comics Initiative
Lina Ghaibeh on The Public Source
Instagram: @linaghaibeh
Facebook