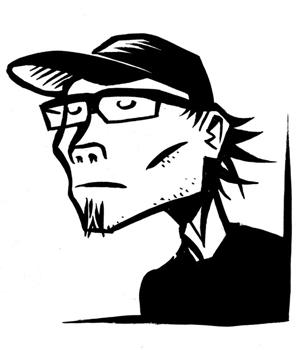 Marcel Ruijters
Marcel Ruijters is a Dutch comic artist, who is best known for his work based on medieval themes.
He studied at the Art Academy in Maastricht and started self-publishing his comic stories in 1988. He has self-published over 30 comic books, including 'Onbegrijpelijke Verhalen', 'Mandragoora', 'Fun&Games', 'Thank God it's Ugly' and five issues of 'Dr. Molotov'.
His work has been published in several alternative magazines, including Zone 5300, Coyote and Gr'nn, as well as a variety of magazines and anthologies from all over the world, such as Hopital Brut, Malefact and Stripburger.
Between 1999 and 2007, he releaed the 3-volume series 'Troglodytes' with Oog & Blik. Abroad, he published the mini-comic 'A Jest of Nature' in Canada in 1998, and several of his books were published by Le Dernier Cri in France, such as 'Bestiarium' (2004) and 'Tarot Corrupt' (2007).
His 2005 graphic novel 'Sine Qua Non' was inspired by medieval woodcuts and mysticism, and was well received in the press. In May 2008, Marcel Ruijters won the VPRO Award for best Dutch graphic novel for 'Inferno', his comic based on Dante's work, that was published by Oog & Blik.
In 2010, Ruijters released a coloured edition of 'Bestiarium', a collection of scraperboard illustrations that pays tribute to medieval manuscripts full of mythical creatures and human races. Ruijters has remained inspired by the art and stories of the Middle Ages for his next works, '1348' (Le Dernier Cri, 2010) and 'Alle Heiligen', a collection of fake saint's lives (Sherpa, 2013).
Marcel Ruijters won the prestigious Stripschapprijs in 2015. In that same year, he was commissioned to make a comic about the 16th century Dutch painter Hieronymus Bosch, on the occasion of the 500th anniversary of his death.
For his last graphic novel, Het 9e Eiland, he won the award for best Dutch comic book of 2017.
Marcel Ruijters Online