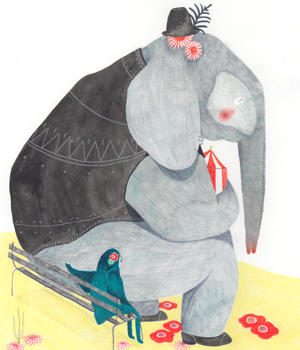 Marine Schneider
Marine Schneider is a Belgian illustrator.
Aged five she firmly affirmed that growing up she would make children books.
Fast forward fifteen years, she started studying illustration in Ghent, where her passion for picture books was only reinforced.
A traveller at heart she loves wandering through vast and preferably snowy landscapes alone or with company.
Her roamings around the world, from the very North to the very East, inspire her and nourish her stories.
Her great joy is to tell, with words as well as images, simple but beautiful stories, stories that may be sad but are beautiful nonetheless.
She has illustrated three books by Norwegian author Elisabeth Helland Larsen: Jeg er Døden, Jeg er Livet and Jeg er Klovnen (Life and I: a Story about Death, I am Life, I am a Clown, published by Little Gestalten).
Hiro, Hiver et Marshmallows, published by Versant Sud Jeunesse, is the first album she both wrote and illustrated.
Marine Schneider Online