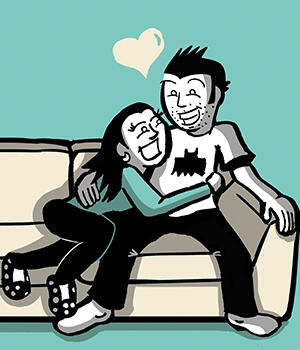 Matt Smith
Matt Smith is a Canadian/British cartoonist, comics educator and podcaster.
He has lived all over the world but currently lives in Paisley, Scotland, with his wife, son and two cats.
He is best known for his autobiographical "Smith vs Smith" series, but he also teams up with artists from around the world for his "Gruesome Comics" horror series.
Matt's comics have been published in "Sliced Quarterly," Frisson Comics' "Knock Knock" collections and Alterna Comics' "IF" horror anthology.
In 2020, he successfully Kickstarted his first full-length graphic novel, "You're Stuck With Me Now," the true story of how Matt met his Scottish wife when they were both teaching in Kuwait.
It's a clash of cultures and personalities, with plenty of cat content.
Also in 2020, Matt and his best friend, Cale Werake launched their analytical comics podcast, "Matt and Cale Read Comics".
Every two weeks, Matt and Cale dive deep into a different graphic novel, often joined by their friends from the comics industry.
Additionally, Matt has visited over 30 schools in 5 continents to run interactive, comics-making lessons based on his interactive instructional series, "Let's Draw Some Comics!".
Matt Smith Online
Web: SmithvsSmith.com
Instagram: @smithvssmithcomics
Facebook: @smithvssmithcomics