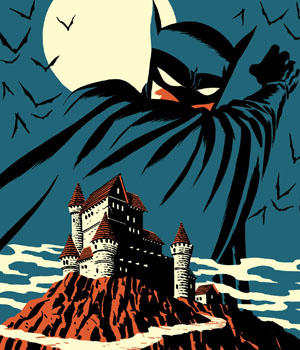 Michael Cho
Michael is best-known for his Silver and Bronze age superhero comics aesthetics and his recent reprint collection covers which have wowed the comic art world and beyond. We are proud that he has designed LICAF's 2017 artwork!
Michael Cho is a cartoonist and illustrator based in Toronto, Canada. Michael has painted covers for Penguin and Random House, drawn numerous editorial illustrations for clients like the New York Times Book Review, Entertainment Weekly and the New Yorker and has published an art book of his drawings, Back Alleys and Urban Landscapes with Drawn & Quarterly. He has also illustrated comics and covers for publishers such as Marvel and DC.
His first graphic novel, " Shoplifter" was published by Pantheon and debuted on the New York Times Bestseller List.
Read John Freeman's "Kendal Calling" interview with Michael Cho in the run up to the Lakes International Comic Art Festival 2017 - Kendal Calling: An Interview with Michael Cho
MICHAEL CHO ONLINE
Web: www.michaelcho.com
Twitter: @Michael_Cho
Instagram: @michael_cho_art