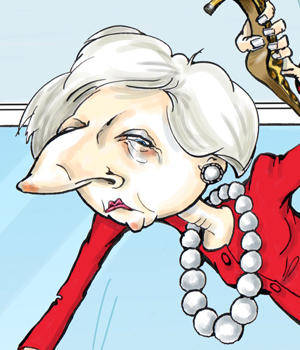 Nicola Jennings
Nicola Jennings originally trained as a theatre designer and started work designing for opera.
She began caricaturing for the London Daily News in 1987, went on to work for the Daily Mirror and the Observer, and since 1990 has worked for the Opinion & Editorial and features pages of The Guardian.
She has also produced animated cartoons for Channel 4's A Week in Politics and drawn live on BBC2's Midnight Hour. She has held caricature workshops for The Royal Drawing School.
Nicola Jennings Online
Web: www.nicolajennings.co.uk
Web: www.theguardian.com/profile/nicola-jennings