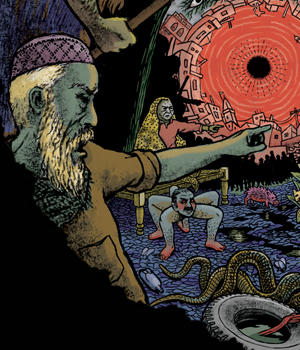 Orijit Sen
Orijit Sen (born in 1963) is a graphic artist, cartoonist and designer based in New Delhi, India.
He studied graphic design at the National Institute of Design (NID), Ahmedabad and is co-founder of People Tree - a collaborative studio and store for artists, designers and craftspeople.
Orijit started collecting and drawing comics in his early teens, and has been deeply involved with the development of comics and graphic novels in India. His pioneering work "River of Stories" (Kalpavriksh 1994) is considered to be India's first graphic novel.
Orijit is also co-founder of the Pao Collective of graphic artists, and a key figure behind the award winning "Pao: The Anthology of Comics#1" (Penguin 2012). His comics and graphic art have been widely published and exhibited internationally.
Orijit Sen Online