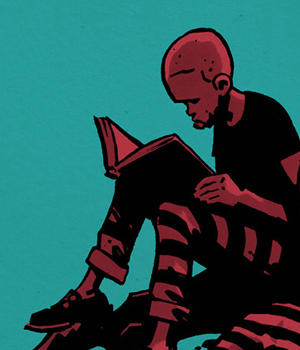 Rob Davis
Rob Davis began self-publishing his own comic, the highly experimental SLANG, in 1989.
From there, Rob made the leap from experimental into traditional when he was employed by Fleetway to reinvent British comics icon Roy of the Rovers.
After a time drawing Judge Dredd, he began working as an illustrator and cartoonist for newspapers (including The Guardian) and children's book publishers (including Scholastic).
In the last few years, Rob has returned to comics, writing and drawing Doctor Who for Panini.
His books for SelfMadeHero include the Eisner-nominated The Complete Don Quixote and the abstract adventure trilogy that began with the British Comic-Award-winning The Motherless Oven, continued with The Can Opener's Daughter and is completed by The Book of Forks, which launches at LICAF.
Rob Davis Online
Web: selfmadehero.com/creators/rob-davis
Twitter: @robgog