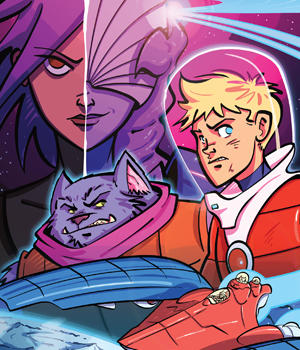 Robert Deas
Robert Deas is an award-winning UK comic artist and the creator of children's Sci-Fi series Troy Trailblazer (recently rebooted as TRAILBLAZERS) for The Phoenix Comic.
Troy's first graphic novel, Troy Trailblazer and the Horde Queen was the winner of the 2016 Stan Lee Excelsior Award Junior, voted for by young readers from over 200 schools across the UK.
Two more Trailblazers series, Call of the BioTeks and Edge of Existence have recently been released, as part of the Phoenix Colossal Comic Collection, in March.
As well as his creator led material, Robert has also worked extensively with Medikidz, a publisher specialising in medical comic books that explain illnesses to children using a team of young superheroes that travel inside the human body.
Robert's early career was characterised by a string of graphic novel adaptations of literary classics such as Manga Shakespeare: Macbeth and Pride & Prejudice for SelfMadeHero.
Other clients include Disney, IDW, The Book Trust, Rubicon Canada and First Media.
Robert works completely digitally from his home studio in Lincolnshire using a Wacom Cintiq and a combination of Autodesk Sketchbook and Adobe Photoshop.
Robert Deas Online
Web: www.rdcomics.co.uk
Twitter: @RDComics