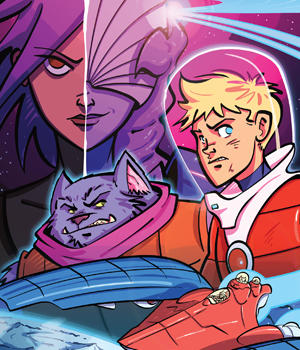 Robert Deas
Robert Deas is a UK comic artist and the creator of Troy Trailblazer, the Sci-Fi adventure series appearing inside the pages of The Phoenix Weekly Story Comic and the Sunday Times.
The fan favourite has been a regular strip since 2012 and Troy Trailblazer: And the Horde Queen has been collected as a graphic novel and nominated for a Stan Lee Excelsior Award.
As well as his creator led material, Robert has also worked extensively with Medikidz, a publisher specialising in medical comic books that explain illnesses to children using a team of young superheroes that travel inside the human body. He has worked on 8 full-length titles and helped redesign their core characters.
Robert's early career was characterised by a string of graphic novel adaptations of literary classics such as Manga Shakespeare: Macbeth and Pride & Prejudice for SelfMadeHero.
Other clients include Disney, IDW, The Book Trust, Rubicon Canada and First Media.
Robert works completely digitally from his home studio in Lincolnshire using a Wacom Cintiq21UX and a combination of Sketchbook Pro and Adobe Photoshop.
Robert Deas Online
Web: www.rdcomics.co.uk
Twitter: @RDComics