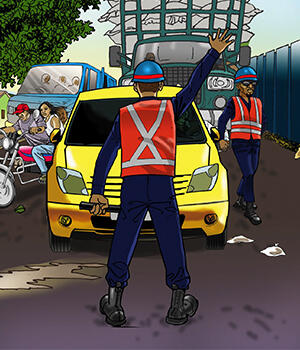 Roger Beley Alonzo
Roger Beley Alonzo is a screenwriter, author of comics, Editor-Director of the satirical newspaper Vite vu and L'escargot, and contributor to several weeklies appearing in Kinshasa.
Roger Beley Alonzo is also Director of the Congolese Comic Strip Center and President of the National Comic Strip Union of Congo.
He began his 9th art career in 1989 in the African Sport menu with the Ndaye Series, the story of a blessed scorer.
In 1991, he participated in the creation of the monthly comic strip, Évasions, published by the press group Le manager.
From 1996 to 2002, he participated in several awareness-raising projects through the Comic Strip and between 1998 and 2006, he collaborated with the review Afriquespoir by regularly scripting boards in a few issues.
Roger Beley also participates as Screenwriter and Editor-in-Chief in other comic strip magazines that are regularly released in Kinshasa: Fula Ngenge, a comic book magazine for young people, published with the support of the Government of Canada and Nkento a mini magazine for young people, comics for the promotion of the Gender approach, always with the support of the Canadian Cooperation.
In 1994, he wrote the script for the album People in Action: Zaire, Free and Democratic Elections, a commissioned production (with Albert Luba Ntolila as designer) published by the Amos Group.
Versions in Swahili (Raia katika maendeleo: Zaire uchaguzi huru na wa kidemokrasi) and Tshiluba (Bena ditunga mbadiele ngoma: Zaire masungula a mu budisuile ne budikadile bua Bantu) were published in parallel.
During the 2006 electoral process, he took an active part in sensitizing women to participate in the electoral process as voters and candidates through the comic strip Women and Elections, published by Medias BD, a publishing house that he created with the designer Albert Luba Ntolila.
Roger Beley has also published articles in numerous newspapers, magazines and websites.
Roger Beley Alonzo Onine