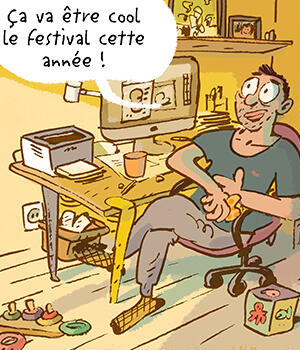 Shennawy
Shennawy is an Egyptian illustrator and graphic designer based in Belgium, Barbados & Egypt.
Born in Cairo in 1978, Shennawy studied applied arts and has worked in the advertising for 15 years.
Between 2001 and 2009 he published comics for children's magazines.
In 2009 he was selected with 20 other artists for the exhibition of 'Jeunes Talents' (Young Talents) in Angoulême.
He co-founded TokTok magazine in January 2011 and has been its editor and producer.
In 2012 he founded The 9th Art Editions which then became the official publisher of TokTok.  
He also co-founded CairoComix Festival in Cairo in 2015 and is now working as the festival's Manager and Art director.
Currently he lives in Brussels, Belgium where he works as a freelance illustrator and graphic designer.
Shennawy last published book was 'Fich w Tashbih', (publisher The 9th Art) in November 2022.
Shennawy Online
Web: www.behance.net/shennawy
Instagram: @shen.nawy