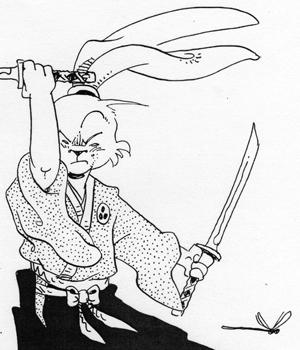 Stan Sakai
Offering a unique fusion of manga and American comics, Stan is the creator of the phenomenon which is Usagi Yojimbo, the samurai rabbit, which is a legend in its own lifetime, as is Stan!
Stan Sakai was born in Kyoto, Japan, grew up in Hawaii, and now lives in California. His creation, Usagi Yojimbo the samurai rabbit, was first published in 1984 and continues today. He does extensive research for his stories and has received numerous recognitions, including multiple Eisner Awards, a National Cartoonists Society Silver Reuben Award, and the American Library Association Award. His books can be found in libraries and has been used as text books on the college level.
Usagi has appeared as toys, on clothing, games, on television as a guest of the Teenage Mutant Ninja Turtles, and a series of trade paperback collections. The 30th volume, Thieves and Spies, was published in July, 2016. Usagi Yojimbo can be read in 14 languages.
Stan has worked on many other projects including 47 Ronin, based on one of the most famous incidents in Japanese history.
Stan lives in Southern California with his wife, Julie who is also an artist, her two children, and two dogs.
STAN SAKAI ONLINE
Web: stansakai.com
Twitter: @usagiguy
Facebook
Instagram