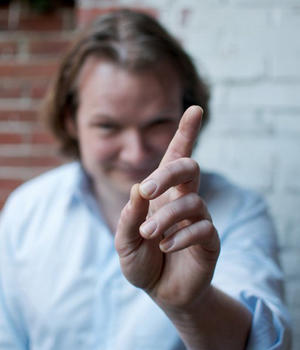 Stefan Nieuwenhuis
Stefan Nieuwenhuis is a Dutch comics journalist at NRC Handelsblad and a comics anthologist.
He is a curator and board member of the Dutch Comic Museum in Groningen. He also writes about comics for Zone 5300, Stripschrift, Tzum and StripGlossy.
He is the driving force behind Duplex, the international collaboration between poets and comics artists from The Netherlands, Belgium and Great Britain.
Two volumes of Duplex, one in Dutch and one in English, are published. The accompanying exhibition was shown last year in Cheltenham, in the context of the Cheltenham Poetry Festival, on behalf of University of Gloucestershire.
There's more Duplex to come.
Stefan lives in Groningen, in the far North of the Netherlands. He loves his records, his Viewmaster reels and, well, comics.
Stefan Nieuwenhuis online
Web: www.stefannieuwenhuis.nl
Twitter: @vonspike
Facebook