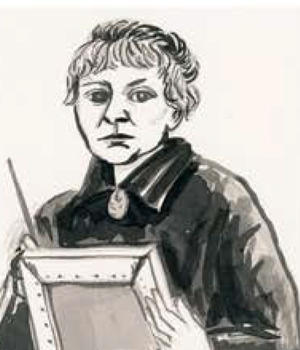 Taina Hakala
Taina Hakala is a mainly self-taught artist working on comics, painting, collage and textile art.
Hakala has participated in several group exhibitions such as the RIKKI project - art about mental health (exhibitions in Finland and in Berlin, Germany), Mums' collective (exhibitions in Finland), Girl Gang International (exhibition in Angoulême, France, collaboration with groups from United States, Britain and Finland).
In 2014 she had a private exhibition for her collage art series Sometimes I See Clearly in Helsinki.
In her cut-and-paste collages Hakala combines images from the shiny world of strict beauty norms in women's magazines adding cuttings from animal encyclopedias to create surreal visions - playing with the basic emotions of fear, envy and the need to be noticed and seen.
Hakala's comics have been published in zines (Mums' collective, and Namifetsi, Finland, Dotterbolaget, Sweden), magazines (Kuti, Ananda -magazine about yoga) and anthologies (Girl Gang International, RIKKI).
Hakala has made comics about beauty expectations, mental health issues, gender roles and family life. In her documentary comics she often shows her love and bitter sense of humour for everyday life.
Lately she has been working on histories of women artists.
Taina Hakala Online
Instagram: @tainatar