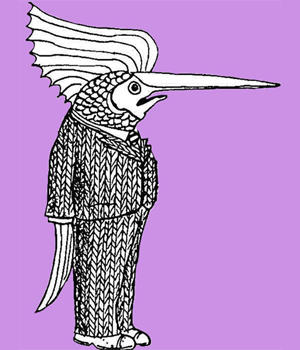 The Surreal McCoy
The Surreal McCoy is a cartoonist published in the New Yorker, Spectator, Sunday Times and many other unlikely places, illustrating books by Sandi Toksvig and Alex Bellos.
Also known as Carol Isaacs she is a musician who has worked in pop and world music with artists such as Indigo Girls (USA), Sinead O'Connor (Ireland), Squeeze (UK), Phongsit Khampee (Thailand) and Ahmed Mukhtar (Iraq).
In her recent work, The Wolf of Baghdad - a memoir of a lost homeland, the Surreal McCoy explores her Iraqi-Jewish roots through a graphic memoir with its own musical soundtrack. Based on her family's memories and recollections of their life in Baghdad, the wordless memoir will be shown as an animated slideshow accompanied by a live band (including her) playing music of Iraqi and Judeo-Arabic origin.
This audio-visual work is funded by Arts Council England and Dangoor Education (in memory of Sir Naim Dangoor).
Carol Isaacs ONLINE
Web: www.thesurrealmccoy.com
Web: thewolfofbaghdad.wordpress.com
Twitter: @TSMcartoons
Facebook