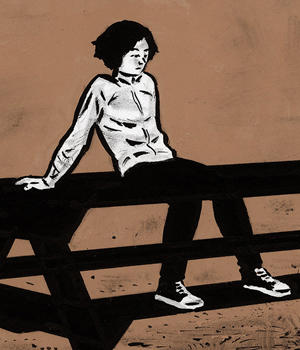 Tobias Schalken
Tobias Schalken (1972, The Netherlands) is an artist who devotes most of his time to building enigmatic sculptural installations and drawing ambiguous images.
He is co-creator of the highly acclaimed, experimental fine-art comic book series Eiland, published by Bries, later by Fremok.
The wordless miracle play Balthazar was published by Les Éditions de la Cerise. The heart of the matter, a monograph that collects a selection of short comics, sculptures and installations, drawings and paintings, was published by d'Jonge hond.
His short stories appeared in a wide variety of anthologies.
'Eldorado', his new book wherein comics, paintings and drawings are weaved into a larger narrative, was published by Oogachtend and appeared in the summer of 2018.
"Generally speaking I am not very interested in developing a style or a method, a fixed approach whatsoever. I try to let ideas become what they want, hinder them with prepossession as little as I can."
Schalken lives and works in s-Hertogenbosch.
Tobias Schalken Online
Web: www.tobiasschalken.com
Web: www.eiland.cc
Tumblr: www.tobiasschalken.tumblr.com