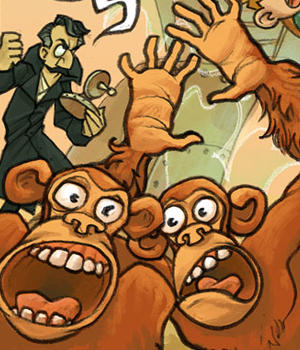 Tomáš Kučerovský
Born in 1974 in Brno, Czech Republic, Tomáš Kučerovský graduated from the Faculty of Architecture, Technical University, Brno and is co-founder of Aargh! comics magazine.
Tomáš lives in Brno and works as a freelance illustrator (book covers, editorial illustrations, advertising, storyboards, board games, game concept art, etc.)
He is a self-publisher and editor-in-chief of comics magazine Aargh! since 2000, together with Tomas Prokupek, and has participated on several comics anthologies in the Czech Republic, Poland, Macedonia, Italy, Japan, Singapore and Belgium.
In 2006 Tomáš participated in a comics workshop in Singapore held by the Asian – European Foundation.
In 2012 he was one of the participants of the Brussels in Shorts comics project and Comixiade international comics project.
Since 2012 he has been publishing a comic strip in the Czech street paper Nový Prostor.
A comics monography of his work ZOOOM No1 was published in the Czech Republic in 2012.
Tomáš has participated in more than 30 exhibitions both in the Czech Republic and abroad, including Poland, Russia, Romania, France, Netherlands, Belgium, Korea and Singapore.
Tomáš Kučerovský Online
Web: www.tomaskucerovsky.tk
Facebook
Instagram