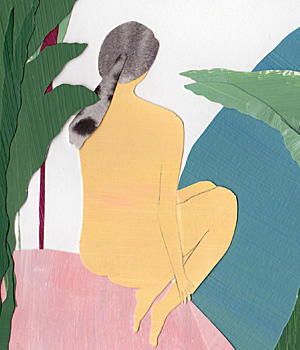 Valentine Laffitte
Valentine Laffitte is a French illustrator living in Brussels.
She experiments with the technique of collage which allows her to explore and question the idea and construction of the image.
The paper becomes a playground where everything is yet to be created, it's a way to play with shapes and colours, themes and ideas.
With this technique there is no single answer, the collage influences the different coexisting elements to create a tension between 2D and 3D, adding volume and depth to her drawings.
In April 2017, her first children book 'Little blue fear' came out at Versant Sud Jeunesse, which is a Belgian publishing house.
She is currently working on a new project 'Around the world', a book about climate change.
Valentine is part of the children's art group 'Kidzone', which she created with friends. By creating artistic installations or workshops, the idea is to define a space of free and artistic experimentation that stimulates the sensoriality of the participants.
Valentine Laffitte Online
Instagram: @valentinelaffitte
Tumblr