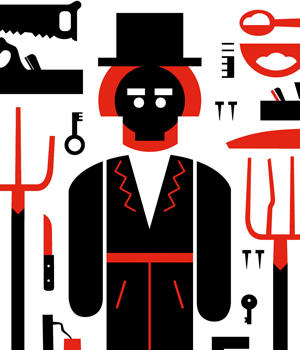 Veiko Tammjarv
Veiko Tammjarv is an Estonian comics artist, illustrator and graphic designer.
Veiko graduated from the graphic arts department of the Estonian Academy of Arts in 1996.
His interest in comics probably grew out of his love of Herluf Bidstrup's comic strip collections, seeing the works of Roy Lichtenstein and the music video for Take On Me by the Norwegian pop group A-Ha.
Veiko has cultivated a personal style that mixes pop art, infographics and classic comic book style.
His stories lack traditional speech bubbles and texts: they are similar to guidelines for using a ship's life jacket in an emergency, so readers of any nationality or language can follow the narrative through the pictures. His works cover relationships, urban culture and Estonian folklore.
Since the late 1990s, his comics have been published in various magazines and anthologies in Estonia and abroad.
Veiko Tammjarv Online
Web: veikotammjarv.voog.com
Instagram: @veikotammjarv
Facebook