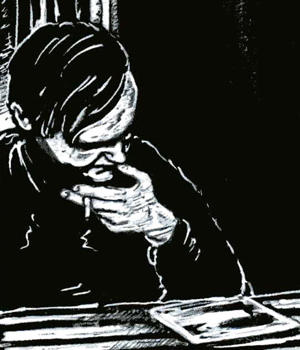 Vojtěch Mašek
Vojtěch Mašek is the author and illustrator of multiple graphic novels.
Publications include Elephants in Marienbad, Look for Doc. Woman in Everything, Pandemonium, St. Barbora, Sisters Dietl, The Dragon Never Sleeps, and more.
Most of these were awarded the Muriel Prize of the Czech comic festival KomiksFEST! for best story or best graphic novel.
He has also written many screenplays: the feature film Tomík (1999); the short Fricassé (2003), which was selected as Quinzaine des réalisateurs in the International Film Festival in Cannes; the short I'm Bigger and Stronger (2007), co-written with Džian Baban and nominated by the Oscars for a Student Academy Award; and Little Crusader (2017), co-written with Jiří Soukup and awarded a Crystal Globe for Best feature film in the 52nd International Film Festival in Karlovy Vary.
He is also the author of three plays: Off Record (co-written with Ivana Uhlířová), Black Honey and Fred Brunold's Monster Cabaret (co-written with Džian Baban), and a theater comedy series, Jožkalipnikjebožíčlověkaneumílhát! (co-written with Džian Baban).
Vojtěch Mašek Online
Web: Vojtěch Mašek profile on www.czechlit.cz
Facebook: @vojtech.masek.73