Sunday, October 15, 2017 - 11:15
Don't miss this rare opportunity to see top syndicated stars Rick Stromoski and Lynn Johnston in interview and action!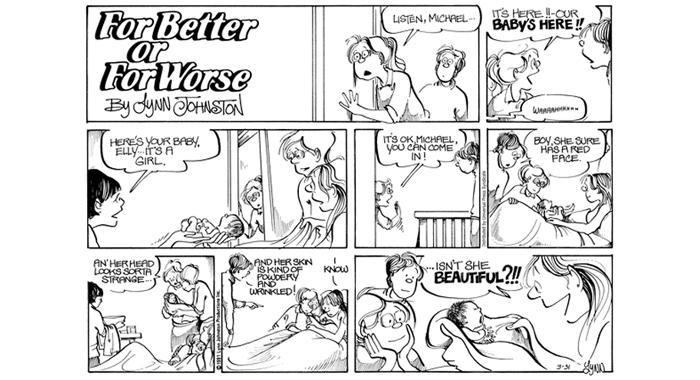 For Better or For Worse comic strip by Lynn Johnson
Artwork by Rick Stromoski
Interview/Live Draw
Sunday, 15 October, 11:15am – 12:15pm
Malt Room, Brewery Arts Centre
Rick Stromoski is one of the USA's most popular and prolific cartoonists, drawing and painting anything and everything from superheroes to urban landscapes with great style, humour and originality. Rick's work appears in magazines, children's and humour books, national advertising, licensed products and network television. His nationally syndicated newspaper comic strip, 'Soup to Nuts', appears in more than 150 newspapers.
Lynn Johnston is a Canadian cartoonist known for her newspaper comic strip 'For Better or For Worse' which has been syndicated since 1979 and, at its peak, appeared in more than 2,000 newspapers in 23 countries. Johnston was the first woman to receive a Reuben Award for Cartoonist of the Year in 1985, she has been nominated for a Pulitzer Prize, has received the Order of Canada and claims a star on Canada's Walk of Fame.
Hosted by the inimitable Jason Chatfield, Vice-Chair of the National Cartoonists' Society, this is a rare chance to see these two syndicated stars in action and discover how they have challenged "family values" in America through the medium of comics.
Stripped – Top Syndicated Cartoonists in Action is brought to you in partnership with the National Cartoonists Society.
There will be signings immediately after the event.