Saturday, October 12, 2019 - 20:15
Touko Laaksonen returns home to Finland from the harrowing experiences of World War II, but life during peacetime proves equally distressing.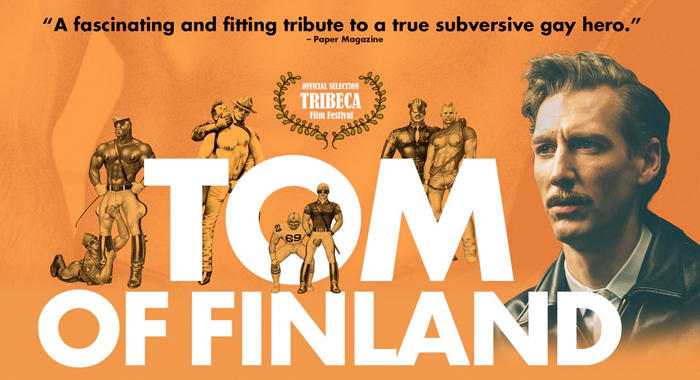 Saturday 12 October, 8.15pm
Brewery Arts Centre, £6
Tom of Finland (2017) | (18) 114mins with special introduction
He finds Helsinki rampant with persecution of homosexuals and finds refuge in his liberating art, specializing in homoerotic drawings of muscular men.
His work became the emblem of a generation of men and made famous his signature 'Tom of Finland'.
An exciting and unique exhibition for LICAF 2019... 'Let's Go Camping with Tom of Finland' in association with the Tom of Finland Foundation.
LICAF is proud to celebrate the 100th anniversary of the birth of Tom of Finland; the world's best loved queer artist, comics creator and gay icon.
Let's Go Camping with Tom of Finland includes frank and explicit erotic content and admission is restricted to those aged 18 or over.
In partnership with the Tom of Finland Foundation, Cross Lane Projects and the Finnish Institute.
Saturday 12 October, 12.30 - 1.30pm
Cross Lane Projects Gallery
Free with festival pass
A rare opportunity to welcome and listen to Durk Dehner, Founder Director of the Tom of Finland Foundation in Los Angeles, in conversation with Paul Gravett. A unique opportunity to delve deeper into the extraordinary life and works of this gay icon and superlative cartoonist and to find out more about how his legacy lives on.