We're absolutely delighted to announce award-winning comic creators Mai Koraiem and Sean Phillips as guests at this year's annual weekend long gathering in Bowness-on-Windermere, returning Friday 29th September – Sunday 1st October 2023.
Tickets are on sale now for the event with Comics Laureate Stephen L. Holland,  DC Comics and Marvel artist Gustavo Duarte, Rawand Issa, Mai Koraiem and Sean Phillips joining previously-announced guests: Mehdi Annassi, aka Machima, Charlie Adlard, Gigi Cavenago, Gerhard, Lina Ghaibeh, Peter Hogan, Michael Lark, Lucie Lomová, Dave McKean, Bill Morrison, Steve and Annie Parkhouse, Marek Rubec, Festival poster designer Mohamed Salah, Rachael Smith and "Awkward Yeti" creator Nick Sulek.
Head over to our Guests page for details of their amazing work!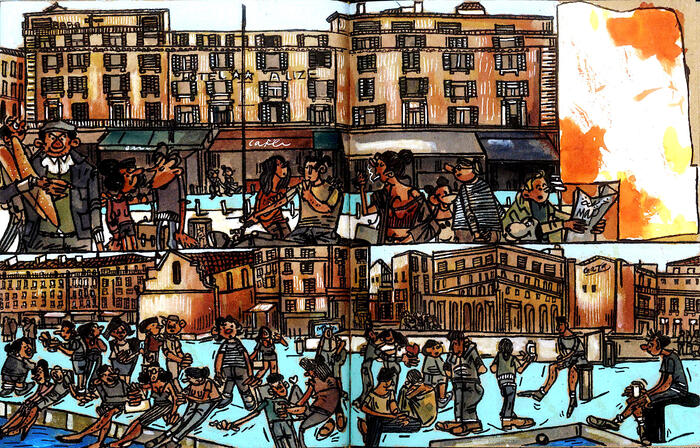 The weekend-long event will open with a never-to-be repeated opening night of comedy with comedian and comic creator Frankie Boyle and comic Josie Long on Friday 29th September – 1st October 2023.
More internationally acclaimed creators are still to be announced over the next month.
"The Lakes Festival has always featured a great range of internationally-acclaimed creators in our line-up, and this year is no exception," says Festival Director Julie Tait. "International voices bring fresh perspectives to comics and comic creation for our audiences, and it's fascinating to learn more about how the form has a voice elsewhere in the world."
The Festival's efforts to boost its offering for younger comic readers, as well as established fans, continues, with a crowdfunding campaign to support the work of its "Little LICAF" team. The organisation is determined to help grow new audiences, echoing the work of many other comic events, representatives of several of them visiting the Festival this year for an event that will provide an opportunity for an exchange of ideas.
Early backers of the Little LICAF Crowdfundr can choose to buy a Festival 2023 Weekend Ticket for just £20, but only a limited number are available.
• Head to the Festival's official web site now and book your weekend tickets at a special "Early Bird" price, an offer that ends 31st May 2023
• Buy your "Frankie Boyle and Josie Long Talk Comics" Festival Opening Night tickets here
FESTIVAL DATES: The Lakes International Comic Art Festival returns to Bowness-on-Windermere 29th September to 1st October 2023
• The Lakes International Comic Art Festival is online at: www.comicartfestival.com | Facebook | Instagram | Twitter | YouTube | Little LICAF on Facebook | Little LICAF on Instagram | Sign up for the Lakes International Comic Art Festival Newsletter