The Lakes International Comic Art Festival returns across a host of venues in Bowness-on-Windermere from 29 September – 1 October 2023, and we want you to be involved!
Festival artwork by Mohamed Salah
LICAF 2023 will be located in beautiful Bowness-on-Windermere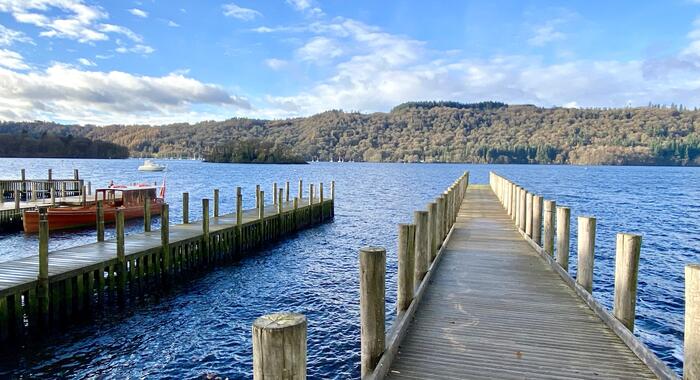 Jetty over Windermere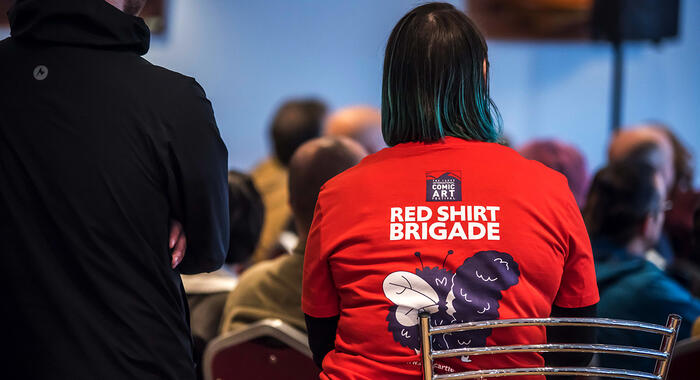 A Red Brigade Volunteer at LICAF 2022
Are you passionate about comics and comic art and enjoy being part of something big?
Start your volunteer journey here at LICAF 2023 in beautiful Bowness-on-Windermere!
The Lakes International Comic Arts Festival is extremely excited to be returning to Bowness-on-Windermere this year.
If you've not yet had the opportunity to attend the Festival this is your chance!
The Festival is a magnificent melting-pot of all things relating to comic art, manga, graphic novels and anime, celebrating all of the diverse world of comics from superheroes to graphic reportage and everything in-between. If you are interested in festivals, the arts and local events and enjoy meeting new people and making new friends, then volunteering with us for the Festival weekend may be just what you're looking for.
We have a lovely team of existing volunteers, many who have become great friends over the years. As the Festival increases in scope, we are looking to grow this team. It's a wonderful experience and so much fun! ... and for many, right on our doorstep!
Join the Red Shirt Brigade
Volunteers get to be part of the team of one of the UK's biggest comic art festivals and gain valuable work experience. We're most in need of help on the festival weekend, and the days leading up to it.
However, we're always really glad of any assistance that can be offered, and are happy for people to volunteer around their schedules, and get involved as much or as little as they're able - it all helps!
Our exceptionally talented Volunteers – known as The Red Brigade – are at the heart of LICAF and are vital to the success of the Festival each and every year.
We need a range of dedicated volunteers to help us with set-up and stewarding of this exciting festival. As a volunteer, you will assist with the smooth delivery, set up and take down of events, and be a valued member of our small but passionate team.
There is the opportunity to assist in a variety of roles
Venue Assistants / Front of House team – These volunteers help to run individual events, leading on ushering and assisting venue staff in any way necessary. Excellent customer service skills are a must and a passion for Comics is an advantage! Events can be panel interviews, live draws, workshops, presentations etc. held in one of our theatre or classroom spaces. The lucky volunteers get to see the events up close and personal.
Exhibitor Area Stewards – The Lakeside Comics Marketplace is our 'artists' alley', with lots of table holders selling, signing and sketching. We ask for help with the set-up of the venue and generally looking after the artists and members of the public during the festival weekend. This year's Marketplace will be hosted in a large, heated marquee next to Lake Windermere and will contain up to 100 exhibitor tables.
Guest Desk Liaison Assistants – We have a Guest Liaison desk located in the Tourist Information Centre on The Glebe for all guest artists to pick up their festival information pack which means that it is really, really busy at the start of the festival. We need volunteers who are comfortable interacting with artists. This is also where members of the public come with any questions and to pick up their festival wristbands… it's a busy & dynamic space!
Little LICAF Assistants – This is a fantastic opportunity for people who love working with children. We will have a bespoke marquee for our Little LICAF (family) offering – there are lots of workshops and fun particularly in encouraging young people and their parents to create comic art themselves.
Drivers – We have a limited number of Driver Volunteer positions available, driving our VIP festival guests to and from venues and the airport. You must be over 21 with a full driving licence to apply for this position. Cars with lots of luggage space an advantage! You will be reimbursed for all fuel, parking, subsistence costs etc.
Homestay Hosts – We are always looking for people to host guests in their home. It's a great way for a guest to be welcomed to the festival and for the homestay host to get to know a guest at the festival. You only need to provide bed and breakfast and will receive £25 per night per guest.  We are looking for homestay hosts in the Kendal and Bowness/Windermere areas.
Booksales Assistants – our wonderful festival bookseller sets up a large shop in the Laundrama building opposite the Old Laundry Theatre.  For those who prefer a behind the scenes role, we need volunteers to help organise taking books between different venues for post-event signing sessions etc.
Survey Takers – it's really important to our funders that we can feedback to them on the profile of our festival attendees so we need volunteers who are happy to chat to the attendees and fill out a simple questionnaire.
In exchange for your time, the LICAF volunteers will receive the following benefits
• Access to all parts of the festival across the weekend whilst off-shift
• A free LICAF Red Brigade t-shirt
• Exclusive Comic Art Festival artwork
• A unique festival atmosphere and the experience of meeting others who love comic art
• An invite to The Closing Party – to allow us to say thank you to you, and for you to chat and enjoy time with the people you've met and worked with over the weekend
Applications are now open and will close on Friday 15th September 2023
How to apply
Please download our application form below!
You will then need to please return the completed volunteer form by emailing it to Sim with your name in the subject line to
If you have any queries about volunteering, please contact Sim, our Volunteer Coordinator.