The Lakes International Comic Art Festival hits Bowness-on-Windermere this October, offering a fast expanding guest list that includes Dave Gibbons, Jaime Hernandez, Bex Ollerton, Mick McMahon, and Posy Simmonds – and we are delighted to announce that DC Comics and Marvel artist, and writer, Bryan Hitch, has joined our growing guest list.
British comic artist and writer Bryan Hitch began his career in the United Kingdom for Marvel UK in mid 1987, shortly after his 17th birthday, working on titles such as Action Force and Death's Head. He went on to gain prominence on American titles such as Wildstorm's Stormwatch and The Authority, DC Comics' JLA, and Marvel Comics' The Ultimates.
Bryan does not consider himself an artist or comic artist, but a storyteller, explaining that illustration, for him, is simply a medium to tell a story.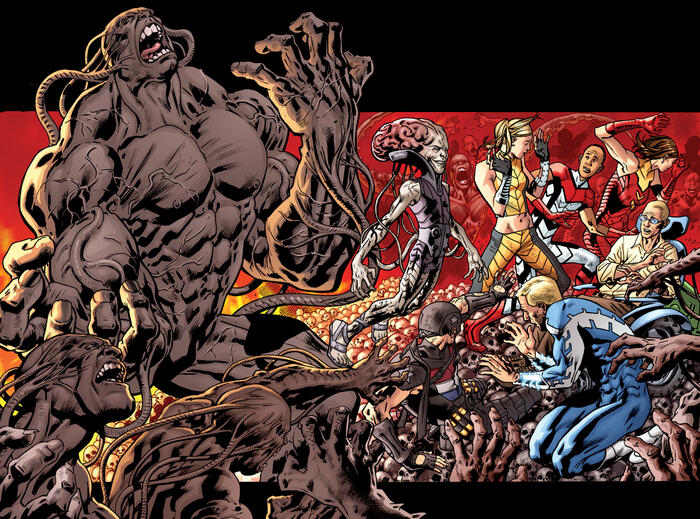 His artwork and designs have appeared in direct-to-video animated films, television, and major feature films, such as the 2009 film Star Trek, for which he has been praised by director J. J. Abrams.
His many credits outside of comics include cover art for magazines such as Empire, as a character design artist for the Ultimate Avengers and Ultimate Avengers 2 animated films, and the video game Incredible Hulk: Ultimate Destruction.
In the 2000s, he was hired by the BBC as the concept artist for the 2005 relaunch of Doctor Who, having particular input into the design of the TARDIS interior set.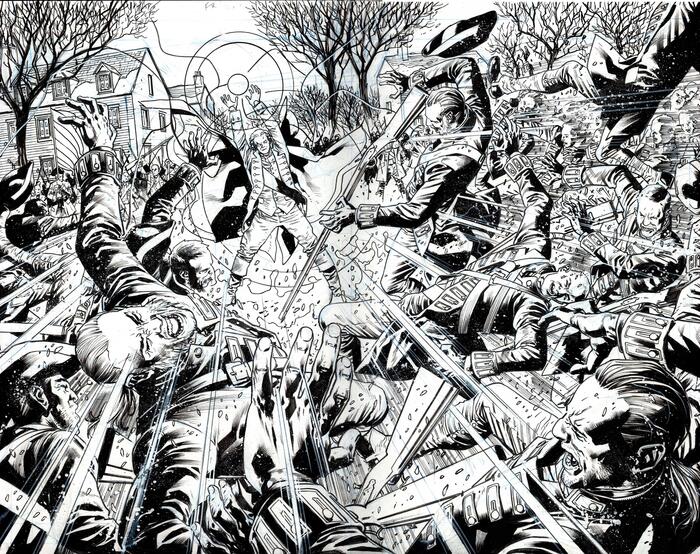 Other comics work includes the Image Comics series America's Got Powers, with writer Jonathan Ross, and six issues of the ten-issue mini-series, Age of Ultron.
His creator-owned series, Real Heroes, which he wrote and illustrated, made its debut in 2014, a story he describes as "the cast of Avengers does Galaxy Quest."
In 2015, Hitch returned DC to write and draw Justice League of America, and he and artist Tony Daniel collaborated on a new Justice League series in 2016, as part of the DC Rebirth relaunch.
Recent comic work includes Venom for Marvel, a new creator-owned character, Redcoat, and, for 2022, Superman Black Label for DC, working with Mark Waid, inked by Kevin Nowlan – and more.
Tickets for the Lakes International Comic Art Festival will go on sale soon. Watch out for further announcements about guests, events, exhibitions, family-friendly programming and more on the Festival's web site and social media.
• Bryan Hitch is online at bryanhitchart.com | Follow Bryan on Twitter
• The Lakes International Comic Art Festival will run from Friday 14th to Sunday 16th October 2022 – and is online at: www.comicartfestival.com | Lakes International Comic Art Festival Podcast: www.comicartpodcast.uk | Twitter: @comicartfestpod | Facebook: @ComicArtPodcast | Instagram: @ComicArtPodcast
Announced guests for 2022 so far, in alphabetical order, are: Dimitris Anastasiou, Lucie Arnoux, Lina Ghabeih, Dave Gibbons, Jaime Hernandez, Bryan Hitch, Andrew Humphreys, Olivier Kugler, Mick McMahon, Bill Morrison, Rebecca Ollerton, Sean Phillips, Mike Perkins, Tim Pilcher, Greg Rucka, Posy Simmonds, Fiona Stephenson, Jorg Tittel, Twin Cartoons, and Andi Watson – with many more to come!