The Lakes International Comic Art Festival is supporting local Cumbrian schools and aspiring comic creators – well, colourists – with two special initiatives.
Both are part of the organisation's outreach programme and commitment to comics as a creative art, growing the Festival activities beyond its best-known project, the annual Festival weekend in October. This work includes continued international partnerships, publishing and working with aspiring creators alongside those established to develop their skills, through workshops or projects such as Breakthrough.
We have just published a number of downloadable Colouring Sheets on its web site for anyone to simply download, print out and colour, a project funded by 2019 Festival guests Michael Lark and partner Keli Wolfe, manager and director of events and programming at the Eisner Award-winning Zeus Comics in Dallas, Texas.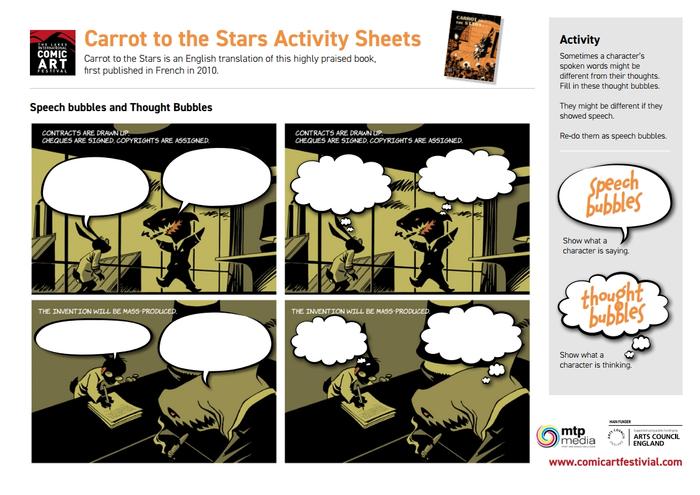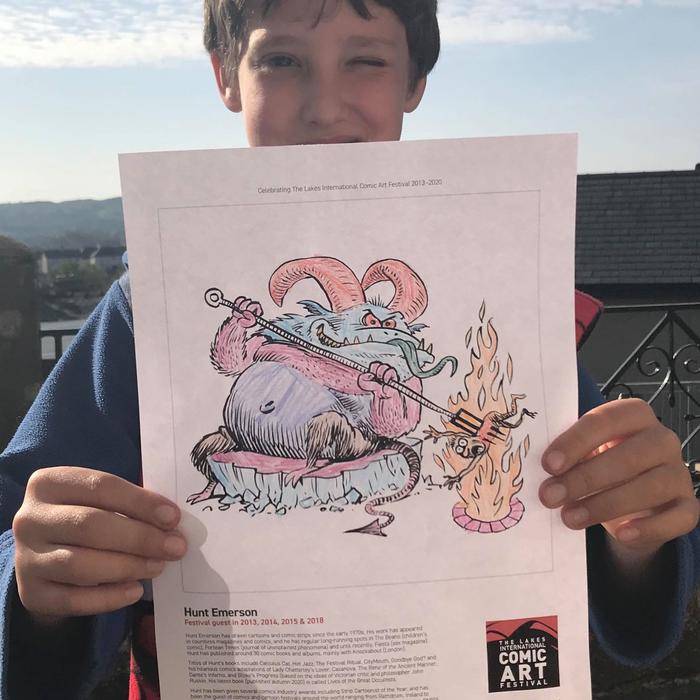 Featuring imagery from Charlie Adlard, Darryl Cunningham, Hunt Emerson, Sarah McIntyre, Junko Mizuno, Gilbert Shelton, Petteri Tikkanen and VIZ, the Festival is also challenging those who've dug out their crayons, Pentels or paintbrushes to colour them and upload them to Instagram including the hashtag #LICAFColouringComp2020.
The Festival team will pick out some of the best posted by 12 noon on Thursday 14th May 2020 UK time and choose one winner who will receive a box of Festival goodies!
To support this project, LICAF is also releasing an Animated Colouring Book, designed by Steve Kerner of Curious Road, that enables aspiring creators to use their computers and most tablets to colour the provided images online.
The Festival is also supporting comics creation in local Cumbrian schools this summer, a project co-ordinated by LICAF Community Outreach Liaison Simeon Leech.
Tote bags packed with comics goodies including Carrot to the Stars Activity Sheets, Asterix Colouring Sheets and postcards, How To Draw sheets and copies of Satoshi Kitamura's The Bird of Passage have been safely delivered to hub schools around the South Lakeland District Council area – Ghyllside Primary in Kendal, Staveley Primary in Sedbergh, PrimarySt Mary's Primary and Queen Elizabeth School in Kirkby Lonsdale, Milnthorpe Primary, Lindale Primary and Penny Bridge Primary.
The Carrot to the Stars Activity Sheets draw on Carrot to the Stars (La carotte aux étoiles) by artist Riff Reb's, a very special book that created a storm in France on its debut there, which the Lakes Festival team translated and published in English back in 2016, and is still on sale from Page 45 and AmazonUK.
A cautionary, all-ages fable, Carrot to the Stars has an elegant and eloquent simplicity, and a fearful symmetry whose missing element will haunt you . Except that, as drawn by Riff, it isn't entirely missing, and therein lies the power of its punch!
Internationally, the Festival also continues to work with partners across the globe to promote comics as an art form, despite the curtailment of the physical aspect of its many Comics Cultural Exchanges as a result of the Coronavirus Pandemic. Projects with Canada, European Union partners such as the Lyon Festival, in Africa in the Congo and Niger, and the Philippines with the new Philippines Festival, are all still in development.
"It's always been our long term ambition to expand the Festival and further support creators locally and through our online reach, commented Festival Director Julie Tait. "Our international partnerships have been a huge success and although the Coronavirus Pandemic has thrown us a bit of a curveball, we're fast developing ways to reach out to comic creators, fans and others by different means, including using the internet to share our work.
"There's no doubt this is a challenging and very worrying time for the comic creative community, but if we can find ways to explore ways to support it, working with the Arts Council, our other funding partners and like-minded organisations, we will do our very utmost to deliver."
• Check out the Colouring Sheets here on the Festival web site | Have fun with the LICAF online Animated Colouring Book
• Upload your completed colouring to Instagram including the hashtag #LICAFColouringComp2020
• Check out the colouring entries on Instagram so far at #licafcolouringcomp2020
• The Lakes International Comic Art Festival is online at: www.comicartfestival.com | Facebook | Twitter | YouTube | Podcast
• Want to receive news about the Lakes International Comic Art Festival? Then sign up for their newsletter now