Comic Art Europe has just announced the winners of its 2022 Open Call, which challenged comic creators to come up with work based on the theme, "Living Together".
Comic Art Europe features four of the leading European comics organisations, including the Lakes International Arts Festival, united by a single aim – to strengthen the comics sector in Europe, with the support of the Creative Europe programme of the European Union.
This year, the "Living Together" theme prompted plenty of great projects from across the whole Europe, and the organisation says the final choice was not easy to make, but now they'e announced the five artists who will have the chance to be accompanied and supported by Comic Art Europe.
Each artist will be awarded a 5000€ grant and a two-week residency in one of our partner institutions in order to receive help in the completion of their project.
The five artists, offering five different projects, and five different perceptions of the concept "Living Together" as as follows…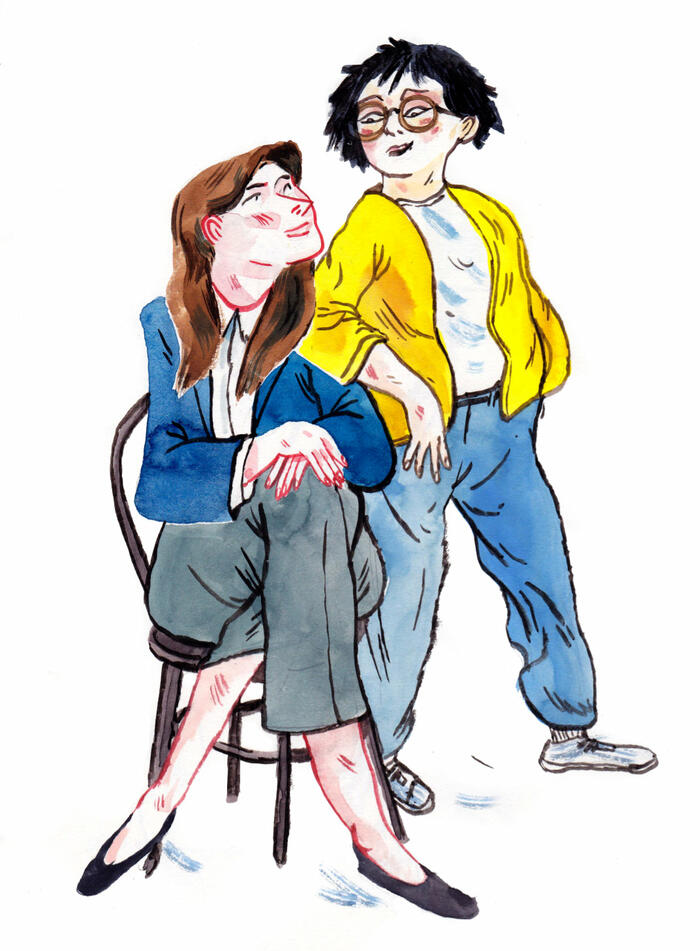 James Albon, whose comic book project, "Love Languages", is a love story between two people from different cultures who meet in Paris and develop a friendship using their intermediate levels of French. 
As they discover each other's language and culture, they find love, building a common patchwork of English, French and Cantonese… A secret love language to themselves. But as a same-sex couple, they will have to learn how to communicate about their own relationship…
James is a British author and illustrator whose clients include the Folio Society, the Wall Street Journal, The Guardian, Libération, Penguin Random House and WIRED. He studied illustration at Edinburgh College of Art, and went on to a postgraduate scholarship at the Royal Drawing School in London. 
He recently created a series of artworks for the Edinburgh Futures Institute on the future of tourism in Scotland and his latest, well-received book, The Delicacy, was published last year by Top Shelf, in which rare and delicious fungi spell trouble for an ambitious restaurateur…
His previous books are Her Bark & Her Bite (2016) and A Shining Beacon (2019).
He was awarded the Gwen May Award from the Royal Society of Painter-Printmakers in 2012, and has been a Laureate of the Rene Carcan Biennale in 2014 and 2020. His work has been widely exhibited in London, Paris, New York and Brussels, at venues including The Royal Academy, The Victoria & Albert Museum, The Museum of American Illustration, The Musée Belvue, and Christie's.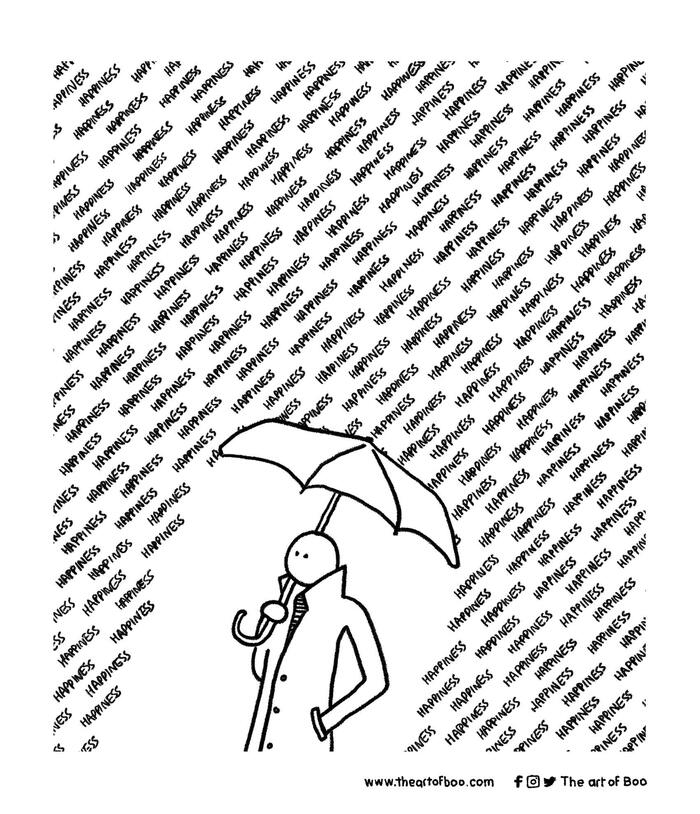 Bernard Hage, also known as "The Art of Boo", is a Lebanese author living in Germany, who's planning to write "The Philosopher", a comic book that depicts the monologue of a philosopher during an outdoor walk, in which he reflects on many things including society and human nature. As the philosopher strives to create an idealistic and ethical society, he finishes his walk and arrives at his apartment to find his roommate's dog chewing on his research paper and loses his mind over it.
Bernard is an illustrator, writer, musician and cartoonist, best for his cartoons. He's published weekly with L'Orient Le Jour since 2018, the French language Lebanese daily that offered him an insane amount of exposure in return for his drawings. His work has been hailed by regional and international media, popular blogs and his mother.
He says he chose a career in advertising that eradicated his ethics and not-so-social life simultaneously, so he quit his job in 2012. After surviving a profound existential crisis, he hosted his first solo exhibition, "Undressed – Society's Reflection in Its Brands" at Artlab gallery, Beirut, in 2014. He then published his first book of illustrated short stories and an original music soundtrack titled In the Dead of Night – Bedtime Stories for Grown Ups in 2017. 
His recent book, Anatomy of A Hummus Plate, published by 'Les Editions L'Orient Le Jour' in April 2021, is a compilation of social and political cartoons that serves as an introduction to Lebanese society. A satirical documentation of Lebanon's descent into hell, from 2019 until 2021. Launched in Beirut, the book received horrible reviews, most of which originated from furious vegans who were misled by the title and thought the content was no laughing matter.
In his spare time, Bernard composes music on his piano, labeled as "neo-experimental-medium-rare-Indie" by his intellectual middle-aged divorced neighbor, with whom Bernard agrees. Recently, his music became more appreciated among the other neighbors, as it turned out it drives burglars and bandits away. His records are mostly played on weekends, in lieu of a security system when the neighbours leave for their mountain retreat.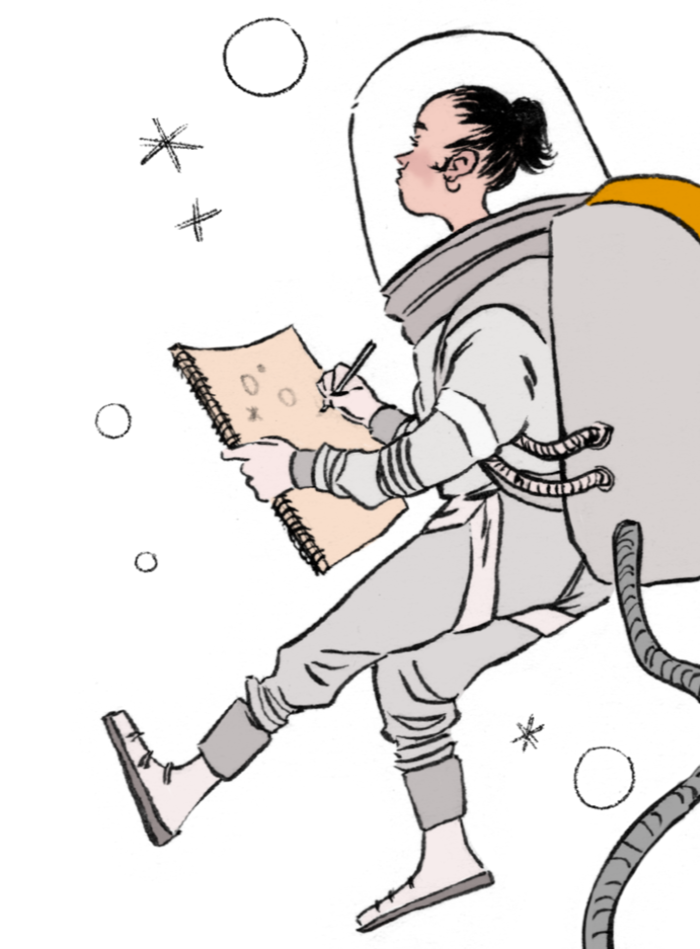 Silvia L. Ballart, Spanish author, surprised the judges with the title of her project, "The Hermit". Her comic book will explore topics such as mental health and identity problems, and how older generations have suffered them in silence. 
The story itself is about how life in society can take us to a dark place although society itself can also save us and make us grow.
Silvia is a Spanish comic book artist and script writer, who recently finished her studies in Graphic Art at CAE partner's Escola Joso, Centre de Còmic i Arts Visuals in Barcelona, and is currently working on her first comic book.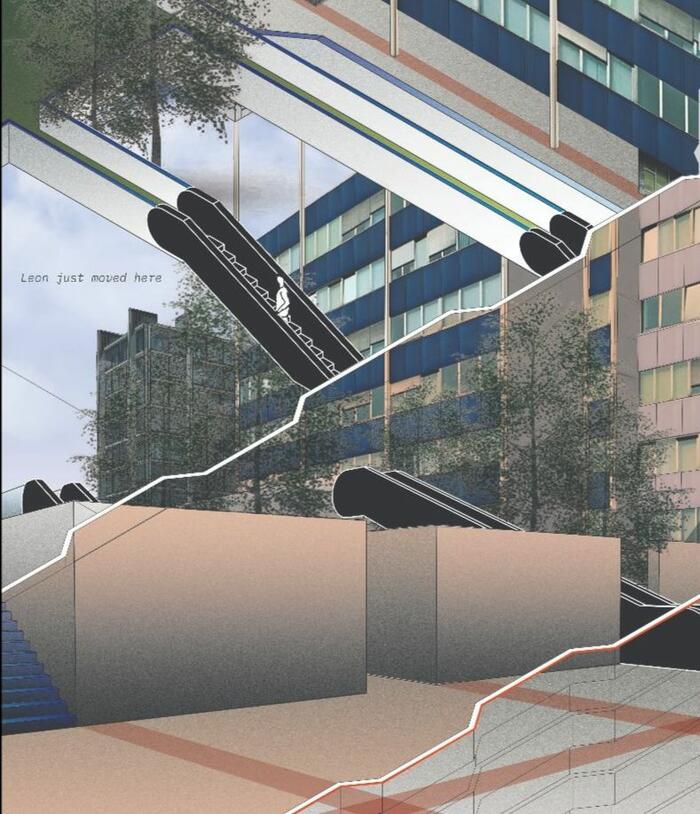 Eva Pavlič's project inspired by the theme "Living Together" is a story told by a building of its inhabitants. Although we live in separate flats, we still share an entrance, a hallway, foundations, a construction grid… The thinner the plaster walls, the better we know our neighbours.
Eva comes from Ljubljana, and became interested in creating comics while studying architecture and urbanism. She obtained a master's degree in Engineering at the University of Ljubljana and a master's degree in Art at the The Royal Danish Academy Of Fine Arts, School Of Architecture, in Copenhagen.
When completing her master's thesis, Eva wanted to challenge traditional forms of architectural representation and test how a comic book could investigate the relationship between the body, the building, and the space in-between. Through her work, she hopes to continue to blend the boundaries between the technical, the empirical, and the epic in an attempt to better understand and communicate how we experience our built environment.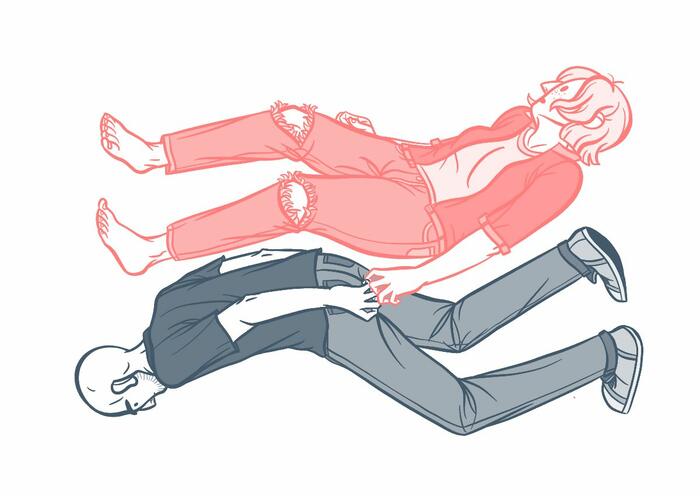 Štěpánka Jislová will express her perception of "Living Together" through her project "The Invisible Shade", an autobiographical comic book story that will explore what it means to be a woman with autism. The primary goal of the project is to tell real-life stories and allow readers to understand and empathise. There is an explanation of the autism spectrum, a bit of history, the differences between Asperger's in men and women, and much more…
Štěpánka is a Czech illustrator and comic book writer. In addition to numerous short stories, she has published four stand-alone albums so far.
Her most notable work is Hairless, an autobiographical story written by Tereza Drahoňovská about life with alopecia, which was awarded the prize for best album of 2020 at the Muriel Awards.
Other notable works are historical comics and Holy Heart Abbey, a fictional dystopian story set in a monastery. In her personal work, she is interested in the human experience and enjoys exploring the breadth of differences in perspective.
Comic Art Europe is supported by four organisations from across the continent – Lyon BD, the Lakes International Comic Art Festival, Escola Joso, Centre de Còmic i Arts Visuals and Centre Belge de la Bande-Dessinée (the Belgium Comic Strip Centre) – with the support of the European Union program "Creative Europe".
In addition to his "Open Call", Comic Art Europe has been working for more than a year on a big literacy project through the use of comics. Its goal is to use the comic book channel in order to teach different groups to read and write. To do so, each partner organises different Community Actions adapted to the target group, with the Lakes International Comic Art Festival working with Abraham Moss Community School in Manchester, generously supported by The Phoenixcomic, and the Belgian Comic Strip Center, organising comic strip creation workshops within the literacy classes of the Maison des Femmes ("The women's house") in Molenbeek. This organization works for the emancipation and development of women and their integration as citizens in public life.
• For more information about the work and plans of Comic Art Europe, visit comicarteurope.eu | Find Comic Art Europe on Facebook