This June, you will be able to visit Comic Art Europe's newest exhibition for the first time, and we're delighted to be involved in the project.
Back in 2022, together with four organisations, including the Lakes International Comic Art Festival, CAE launched an open call on the theme "Living Together". Artists were invited to reflect on their interpretation of "Living Together" in the modern world and illustrate it.
Five projects of five European artists were selected, and you'll finally be able to admire their projects in a global exhibition this June. Afterwards, the exhibition will go on a little tour around Europe. So if you can't make it to France in June, you'll definitely get another shot!
To launch the exhibition, there will be several dedicated events with the artists during Lyon BD Festival on Friday 9th and Saturday 10th of June. On Friday, there will be a panel talk with the five artists, followed by a guided tour of the exhibition and on Saturday, Eva Pavlič and Štěpánka Jislová will engage in a live drawing session.
Head here for more information: lyonbd.com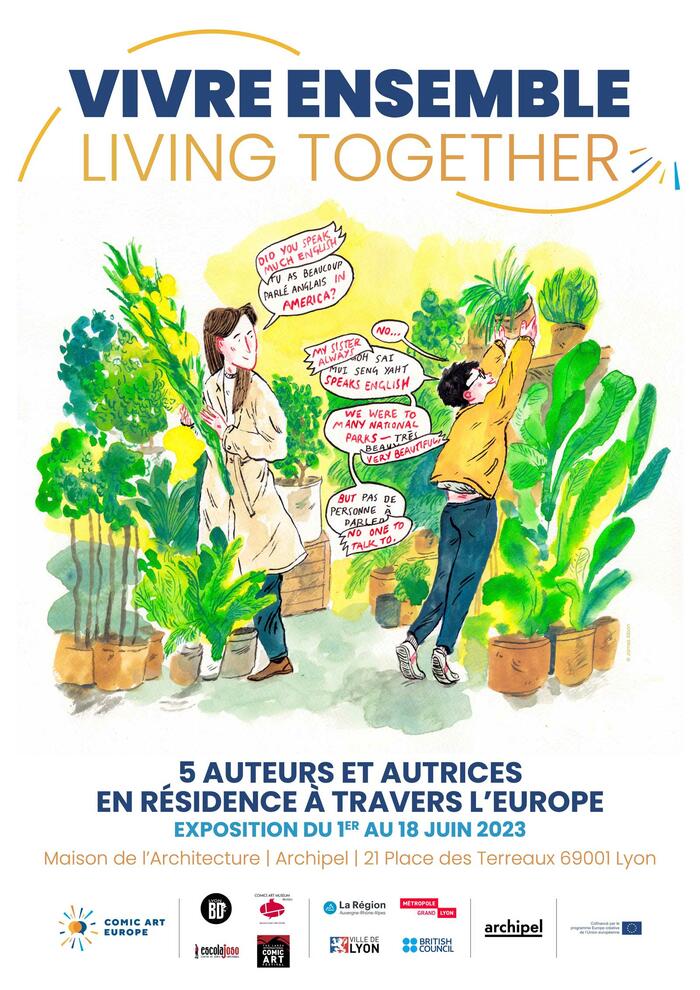 In the exhibition, you can discover the work of Silvia L. Ballart (from Spain), Bernard Hage (Lebanon/Germany), James Albon (England), Štěpánka Jislová (Czech Republic), Eva Pavlič (Slovenia), all of whom went on residencies across Europe to develop their projects.
Comic Art Europe is supported by four organisations from across the continent – Lyon BD, the Lakes International Comic Art Festival, Escola Joso, Centre de Còmic i Arts Visuals and Centre Belge de la Bande-Dessinée (the Belgium Comic Strip Centre) – with the support of the European Union program "Creative Europe".
• Visit the "Living Together" exhibition from the 1st June 2023 to 18th of June 2023 at the Maison de l'architecture in Lyon, France
• Not able to visit the exhibition in June? No worries, you'll get another chance from September until December at Belgium's Comics Art Museum, or during our annual Festival in (29th September - 1st October - buy your ticket now: comicartfestival.com/festival-tickets)
• For more information about the work and plans of Comic Art Europe, visit comicarteurope.eu | Find Comic Art Europe on Facebook