British comic creator Lyndon White is the focus for the latest Lakes International Comic Art Festival Podcast, an illustrator, writer and comic artist who's been creating comics for over eight years, producing a huge range of comics and graphic novels including Sparks, The Mind of James Svengal and his latest book, Candles. 
Candles, to be published by Cast Iron Books and nearing its crowdfunding target on Kickstarter, is a 144-page fantasy epic about a young girl trying to save her dying village by stealing magic from an evil witch.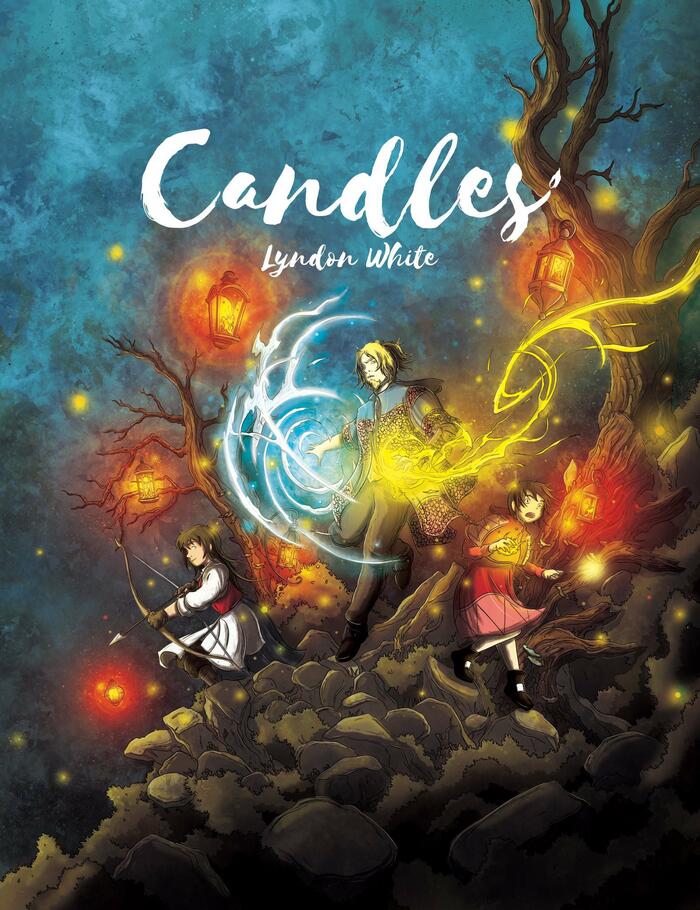 Illustrator, writer and comic-book artist Lyndon White has worked with clients including The Tower of London & Historic Palaces, Gatwick Airport and the Lakes International Comic Art Festival. He's previously worked as part of over 30 successful Kickstarters, and has successfully ran seven himself, seven of which were deservedly featured as Kickstarter Staff Picks. A First-Class BA (Hons) Illustration for Graphic Novels graduate of Glyndŵr University, Lyndon also occasionally teaches Sequential Arts at Salford University.
As well as discussing Candles, Lyndon also talks about his comic degree and has some great advice for creators starting out in the comic world. 
Plus enjoy the moment when co-host Ian Loxam surprises both fellow presenter and artist Nicole Bates and Lyndon with a quick Ghibli quiz. Who will take the Ghibli Fan Crown?
Podcast regulars Pete Taylor and Mike Williams are off this week, but do check out Pete's own Kickstarter, a Catfood Comics Three Pack, offering three titanic titles – a comic fantasy epic, character handbook a savage simian sketchbook in one bag!
Back in the day, the determined funny book fan spent weekends and Summer holidays searching the shelves of every newsagent for the fantastic thrill of discovering a full colour floppy bundle of joy that was a comic book. But occasionally, if you were lucky, you would hit the jackpot and find a sealed pack of childhood gold that was the comic pack. 
Reimagining such a wonder, the Catfood Comics Three Pack offers not one, not two but threesensational stories for a bargain price, bagged and protected from the pawing of other collector's clammy mitts.
Ian and Nikki also talk about the full programme for this year's upcoming Lakes International Comic Art Festival (15th 17th October, in Kendal), with tickets on sale now! Don't miss out…
• Lyndon White is online at lyndonwhite.com | Facebook | Instagram | Twitter
• Cast Iron Books are online at castironbooks.com | Instagram | Twitter
• Check out the Lakes International Comic Art Festival Podcast Episode 96 with Lydon White here
Download on Spreaker | iTunes | Stitcher | Spotify | iHeart Radio
• The Lakes International Comic Art Festival – back 15th to 17th October 2021 – is online at: www.comicartfestival.com
• Lakes International Comic Art Festival Podcast: www.comicartpodcast.uk | Twitter: @comicartfestpod | Facebook: @ComicArtPodcast | Instagram: @ComicArtPodcast
• Want to receive news about the Lakes International Comic Art Festival? Then sign up for their newsletter now 
• Check out their LITTLE LICAF Facebook Page here and the dedicated LITTLE LICAF Instagram here
Regular contributors to the Lakes International Comic Art Festival Podcast include Pete Taylor and Mike Williams