Ahead of this weekend's Lakes International Comic Art Festival (buy tickets here), the organisation has released a new "Desert Island Comics" interview with artist Michael Lark who, sadly, is unable to visit Kendal this year, but is taking part in the event virtually, and hopes to attend in 2022.
Michael Lark is the artist and co-creator of Lazarus and Lazarus: Risen from Image Comics, written by another of the Festival's virtual guests, Greg Rucka. In his nearly 30 years in the comics industry, he has drawn many of the most iconic characters in the medium, including Spider-Man, Captain America, Daredevil, Batman, Superman and many others, and series such as Gotham Central.
Host Peter Kessler continues his "Desert Island Comics", launched as part of last year's LICAF LIVE, a programming strand that kicked off with creators such as Hannah Berry, Paul Cornell, Dave Gibbons, Mark Millar and Posy Simmonds, to get you in the mood for this week's comics fun!
We're looking forward to seeing you this weekend! If you've been following our social media and web site, we hope you have already signed aboard for our 2021 comic art weekend spectacular, back as a real world event. Thank you! 
But, just in case you haven't yet been persuaded, then be assured, we're all set to showcase the very best that the comic world offers, from big names to emerging talent - a diverse, international line-up of guests from the UK, Europe, the US, Africa, China, the Philippines and more, in our lovely town in the Lakes.
On offer is a Festival that we hope brings a diverse mix of comic art styles, storytelling and outstanding creativity to Kendal, with comic fans, artists, writers and creators from across the world gathering in Cumbria's comics capital!
Our family-friendly Festival programme includes live drawing, creative workshops, a comic market place in our Comics Clock Tower, debates, cartoonists, satire, exhibitions, exclusive signings and some of the most amazing comic artists from across the globe.
Yes, you guessed it, we are so excited to be back in Kendal to celebrate the wonderful world of comic art, supported by the local community, fans, volunteers, funding partners, international partners, and more! 
The majority of guests will be joining us in Kendal with some guests, due to travel restrictions, joining us via live streaming. 
This year, the Festival is looking at how comics can change the world by tackling some of the biggest issues of our time. The weekend-long event will showcase comics responding to climate change, the role of comics in improving educational attainment, how comics can be used to promote health messages and the power of political cartooning.
Do come along and find out about comics that are genuinely breaking new ground, reaching new audiences and tackling the biggest issues of our time. We are looking forward to welcoming all our guests, and you, too, to Kendal for a proper weekend celebration of comic art!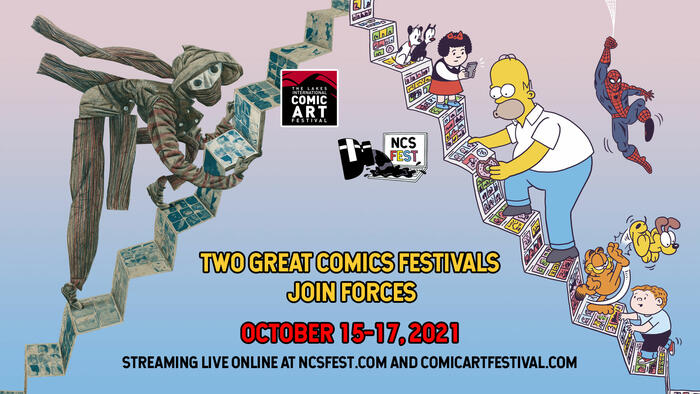 Lakes International Comic Art Festival 2021 Highlights
Battle of the Toons – opening gala Friday 15th October 
The Friday night opening gala live from Kendal and New York! We're collaborating with NCS Fest (the National Cartoonists' Society Festival) with will be a balloon debate featuring eight guests, each taking on the role of their own chosen comic character. At the end of the night, only one will survive, and that depends on how well they make their case to our audience.
The Comics Clock Tower – market place 
The Festival's free comics marketplace returns to Kendal with the line-up reflecting the wide range of both mainstream and independent talent working in the comics medium across the UK. The Comics Clock Tower takes over Kendal Town Hall for the festival weekend.
Comics Up Close – Friday 15 October 
Leading international academics, creators and comic advocates from across the globe explore how comics are in the vanguard of delivering social change. Guests will showcase projects from across Europe and demonstrate the positive impact comics can have.
Martin Rowson: What a Fur Cup exhibition, Cross Lane Projects 15 Oct – 5 Nov
Martin Rowson is a multi-award-winning cartoonist, illustrator, writer, graphic novelist, broadcaster, ranter and poet. For nearly 40 years Martin Rowson has been the scourge of the political establishment, focusing his unflinching eye and scurrilous wit on those in power. What a Fur Cup will feature some of Rowson's most powerful political cartoons, caricatures and comics and present an entertaining journey through the past forty years of politics and celebrity.
10 Years to Save the World – anthology launch
'Ten Years to Save the World' is one of the creative commissions supported by the British Council exploring climate change through art, science and digital technology. The project has an urgent message, we have ten years to make the big changes required to save our planet. Ten leading comic artists from the UK and the Philippines have collaborated to create a digital comic anthology to be launched at the festival. https://www.10yearstosavetheworld.com/
Little LICAF – for younger comic fans
Little LICAF will be running activities both physical and online for younger comic fans and aspiring creators. Comic artists Sayra Begum, Neill Cameron, Hannah Eaton and Marc Jackson will be running free bookable workshop sessions on both Saturday 16th and Sunday 17th October.
In conversation with Dave McKean
Dave McKean, one of the world's most respected comics creators, discusses new graphic novel 'Raptor' and future projects with Paul Gravett on Saturday 16 October 12:00
Tickets are on sale now for this physical event from the Festival web site: www.comicartfestival.com
My Only Child – launch
Joining the Festival from Beijing will be leading Chinese comic creator Wang Ning, for the worldwide launch of his anthology My Only Child, a co-commission by the festival and Fanfare UK – the first global publication of a beautiful yet harrowing set of real-life stories exposing the human impact of the world's most extreme programme of population control.
The Art of Creation – Saturday 16 October 
Is there anything more mesmerising and revealing than watching great artists do their thing before your very eyes? Live drawing has always been one of the cornerstones of our festival, and this year is no exception! You can watch four of our top European guests at work drawing live with Manuele Fior (Italy), Jul Maroh (France), Boulet (France) and Lucie Lomová (Czech Republic). 
Creative workshops
From stop frame animation and drawing, to using humour in your comics we are running a number of creative workshops for the next generation of comic artists to learn their craft. The workshops are hands-on, practical and brught to you by leading artists working in the comic industry.
And much, much more…
The festival is held at venues throughout the Brewery Arts Centre and across the town of Kendal. Please check online for location details and guidance regarding the accessibility of our venues.
Tickets are on sale now for this physical event from the Festival web site: www.comicartfestival.com
Festival Guests in 2021
Announced guests for October 2021, in alphabetical order, include: Charlie Adlard, Steven Appleby, Yomi Ayeni, Sayra Begum, Maria Björklund, Boulet, Neill Cameron, Kate Charlesworth, Chris Condon, Darren Cullen, Darryl Cunningham, Hugleikur Dagsson, Oliver East, Manuele Fior, Simon Hanselmann, Marc Jackson, Olivier Kugler, Michael Lark, Jeff Lemire (now making a virtual appearance due to COVID-shifted work schedules), Mike Luckovich, Jul Maroh, Dave McKean, Lou McKeever (aka BlueLou), Luke McGarry, Steve McGarry, Ziki Nelson, Wam Ning (Virtual Appearance), Jacob Phillips, Sean Phillips, Kate Prior, David A. Roach (Virtual Appearance), Miles Ross, Martin Rowson, Greg Rucka (Virtual Appearance), Matt Smith, Rachael Smith, Glen Southern, Lucy Sullivan, Jack Teagle, Ann Telnaes, Clarice Tudor, the VIZ team and Steve Yeowell
• Profiles of all LICAF LIVE guests feature here on the official Festival web site
Comics Clock Tower Exhibitors 2021
Visit the Virtual Comics Clock Tower via the Festival web site for more information on Comics Clock Tower exhibitors
Exhibitors include: 1826 Comic, Art-Bubble, B7 Media (with creators John Freeman, Smuzz and Robin Evans), Big Brown Eyes Collective, Bruno Stahl, Cast Iron Books, Cathy Brett, The Cartoonists Club of Great Britain, Centrala, Chris Askham, CoCo Comics, Colleen Douglas, Conundrum Press, Cutaway Comics, E Merlin Murray, The Etherington Brothers, Gold Lion Comics, Gustaffo Vargas, Hocus Pocus, Ian Sharman, Joe Latham, Kate Mia White, Kev F Sutherland, Knockabout, Lancaster University, Lewis Campbell, Madzines, Martin Simpson, Matt Simmons, Matt Smith! (Smith vs Smith), Mereida, Metaphrog, Mister Hope, Moonsquid Ink, Myriad Editions, Nona Gallery, Norm Konyu, Olivia Sullivan, Peter Morey, Pitteville Press, Roger Langridge, Ronny Worsey and Brian Gorman, Schnumn, SelfMadeHero, Soaring Penguin Press, Turnaround and Woodland Creatures
Tickets are on sale now for this physical event from the Festival web site: www.comicartfestival.com
The Lakes International Comic Art Festival is supported using public funding by the National Lottery through Arts Council England. It is supported by Choose Cumbria, Cumbria County Council, South Lakeland District Council and Kendal Town Council
• The Lakes International Comic Art Festival runs from 15th – 17th October 2021 in Kendal, Cumbria: www.comicartfestival.com | Facebook | Instagram | Twitter | YouTube
• Check out their LITTLE LICAF Facebook Page here and the dedicated LITTLE LICAF Instagram here
• Lakes International Comic Art Festival Podcast: www.comicartpodcast.uk | Twitter: @comicartfestpod | Facebook: @ComicArtPodcast | Instagram: @ComicArtPodcast
• Want to receive news about the Lakes International Comic Art Festival? Then sign up for their newsletter now