Here's Stephen L. Holland's review of STARTING, the Wacom-sponsored anthology created during this year's Festival, featuring strips by Chris Gooch, Marc Jackson, Luke McGarry, John Martz, Mikiko, Jake Phillips. It's still available from our partner retailer Page 45 in Nottingham, who can ship the book anywhwere worldwide.
"In the beginning there was nothing.
"Then there was Kevin,
"And Kevin was hungry."
Everything has to start somewhere.
Everyone has to start somewhere, and sometimes it's that often very daunting challenge that prevents or delays all manner of things from communication, creativity, going outside or moving forward in any meaningful manner to ditching a bad habit, tackling an addiction or perhaps turning over a lesser new leaf.
In my Page 45 Staff Profile I wrote:
Which qualities do you least admire in yourself?
Procrastination when I know something definitely needs to be done – all in the vain hope that it doesn't!
Once I get started I find that I'm fine, but it can prove a struggle for some of us, and so it is in a couple of these stories, but let us first return to Kevin, for he is very hungry.
"He began to feast on the nothingness around him.
"As he ate he expanded.
"But he couldn't stop."
So there's the flipside: sometimes once you've started, you simply can't stop. However, once you've digested Jake Phillips's full four pages alongside their visuals, you might feel very grateful that Kevin consumes. It really is a cosmicallyquick-witted comic with at least four starting processes, one of which I will leave you to discover for yourself.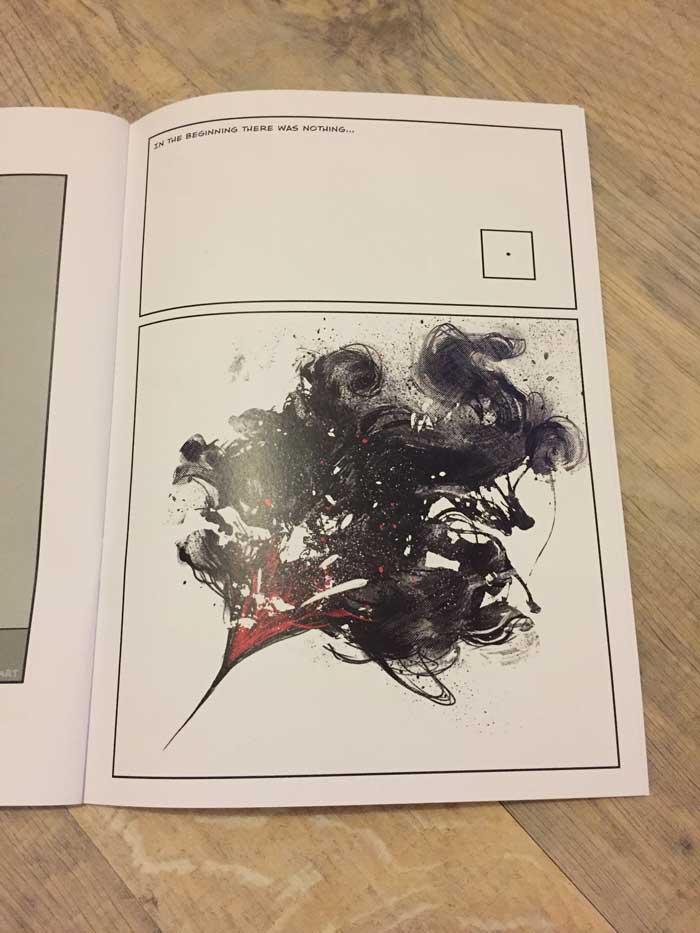 Six creators, four pages each, and not one of them coasting, even under such pressure.
Each of the six comicbook creators fashioned a four-page story in the space of four hours on the subject of STARTING. Immediately afterwards they were collated and printed in the form of this anthology, published and on sale the very next day on Saturday 14th October during LICAF 2017. That was a truly Herculean endeavour and monumental achievement by contributor Marc Jackson who had to learn it all on the hoof. If anyone started something astonishing for the first time here, it is he.
Like last year's Lakes International Comic Art Festival anthology Coelifer Atlas (reviewed and still on sale for worldwide distribution by Page 45) every single penny of its £5 cover-price continues to go directly from Page 45 to LICAF without us taking a retail cut: thence to OCDAction in the case of Coelifer Atlas to provide support and information to those affected by OCD and raise awareness amongst the wider public; or in this instance split between OCDAction and LICAF's Creator Development Fund.
Coelifer Atlas is a single story told in a relay race between artists that deals directly and eloquently and startlingly with OCD itself, whereas the remit of STARTING is all in its title and, like Jake Phillips's contribution, once you've had time to consider each one properly then multiple beginnings become clear.
Chris Gooch's cold blue opening offering takes place at the dentist during a check-up on teen Johnny's braces. He's just started a new school. But Johnny started something else a long time ago and he's already started again. Now his dentist starts something else in the hope that he'll stop. How dark do you like your comics?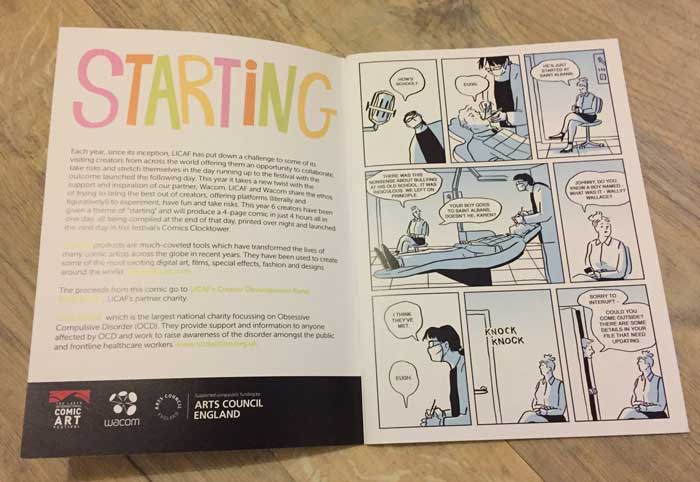 With frantic lettering more exuberant than I can match here and eye-frazzling lines that refuse to sit still, Marc Jackson's about to start using a Wacom and draws a robot. But the robot starts making demands:
"Can you draw me a wife? I'm going to get lonely in here!"
"You got it, Robo Man!"
"Make sure she has lots of rivets, I love rivets!
"O… kay…"
It won't end there, but where will it?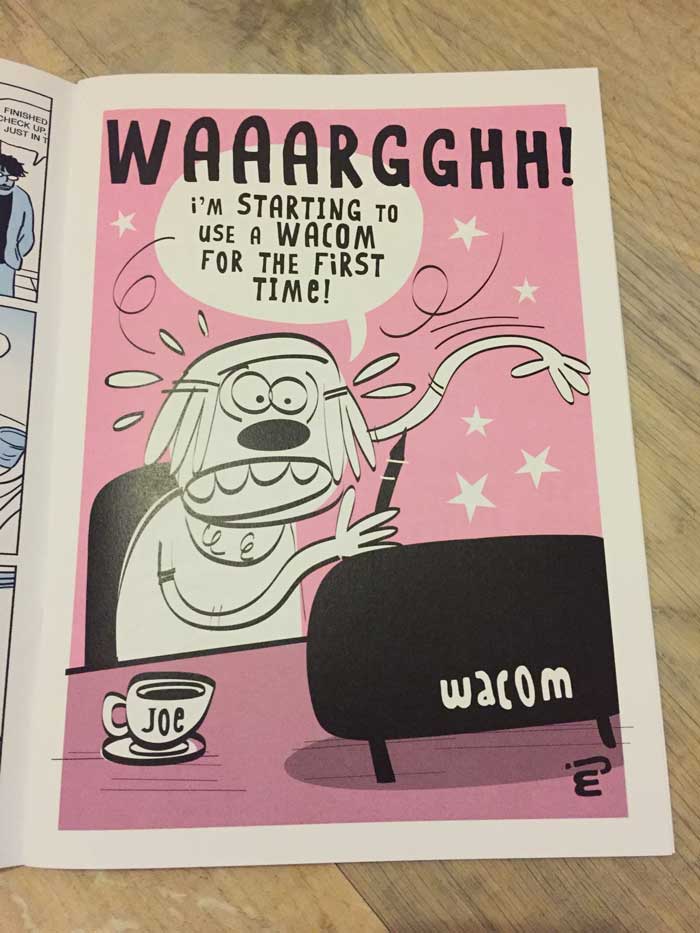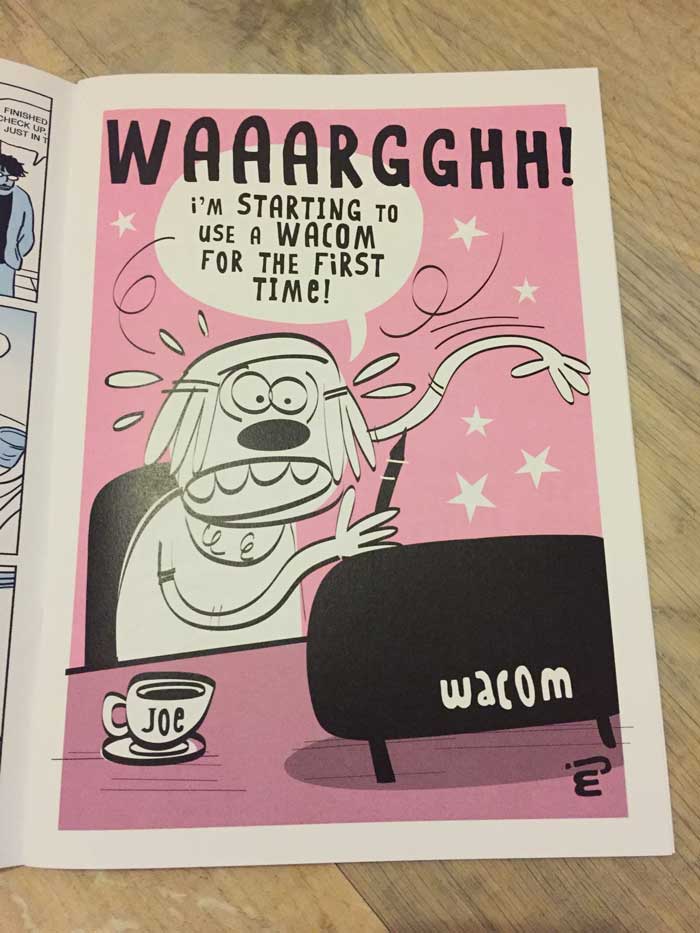 Equally on the product-placement ball, Luke McGarry begins receiving strange visitors just as Donald Trump starts World War Three (next Tuesday it says on my calendar) then McGarry's going to need to start keeping warm – one way or another.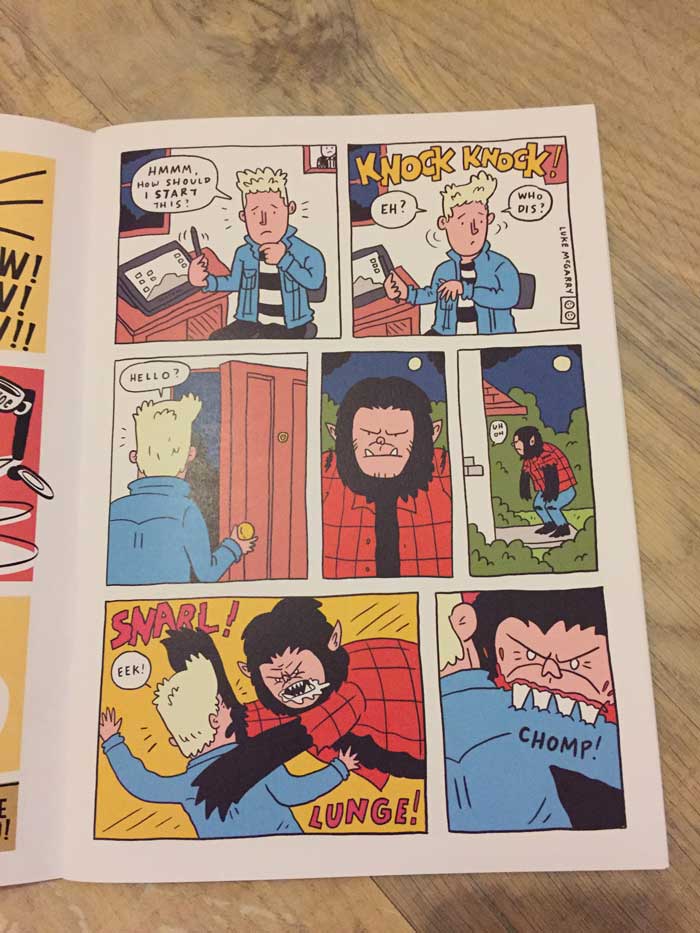 John Martz of Burt's Way Home and A Cat Named Tim is determined to start his first novel. As I say, everything has to start somewhere. You can crack your knuckles for as long as you like, but nothing beats hitting the keyboard. No, not with drum sticks! Faced with a blank screen, I honestly suggest that you simply start typing. I do that all the time. Plus, we no longer need to use Tippex.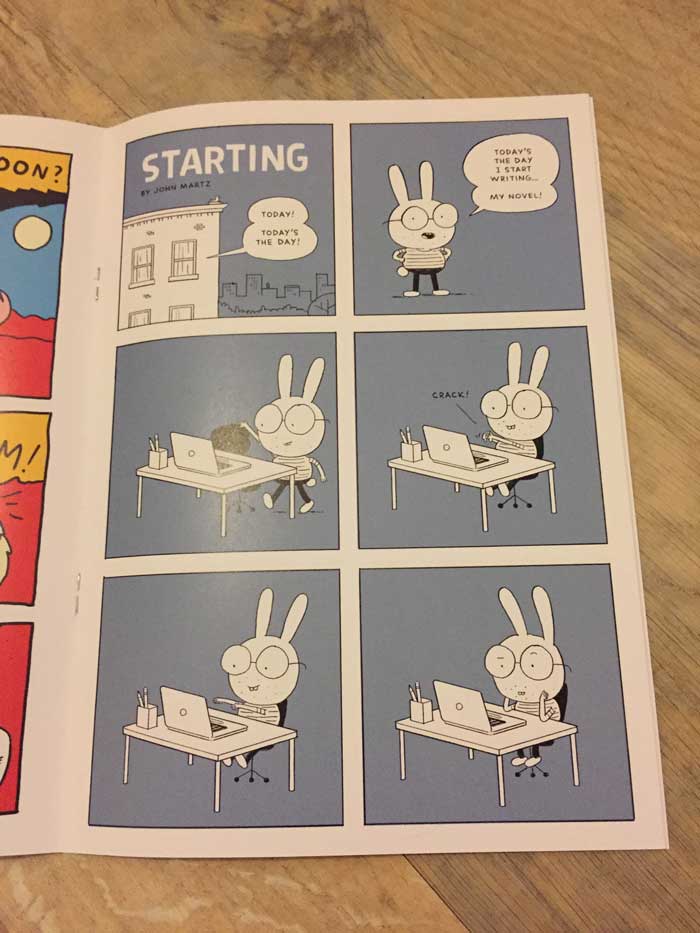 Mikiko's young artist is off to many a false start, scrunching most of them up then lobbing them into the bin. I'm afraid it's a bit full by now, but it all could be much worse as the penultimate page close-up makes clear. That's ever so clever, I promise.
Stephen L. Holland
• Buy Starting and read the Page 45 review here