The Lakes International Comic Art Festival has some big plans for family fun at this year's weekend-long celebration of all things comic related, working hand in hand with the team at Westmorland Shopping Centre to deliver some full-on creative craziness.
Drawing challenges, comics workshops, face painting and more are all part of the exciting Family Zone line up of free events at the shopping centre, taking place on Saturday 13th and Sunday 14th October at this year's Festival.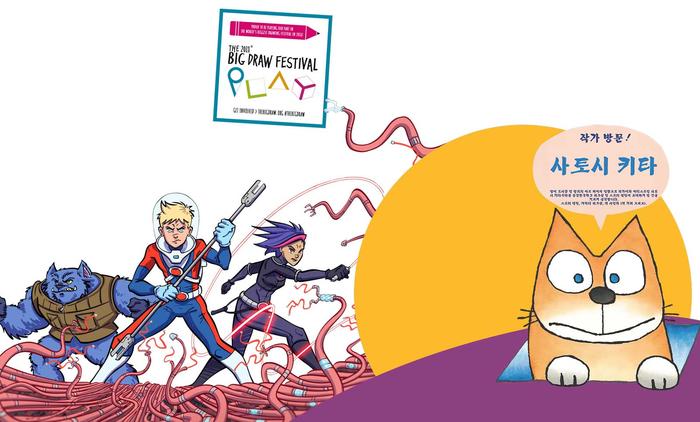 "We've had many calls to bring back U Draw, We Draw and we are delighted to do so," says Festival director Julie Tait.
"U Draw, We Draw will be the centrepiece of the Family Zone at Westmorland Shopping Centre this year and will be devised and supervised by the fabulous Robert Deas, a regular artist on the brilliant Phoenix comic, with the equally fabulous Ilya. Come and challenge comic artists from across the world and let them challenge you!"
U Draw, We Draw, part of the national Big Draw Festival 2018, is suitable for all ages and all materials will be provided.
You'll also be able to have your face painted by Bunny & Chip, make masks and headdresses, dress up and be photographed in life-sized picture frames and colour-in templates donated by some of the famous comic artists coming to the Festival.
Westmorland Shopping Centre Manager, Peter Gaynor said "We are really looking forward to this year's Comic Art Festival and are delighted to be hosting the Family Zone in the centre. It's great to see so much fun, free activity taking place for young people and we can't wait to see the budding young artists in action."
Close to the Centre, Kendal Library will again open its doors to young creators, offering a number of workshops, including "Create Your Own Mythical Pet" for 7-9 year-olds with Ottilie Hainsworth, author of the fabulous Talking to Gina, offering the chance to create your own peculiar creature or daemon (animal spirit guide), using a mixture of collage, drawing and writing, then drawing a cartoon of your adventures together.
Japanese children's picture book author and illustrator Satoshi Kitamura, the creator of over 50 children's books, will be bringing his silver suitcase full of characters, cartoons, stories, and Japanese contraptions to share with young visitors to LICAF.
Deborah Tate, who was editor of Sonic the Comic, will also be challenging fans to invent their own, Sonic-inspired character, whatever gender, in a fun, participatory workshop, suitable for all ages.
Families are also course also entitled to free entry to the lively Comics Clock Tower and other venues in the town centre, where they can meet and greet comic creators from across the globe visiting the Lakeland town.
They'll also be able to enjoy the sights of the annual "Windows Trail", this year bigger than ever, where many local businesses turn their store fronts over to a wide range of local school children and children's groups, working with a host of artists, to bring a comical take to Kendal's streets.
A number of tickets film screenings suitable for all ages, including The Simpsons Movie, introduced by its director, David Silverman, are also part of the programme.
"It will be organised mayhem" says Suzie Hayman, one of the team behind the Westmorland Shopping Centre's Family Zone offer. "Last year we had kids, mums and dads all drawing and colouring, gluing and sticking, cutting and pasting the most inspiring amount of art and crafts. I have no doubt this year will be even better!"
"We're determined this year's Family Zone offer is our biggest and best yet," says Julie Tait. "There will be plenty for kids to see and enjoy - of all ages!"
• Tickets for the Lakes International Comic Art Festival, running Friday 12th - Sunday 14th October 2018 in Kendal at various venues across the town, are on sale now from the event's web site.
• Web: www.comicartfestival.com | Facebook | Twitter | YouTube | Podcast