There are no less than 27 comic characters in this art by Bryan Talbot, created for the Lakes International Comic Art Festival for its very first annual gathering back in 2013! (And Bryan is an exhibitor at this year's event in Bowness-on-Windermere in October, check out www.comicartfestival.com and grab your tickets!)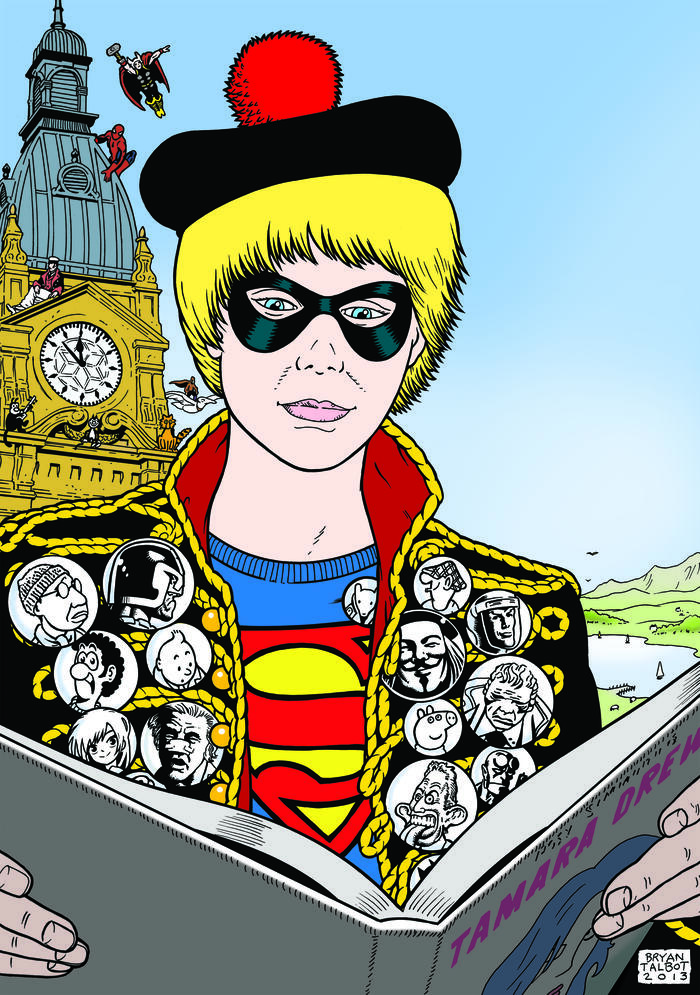 In the sky: Thor, Moebius's Arzak
On the Clock Tower: Spider-Man, Hugo Pratt's Corto Maltese, George Herriman's Krazy Kat, Hunt Emerson's Firkin the Cat, and Gilbert Shelton's Fat Freddy's Cat
Badges on left side: Joe Sacco (image of himself), Judge Dredd, Sid the Sexist from VIZ, Tintin, generic manga character, character from Sean Phillip's Criminal
Badge on T-shirt: Art Spiegelman's Maus
Right hand side badges: Andy Capp, Dan Dare, V for Vendetta by Dave Lloyd, Alack Sinner by Jose Munoz, Mike Mignola's Hellboy, Steve Bell's Tony Blair, Batman (just about visible!)
The Figure is Helen Potter, from Bryan's The Tale of One Bad Rat. She is wearing: Minnie the Minx's hat, The Spirit's mask, Superman T-shirt, Luther Arkwright Hussar's jacket and reading Tamara Drewe.
Bryan also said that the jacket Helen is wearing could also be Nelson's jacket from Nelson. The mask could be Robin's and it's previously been suggested one of the cats is Korky the Cat, from The Dandy. 
So a few others may also be debateable.  We'll leave you to decide!
Oh, and in case you're wondering, yes there is also a Peppa Pig badge. However, on reflection Bryan concluded that she's not technically a comic book character because the stories are not done in a sequential, strip art form.
Controversial? Maybe.
Bryan Talbot is, as ever, online at www.bryan-talbot.com