Every year, in the countdown to the Lakes International Comic Art Festival, in partnership wiht the downthetubes web site, we bring you a series of interviews with guests at the event. Over 70 are attending in 2018 in October (and that's not including creators you'll find in the Comics Clock Tower), so we thought we'd better start now! 
Our first Festival Focus for 2018 is with writer, John Wagner, best known for his work for 2000AD, having co-created Judge Dredd, Strontium Dog, Robo-Hunter and many other memorable characters.
His Paradox Press graphic novel A History of Violence became now a major film. His latest project (with co-writer and fellow Festival guest Alan Grant and artist Dan Cornwell) is Rok of the Reds, the strange and wonderful tale of the world's first alien footballer. An homage to the comics of their youth, the Rok of the Reds graphic novels will be on show during the LICAF weekend.
What are you working on, comics-wise, right now, and when will it be published?
John Wagner: I'm working on 1. Season 2 of Rok of the Reds, the alien football comic with Alan Grant, Dan Cornwell, Abby Bulmer and Jim Campbell. 2. Dredd: Machine Law, a follow up to Harvey. 3. Spector, a new series for the Judge Dredd Megazine with Carlos Ezquerra.
I'm also retired. Or at least I thought I was.
Which comic project you've worked on are you most proud of and where can people see it or buy it?
John: I'd hate to pick one of the many stories that I'm fond of, but my current story, Rok of the Reds, is very dear to my heart. I'll have more copies of that than you can shake a corner flag at, up at the Lakes.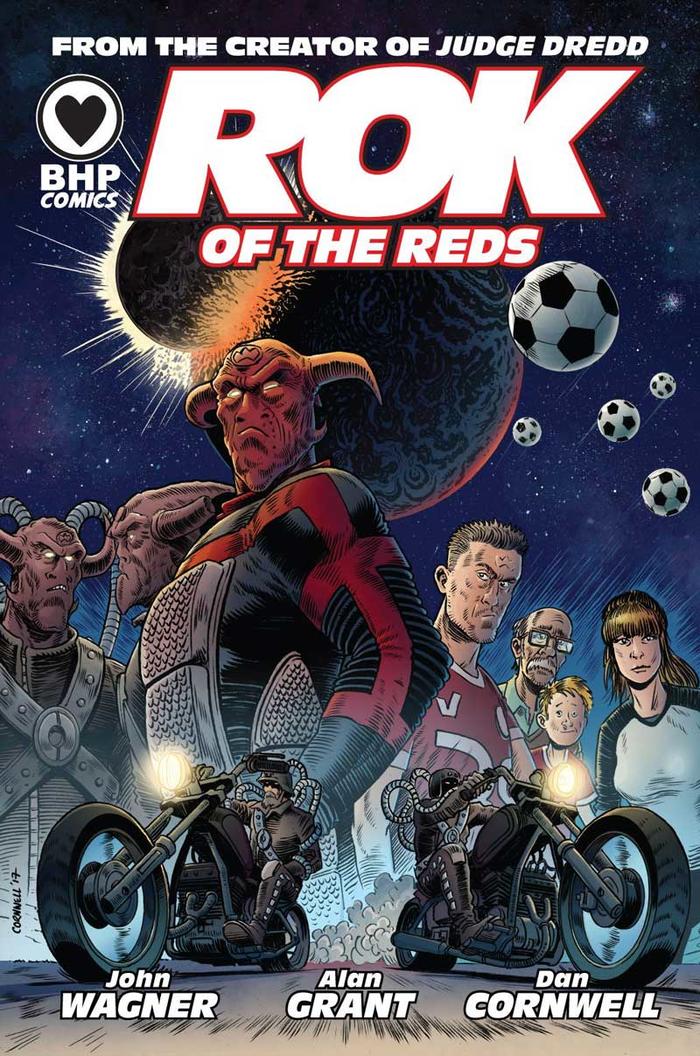 How do you plan your day as a creator? (Do you plan your day?)
John: I have a good idea what I'm going to do each day, though I seldom achieve it. Often I don't even get started. I don't let that worry me. Tomorrow's another day.
What's the best thing about being a comics creator?
John: The freedom.
And the worst?
John: I suppose for most of us, especially in the early days, wondering where the next job's coming from. Stories can at times be a desperate struggle, of course, but usually when you've finally dotted the last sentence you have the satisfaction of knowing you've created something worthwhile (until the editor tells you different).
What most distracts you from getting your work done?
John: The web.
Do you think it's easier or harder for young comic creators to get published today?
John: Much harder. Fewer publications - in the UK at least. I'm forever lamenting the fact that so many good creators who'd have been snowed under with work in the past can't find a job. That's largely what has fuelled the growth in independents.
Have you ever been to the Lake District before and if so what did you think of it? If you haven't, what are you expecting?
John: I was at the first. A good friendly con. I expect it's grown some by now.
Which one comic creator would you most like to meet, and why?
John: I take 'em as they come. I'm usually happy in my own little circle, admiring the superstars from afar.
How do Festivals and other comics events help creators most, do you think?
John: They give them an outlet for their work, help publicise what they do, but most important bring them up close with the fans. Meeting the fans, talking to them, I regard as a vital element in forming what I do.
What one piece of advice do you offer people looking to work in the comics industry?
John: Persistence. Never stop trying. Keep banging on the door. We've all had it slammed in our face. Don't be deterred.
What's your favourite comic right now and where can people get it?
John: I'd be lying if I said anything but Rok of the Reds. They can get it from ME!
John, thank you for your time and we look forward to seeing you in Kendal in October!
• The Lakes International Comic Art Festival will be back in Kendal 12th – 14th October 2018. Tickets for the Festival are on sale now.
• Web: www.comicartfestival.com | Facebook | Twitter | YouTube | Podcast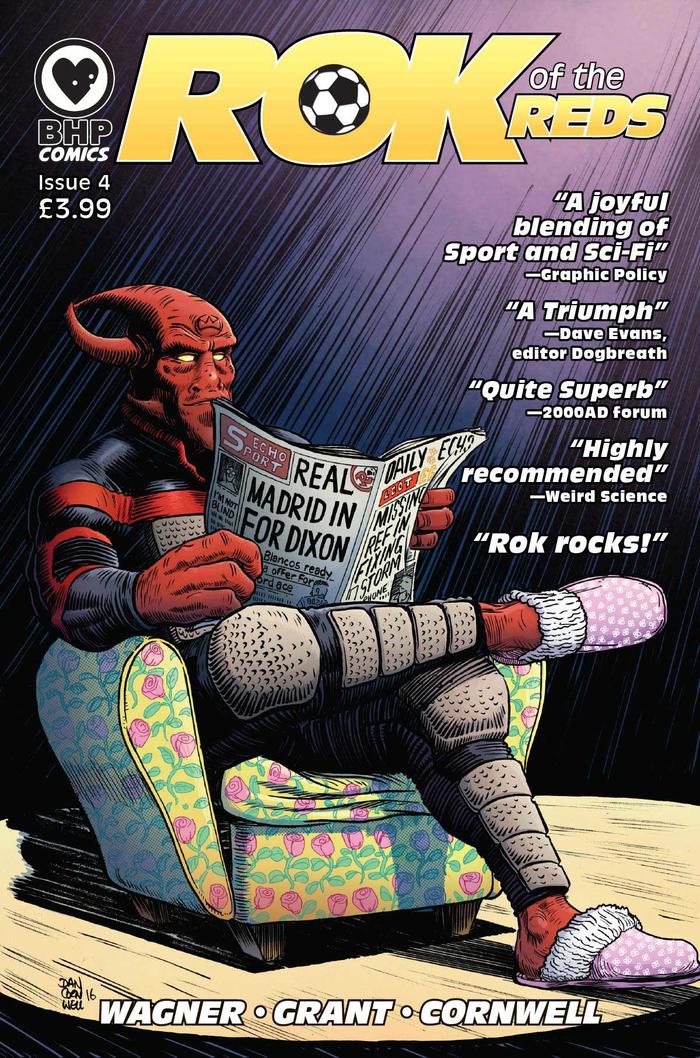 Interview questions and feature by John Freeman