The countdown has begun to this year's Lakes International Comic Art Festival in October (13th – 15th). We're delighted to continue our "Kendal Calling" interviews with the amazing Finnish comic artist Petteri Tikkanen, who blew Festival guests away with his art last year, and is back this year with fellow creator Johanna Rojola, as part of a bonkers "Finnish Village" element of the weekend-long event. 
A comic art rockstar in Finland in every sense, Petteri Tikkanen is a universe all of his own! Gorgeous drawings, great narratives and his transformation into alter ego Black Peider make him irresistible...
Hailing from the small town of Iisalmi,  Petteri started out working in fanzines in the mid 1990s. Early works were mainly based around horror and humour.
By the turn of the century he focused on semi-autobiographical stories about Kanerva (Heather) and Eero (Eric). Albums based on Eero are a classic boys' growing-up story.
Sometimes, Petteri performs as a Lucha Libre character Black Peider on stage (and on YouTube!). This character also appears in Petteri's body of work loosely exploring masculinity and music.
Petteri also works as an illustrator and teaches illustration.
John Freeman: What are you working on, comics-wise, right now, and when will it be published?
Petteri Tikkanen: I'm working now with my next Black Peider (the superhero wrestler) book called IT. I don't have a publisher for it, yet. But I hope that it will come out in 2019.
John: Which comic project you've worked on are you most proud of and where can people see it or buy it?
Petteri: The most recent comic that I've done that I'm quite proud is gig-review that I did about band The Hellacopters. You can read it on the Rumba.fi web page (Here's the direct link to this crazy strip, in Finnish - but if you're on Facebook, you can read it in English here on the Black Peider page, translated by Ella Lopperi and Jarkko Jokelainen).
John: How do you plan your day as a creator? (Do you plan your day?)
Petteri: I don't plan my day. Once in a while I wait for the inspiration. It never comes. I usually work the most when the deadline approaches.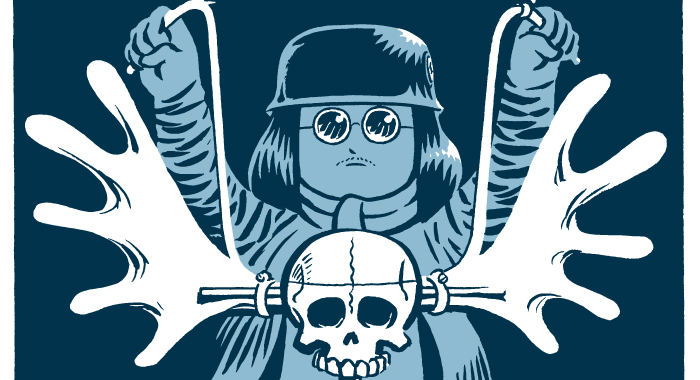 John: What's the best thing about being a comics creator?
Petteri: Freedom. I love stories. I get to tell stories for people through my comics with unique touch
John: And the worst?
Petteri: The moment I realise I don't have any stories to tell. Then the professional in me steps in. I start digging my memories and try to locate the story I haven't told.
John: What most distracts you from getting your work done?
Petteri: I am easily distracted! It can be sunny day when I want to go swimming. Or it could be a song that I would like play on guitar. I have to concentrate really hard to keep myself in front of the drawing table.
John: Do you think it's easier or harder for young comic creators to get published today?
Petteri: Harder. But it is also easier to get own audience through internet. Your own blog can reach bigger audiences than a small fanzine.
John: Have you ever been to the Lake District before and if so what did you think of it? If you haven't, what are you expecting?
Petteri: I was there last year. It was great. The place was nice and the feeling of the festival was cozy.
Finnish cartoonist Petteri Tikkanen at work on his pages for "Coelifer Atlas", the Lakes International Comic Art Festival's marathon comic project in aid of OCD Action, last year[/caption]
John: Which one comic creator would you most like to meet, and why?
Petteri: Charles Burns. I could tell him how his character El Borbah has been great inspiration for my alter ego, Black Peider.
John: How do Festivals and other comics events help creators most, do you think?
Petteri: They make me feel that I am part of something bigger. I am not alone in the world with my little books. Of course it is nice to meet colleagues.
John: What one piece of advice do you offer people looking to work in the comics industry?
Petteri: Don't think, just do it!
John: What's your favourite comic right now and where can people get it?
Petteri: Craig Thompson's Blankets is quite unique. I've never met so honest love story done by man.
John: Petteri, thank you very much for your time and we're really looking forward to seeing you again in Kendal and enjoying the craziness of the event's "Finnish Village"!
Book Your Festival Tickets Now!
• Book your tickets for this year's Lakes International Comic Art Festival here. This year's events programme includes live draws, masterclasses, interactive talks and a chance to get up close to the best comic creators in the world! 
Web: www.comicartfestival.com | Facebook | Twitter | YouTube |Podcast
Petteri Tikkanen Online
Web: www.petteritikkanen.com | Facebook | Black Peider on Facebook | YouTube