The ongoing Comic Art Europe research project into Comics Literacy, working with pupils from Manchester's Abraham Moss Community Primary School, is proceeding apace, with support from a huge number of comic creators and publishers.
Working with Abraham Moss Community School, Manchester, the Lakes International Comic Art Festival began a wide-ranging research project into Comics Literacy in 2021, in partnership with Comic Art Europe, with support from The Phoenix comic and Manchester City of Literature.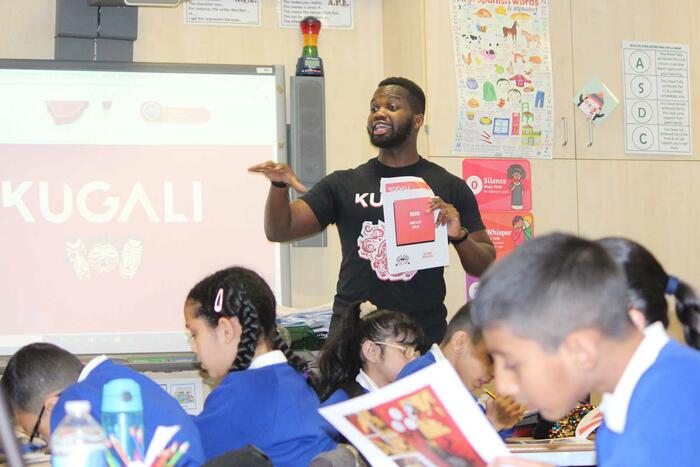 Recently, Year 4 Yellow from the school spent the day with Hamid Ibrahim and Haroun Famhyfrom Kugali Media, a company created to tell stories inspired by African culture, using comic books, art and augmented reality. 
Pupils were introduced to the world of Kugali and the value of story telling, with time spent reading, starting with Ndaw, a comic that encapsulates the spirit of African folk tales. This mystical story gave the pupils free licence to let their imaginations run wild and concoct a series of truly inventive characters of their own.
Full marks were awarded to Hamid for his drawing demonstration using the pupils' suggestions – think along the lines of "baby-spider-cheetah-man"!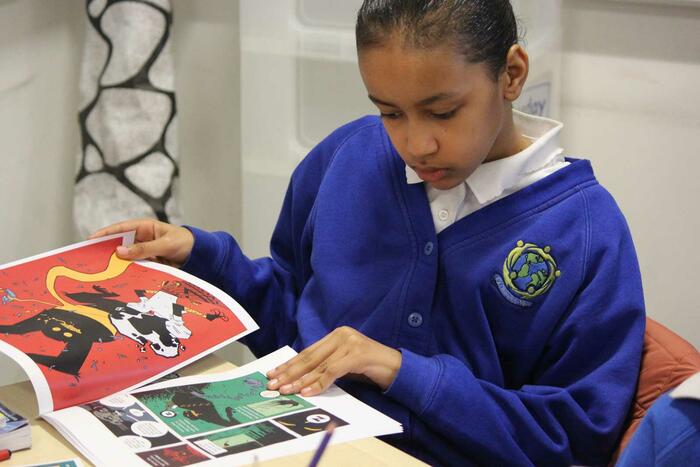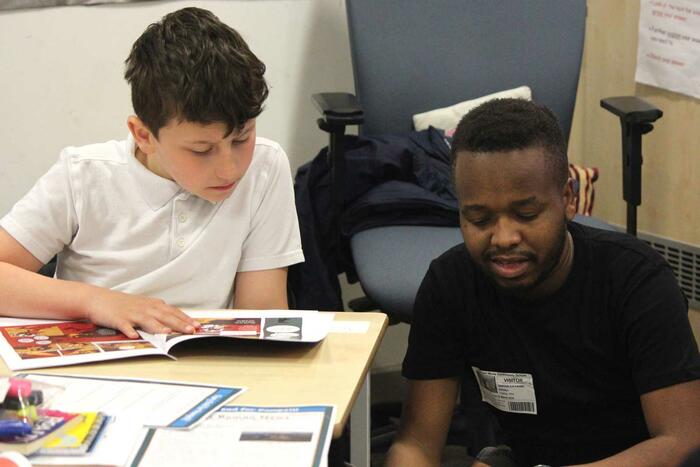 The youngsters did an excellent job taking it in turns to read another Kugali title, Lake of Tears out loud to the rest of the class. They were also absolutely over the moon at discovering they could each keep their own copy! Thank you to Kugali for their generous gift and support of the LICAF Comic Art Europe research project.
Later in the day, the youngsters teamed up to work together, in true comic style, producing their own stories in artist/writer pairs. These collaborations were a sight to behold, a clear demonstration of how comics in the classroom can be accessible and rewarding for all.
Pupils also got to enjoy a sneak peek of Kugali's original animated series, Iwájú, created in partnership with Walt Disney Animation Studios, which they were thrilled with, and which we all can't wait to see.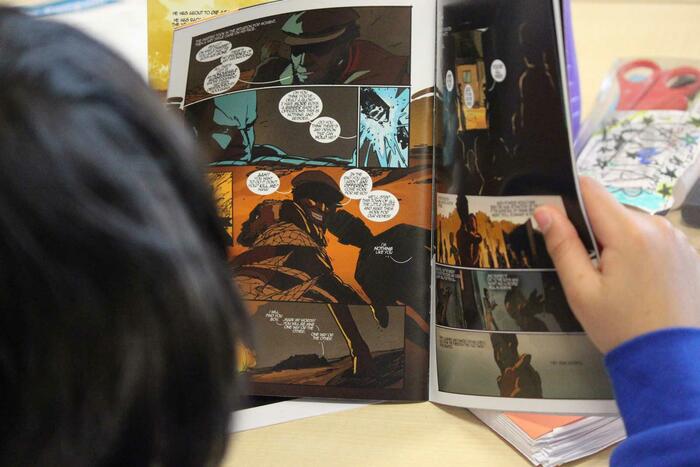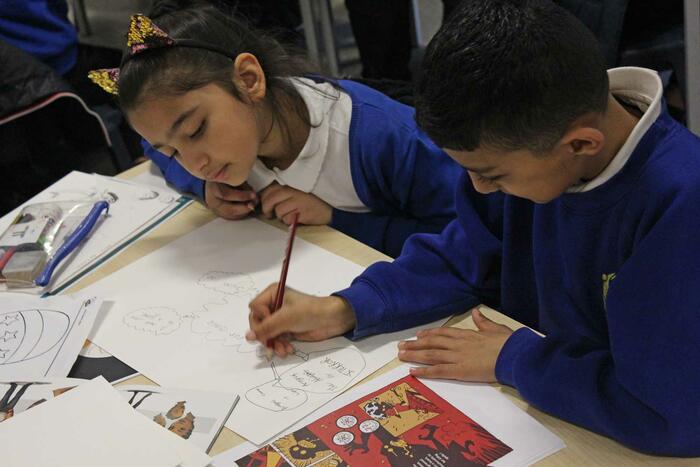 "LICAF is really grateful to Kugali Media for contributing their team efforts and supporting this project," commented Hester Harrington, Little LICAF co-producer and CAE project co-leader. "It's important to demonstrate to the pupils the diversity of the comics industry, and it's been wonderful to have the opportunity to represent African comics in the classroom as part of the Kugali workshop today."
Comic Art Europe Literacy Project continues into 2023
Comic Art Europe aims to demonstrate the importance of comics in societies across Europe and support new and young comics creators in developing their skills and experience. The programme is run by a partnership of four major comics events and organisations: the Lakes International Comic Art Festival, the Joso Comics School in Spain, the Belgian Comic Strip Museum in Brussels, and Lyon BD Festival in France.
One element of the internationally and nationally significant programme is proving that comics can have a positive impact on literacy skills, enabling people from all ages and backgrounds to become better readers, writers and communicators and enhancing their confidence and social skills.
The programme, which began last year, will run until 2023, and each European partner will work with one group to research the impact of comics on literacy. In the UK, Manchester's Abraham Moss Community School, Year 3, are the UK group, exploring how comics impact upon children's enjoyment of reading and their wellbeing.
After finding out more about the children and their current attitudes and preferences in relation to reading and other activities, anonymously measuring their progress over the 12 months of the programme, the next stage is a series of creative workshops with comic creators, where the children will learn all about comics, both how to read them and how they are created.
• Find out more about the work of Little LICAF and the Lakes International Comic Art Festival here on the LICAF web site | Facebook | Instagram | Twitter
• More about Comic Art Europe at comicarteurope.eu
• Find out more about Kugali Media and its many projects at kugali.com
All photos courtesy Abraham Moss Community Primary School