Lebanese artist Bernard Hage, also known as "The Art of Boo", has arrived in the Lake District for a two-week comics residency, as one of the winners of the Comic Art Europe 2022 Open Call, which challenged comic creators to come up with work based on the theme, "Living Together".
Comic Art Europe comprises four of the leading European comics organisations, including the Lakes International Arts Festival, united by a single aim – to strengthen the comics sector in Europe, with the support of the Creative Europe programme of the European Union.
This year, the "Living Together" theme prompted plenty of great projects from across the whole Europe, and five artists won the chance to be accompanied and supported by Comic Art Europe - including Britian's James Albon, whose comic book project, "Love Languages", is a love story between two people from different cultures. Other winners were Spanish creator Silvia L. Ballart, Eva Pavlič, from  Ljubljana, who became interested in creating comics while studying architecture and urbanism, and Czech artist Štěpánka Jislová.
Each artist has been awarded a 5000€ grant and a two-week residency in order to receive help in the completion of their project.
"I took him on a tour of our new location yesterday," says LICAF Festival Director Julie Tait, "and it's great to have him around!"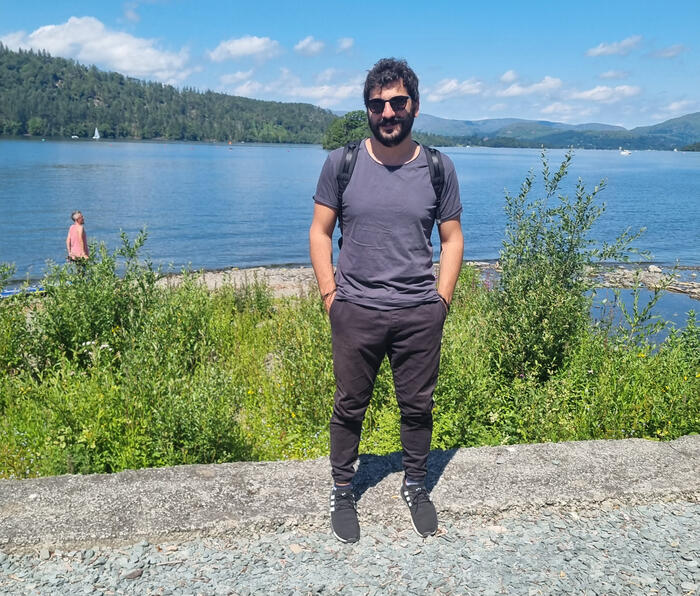 Bernard Hage is a Lebanese author living in Germany, who's writing "The Philosopher", a comic that depicts the monologue of a philosopher during an outdoor walk, in which he reflects on many things including society and human nature. The Lake District should be absolutely perfect when it comes to providing inspiration, then!
As the philosopher strives to create an idealistic and ethical society, he finishes his walk and arrives at his apartment to find his roommate's dog chewing on his research paper and loses his mind over it.Bernard is an illustrator, writer, musician and cartoonist, best for his cartoons. He's published weekly with L'Orient Le Jour since 2018, the French language Lebanese daily that offered him an insane amount of exposure in return for his drawings. His work has been hailed by regional and international media, popular blogs and his mother.
He says he chose a career in advertising that eradicated his ethics and not-so-social life simultaneously, so he quit his job in 2012. After surviving a profound existential crisis, he hosted his first solo exhibition, "Undressed – Society's Reflection in Its Brands" at Artlab gallery, Beirut, in 2014. He then published his first book of illustrated short stories and an original music soundtrack titled In the Dead of Night – Bedtime Stories for Grown Ups in 2017.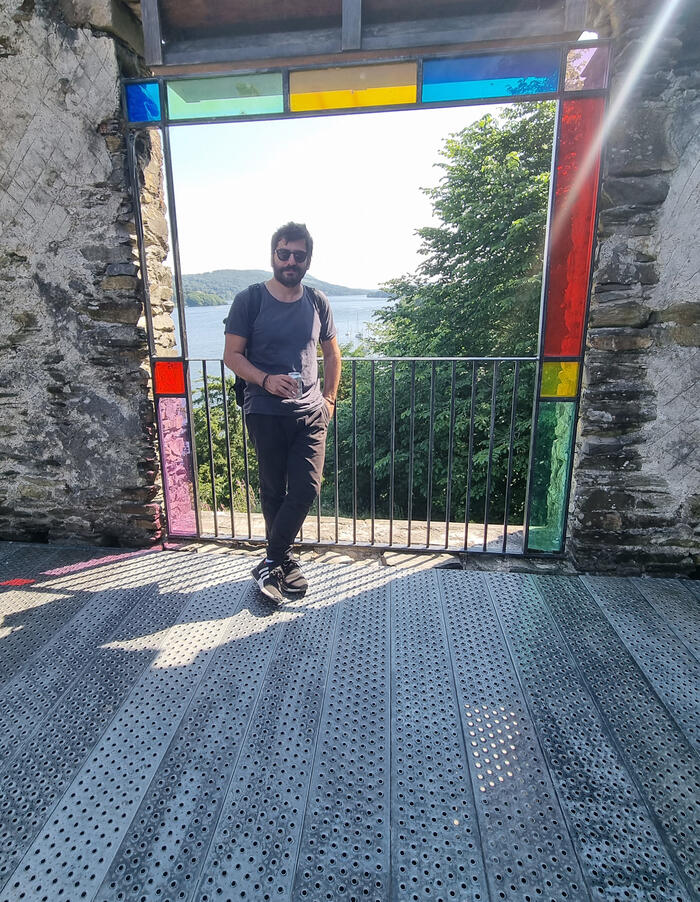 Bernard's recent book, Anatomy of A Hummus Plate, published by 'Les Editions L'Orient Le Jour' in April 2021, is a compilation of social and political cartoons that serves as an introduction to Lebanese society. A satirical documentation of Lebanon's descent into hell, from 2019 until 2021. Launched in Beirut, the book received horrible reviews, most of which originated from furious vegans who were misled by the title and thought the content was no laughing matter.
In his spare time, Bernard composes music on his piano, labeled as "neo-experimental-medium-rare-Indie" by his intellectual middle-aged divorced neighbor, with whom Bernard agrees. Recently, his music became more appreciated among the other neighbors, as it turned out it drives burglars and bandits away. His records are mostly played on weekends, in lieu of a security system when the neighbours leave for their mountain retreat.
"We are absolutely delighted to be hosting Bernard here," adds Julie Tait. "I can't wait to see his finished work."
Bernard will be back in Bowness-in-Windermere in 2023, for next year's Lakes International Comic Art Festival in October, to present his completed work.
• Bernard Hage aka Art of Boo is online at www.theartofboo.com | Facebook | Instagram | Twitter
• National News: Lebanese artist Bernard Hage on the power of political satire: "when you're laughing you cannot be afraid" - an interview
• For more information about the work and plans of Comic Art Europe, visit comicarteurope.eu | Find Comic Art Europe on Facebook