Every year, in the countdown to the Lakes International Comic Art Festival in October, we bring you a series of interviews with guests at the event. This first "Festival Focus" for 2019 is with satirical artist, illustrator and writer Darren Cullen whose exhibition, ""Artist"" - exploring subjects as diverse as the Iraq war, the British police and the Daily Mail - will be on display in the Warehouse Gallery at the Brewery Arts through the weekend.
Born in Leeds to Irish parents and currently based in London, Darren initially thought he would go into advertising as a career, studying it at Leeds College of Art where he learned the language and techniques of the medium but became steadily horrified at the ethical implications involved.
Claiming that "manipulating the desires and aspirations of the public, and especially children, using an arsenal of sophisticated and emotionally damaging psychological techniques is an appalling way to make a living and an even worse way to sustain an economy."
Cullen abandoned advertising to study Fine Art at Glasgow School of Art. He now uses the language of advertising to make work about the empty promises of consumerism and the lies of military recruiters, releasing his first comic, an anti-army recruitment booklet sarcastically called 'Join the Army' in 2013 -  bethemeat.co.uk.
As well as Pocket Money Loans, Darren recently wrote a series of short films for Veterans For Peace UK, called Action Man: Battlefield Casualties - to draw attention to the way the Ministry of Defence targets children as young as five with its official toy range, 'HM Armed Forces', which includes an RAF Drone Playset.
What are you working on, comics or illustration-wise, right now, and when will it be published or exhibited?
Darren Cullen: I've had a comic project on the boil for a long time called The Birth of Palestine, which is a sort of counter-factual sci-fi starting around 2047, where the United Nations gives the Palestinian people their own homeland in what used to be known as Spain, due to a historical claim from the time of Al-Andalus. If I'm optimistic, I will finish that next year, but I say that every year.
Most of the projects I'm working on are not comic based at the moment, but I've been trying to get back into doing at least one new stand-alone drawing or painting a week. It's one of the few self-imposed deadlines that's ever worked for me.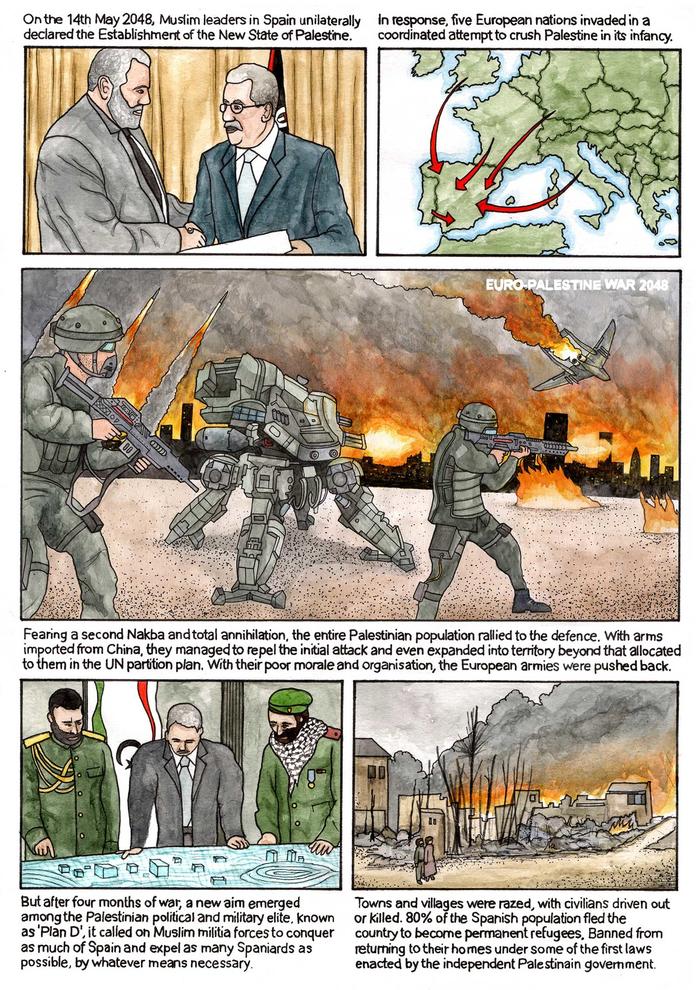 Which project you've worked on are you most proud of and where can people see it or buy it?
Darren: I think my Mini Daily Mail brought together quite a few strands of my work in one object, and I'm really happy with how it turned out. It's a miniature, boiled down version of Britain's angriest and horniest newspaper, about 10cm wide, so you can only read the headlines, which are all just slightly exaggerated versions of the paper's usual bile.
You can read it for free online or order a physical copy from my website, or the link minidailymail.co.uk
You've successfully used the language of advertising, did something specific prompt that approach to your art?
Darren: I studied advertising at art school and fully intended to go into that as a career until I had a bit of an ethical awakening in 3rd year, decided I didn't want to make people miserable for a living, and switched to studying fine art. I like playing with the language of it, and the sloganeering. It's a very direct way of getting ideas across, and advertising is really the dominant art form of our age, as depressing as that is to say out loud.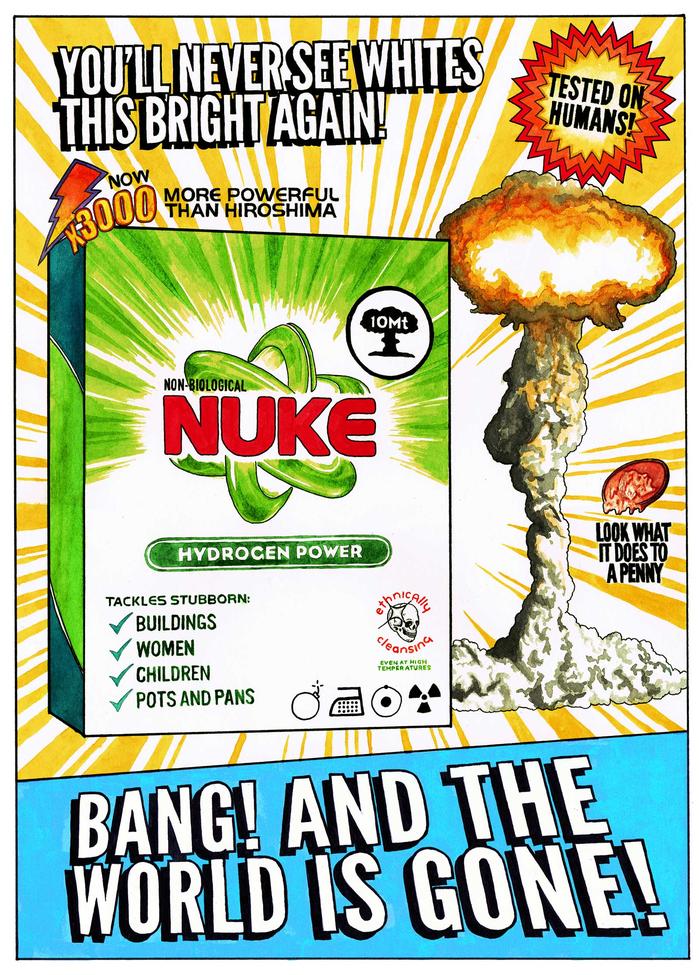 How do you plan your day as a creator? (Do you plan your day?)
Darren: There is a to-do list, but I think calling it a plan would be a stretch. If I don't have a deadline then I tend to flit about between whatever catches my attention, and it can be quite a struggle to actually start drawing. But when a deadline is on the horizon things become a lot more focused, it forces me to make decisions. I genuinely love deadlines.
What's the best thing about being an illustrator?
Darren: Finishing a drawing.
And the worst?
Darren: Starting a drawing.
What most distracts you from getting your work done?
Darren: Twitter has been my most consistent distraction, and I can waste entire days arguing with people I'd cross the street to avoid communicating with in real life. I've started trying to think of social media in the same way I do any other addictive substance, i.e not something I should be doing first thing in the morning, or something that should be getting in the way of work. Twitter is like my booze, and booze is also like my booze.
Do you think it's easier or harder for young artists, including comic creators, to get published professionally today?
Darren: I think it's certainly a lot easier to self-publish, but I've never had anything published by anyone else so its hard to say. For me, crowdfunding platforms have meant that I've been able to publish relatively complicated and expensive to produce books in decent-sized runs, and books that actual publishers would never touch. Which has become apparent in some of the problems I've had getting things simply printed.
My anti-army recruitment comic, Join the Army, was rejected by three printers because it offended their pro-army sensibilities. The Mini Daily Mail had two printers reject it as soon as they saw the artwork, not wanting to invite lawsuits or make enemies.
I don't blame printers for that, it's their prerogative to turn down a job, it's just frustrating when you have to pay more to get it done elsewhere, and sometimes feels like I've stepped back into the 1970s, when records or books wouldn't be printed because they were "obscene". But it's also a bit of an insight into how safe real businesses play these things, and how much freedom there is in self-publishing rather than relying on a publisher. Not many companies are going to risk their neck just because I want to piss off the Daily Mail or Shell.
You actually do a lot of work promoting new art and artists, can your tell us more about your gallery?
Darren: It's called WAR Gallery, in south east London, and it was kind of an accident. After I did my Pocket Money Loans installation at Dismaland, I actually had the funds to start renting a studio for the first time, but there weren't any in my local area, so I just rented an empty shop unit in Leegate Shopping Centre ("Britain's Worst Shopping District" - Evening Standard) and, because it had a big shop window, I figured why not do a gallery and stock some of my favourite small press comics too? So since then I've been able to put on quite a few shows with artists like Gareth Brookes, Rubyetc, Double Why, Dr. D, Sam Wallman, Nicky Minus, Gloria Oyster, Babak Ganjei, and Teresa Ferreiro, among others.
Is there one comic creator or artist you would most like to meet, and why?
Darren: I'm forever in awe of Chris Ware, and he's been an important if indirect influence on my work since art school, although it might not be obvious. Also probably the biggest influence on me of all time was the Spitting Image Giant Komic Book, which my mum accidentally bought for me from an Asda clearance bin when I was nine. I doubt I'd be making the stuff I make today if it wasn't for that book, and I'd love to shake the hand of any of the artists and writers involved in it.
How do Festivals and other comics events help creators most, do you think?
Darren: For the most part artists are hidden away in rooms, and I think doing stalls like this is the closest thing a comic creator gets to playing a live gig. It's great to be able to talk to people about the work and see their first reactions to things.
What one piece of advice do you offer people looking to work in the comics industry?
Darren: Make whatever you want to see that doesn't exist yet.
What's your favourite comic right now and where can people get it?
Darren: I think one of my favourite comics is Thousand Coloured Castles by Gareth Brookes. It's a stunning crayon-drawn story about a woman with Charles Bonnet Syndrome, where the brain hallucinates to fill in gaps caused by loss of eyesight. It's a fascinating idea for a comic, about a real condition, and perfectly executed.
I think Gareth's work is incredible, his Black Project book is also very very good.
Darren, thanks very much for your time and see you in October!
• The Lakes International Comic Art Festival is back in Kendal in the Lake District 11th – 13th October 2019: www.comicartfestival.com | Podcast | Instagram | Facebook | Twitter | Youtube
• Want to receive news about the Lakes International Comic Art Festival? Then sign up for the newsletter now (If you are a member of the local, national or comics press interested in the Lakes International Comic Art Festival, this mailing list is for you)
DARREN CULLEN ONLINE
Web: www.spellingmistakescostlives.com
Twitter: @darren_cullen
Instagram: @spellingmistakescostlives
Facebook
Tumblr
Youtube
Interview question posed by John Freeman | All art © Darren Cullen