As we countdown to the Lakes International Comic Art Festival next month in Bowness-on-Windermere (14th – 16th October 2022), here's another in a series of interviews with some of the guests – a quick chat with comic creator Bryan Hitch!
British comic artist and writer Bryan Hitch began his career in the United Kingdom for Marvel UK in mid 1987, shortly after his 17th birthday, working on titles such as Action Force and Death's Head.
He went on to gain prominence on American titles such as Wildstorm's Stormwatch and The Authority, DC Comics' JLA, and Marvel Comics' The Ultimates.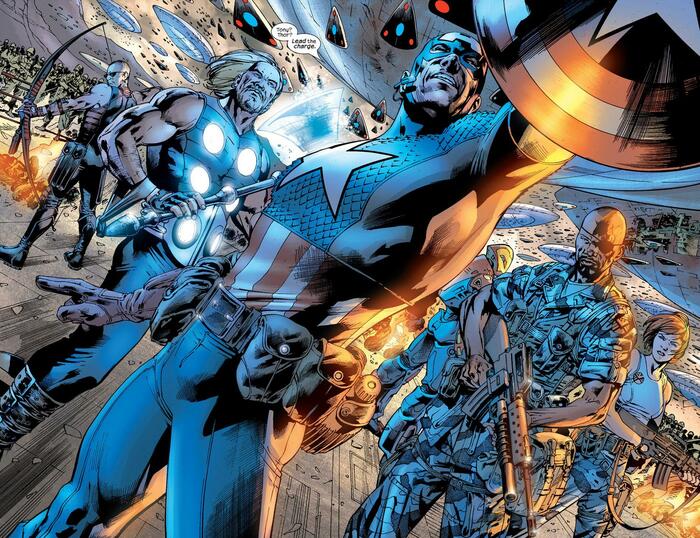 Bryan does not consider himself an artist or comic artist, but a storyteller, explaining that illustration, for him, is simply a medium to tell a story.
His artwork and designs have appeared in direct-to-video animated films, television, and major feature films, such as the 2009 film Star Trek, for which he has been praised by director J. J. Abrams.
His many credits outside of comics include cover art for magazines such as Empire, as a character design artist for the Ultimate Avengers and Ultimate Avengers 2 animated films, and the video game Incredible Hulk: Ultimate Destruction.
In the 2000s, he was hired by the BBC as the concept artist for the 2005 relaunch of Doctor Who, having particular input into the design of the TARDIS interior set.
Other comics work includes the Image Comics series America's Got Powers, with writer Jonathan Ross, and six issues of the ten-issue mini-series, Age of Ultron. His creator-owned series, Real Heroes, which he wrote and illustrated, made its debut in 2014, a story he describes as "the cast of Avengers does Galaxy Quest."
In 2015, Hitch returned DC to write and draw Justice League of America, and he and artist Tony Daniel collaborated on a new Justice League series in 2016, as part of the DC Rebirth relaunch.
Recent comic work includes Venom for Marvel, a new creator-owned character, Redcoat, and, for 2022, Superman Black Label for DC, working with Mark Waid, inked by Kevin Nowlan – and more.
What are you working on, comics-wise or illustration wise, right now, and when will it be published?
That I can talk about? The latest arc of Venom (issues 17 onwards) for which I may have some additional exciting information soon; the Superman Black Label book, written by Mark Waid and inked by Kevin Nowlan, and REDCOAT, a book to be published by Image next year co-created and written by Geoff Johns, and drawn by me.
Which comic or art project you've worked on are you most proud of – and where can people see it or buy it?
I always say the next thing I do. I'm not precious about my work at all. The interest I have is only for as long as it's on my drawing board and I'm more interested in looking forward than backwards.
How do you plan your day as a creator? (Do you plan your day?)
I get up at 4.30 – 5.00 am and start work about 30 minutes later after a shower and making coffee. Work until around noon (allowing for getting the youngest two boys out to school), walk the dogs then work again until 6.30. 
I break my process per issue down like this: I'll very crudely thumbnail the script out so I know the panel arrangements. I do this for the whole book. Takes about an hour. Then I rule up all the pages and panel borders on the paper I use for all the roughs. Again, whole issue. Then I block in all the shapes and work out the composition for the whole issue in blue pencil. Then I use an HB pencil to work out all the problems of shapes and anatomy. No real detail, just relatively clean shapes. But all the problems of the page, except the detailed finish, are worked out at this stage. Again, I do the whole issue this way. So all of that takes four to five working days. 
Then I scan the breakdowns in and use Photoshop to fix anything, like heads being too small or large, stuff being too big for the panels and so on, before then printing them all out on 11 x 17 inch art boards. I have a large format printer for the double page spreads, and since I occasionally use 14 x 20 inch paper for things, I want to draw larger (such a the Superman book and most covers), I use it for that too.
Then, in batches of about five or six, I draw up the finished pencils over the blue print outs (that way the layout is never lost when erasing any mistakes). Finishing the whole issue this way will take on average another five to six days.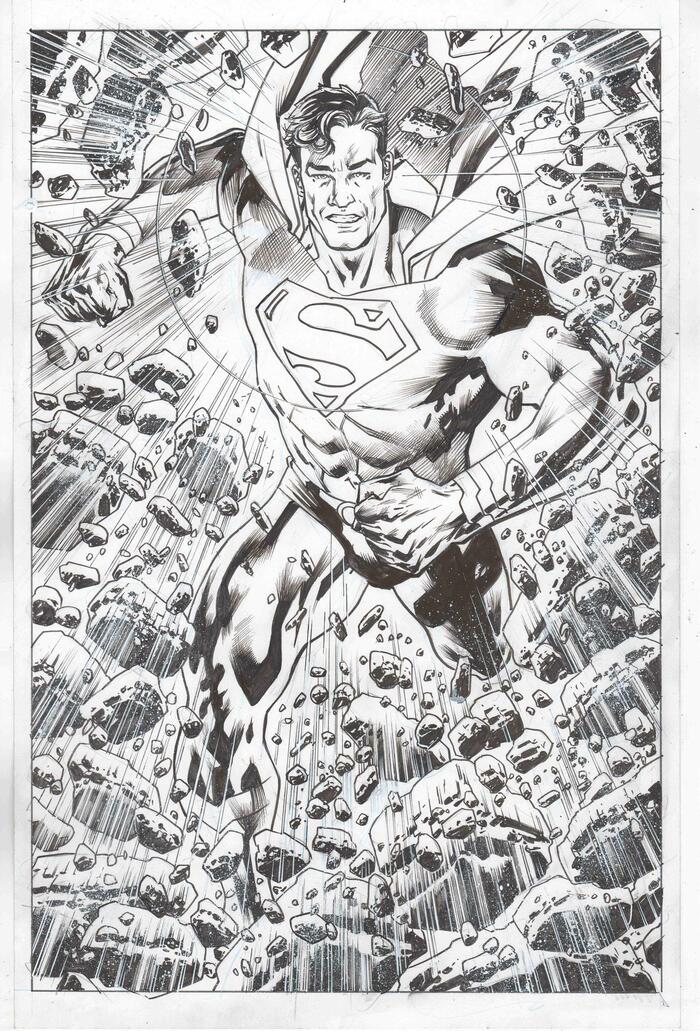 What's the best thing about being a comics creator?
Telling stories and being hug fun most days. It's a good living and I enjoy following a passion I've had since childhood.
And the worst?
Sometimes long hours, but I'm not complaining. I get my pick of jobs; plenty of exciting opportunities and make a good living. I'm lucky.
What most distracts you from getting your work done?
Nothing these days. I'm very disciplined and my process is very regimented. Though far form stifling any creativity, which is really only the first thoughts you have about how the page will work, not the effort that goes into realising it, that strict process allows me to be very productive and makes me feel anything is creatively possible.
Do you think it's easier or harder for young comic creators to get published today?
It's very easy I think to get your work out there and self publish. If it's good, people do notice. So there are for more avenues for getting work seen now, and even owning it, than just hard copy print publishers like DC and Marvel. 
Getting paid well for it or at all is a different question but it even seems with crowd funding there are opportunities we didn't have starting out. I'm not really well versed on any of this so I could talking out my arse.
Which one comic creator would you most like to meet, and why?
Alas, those ones are all long dead
What one piece of advice do you offer people looking to work in the comics industry?
Be determined. Enjoy it as much as you can. Accept that failure (such an unfortunately ugly and negative word) is all part of success and something to learn from. If you have talent, that's helpful certainly but everything is work. Creativity is the initial moment, the first step on the journey that is your story or picture. The effort is making that journey, which is just sitting and doing the work. No secret ingredients at all really.
What are you most looking forward to about coming to the Lakes this October?
Coming home for the first time in almost a decade.
Bryan, thank you for your time and see you at the Festival!
• Weekend tickets for this year's Lakes International Comic Art Festival are available here
BRYAN HITCH ONLINE
• Web: bryanhitchart.com 
• Twitter: @THEBRYANHITCH
THE LAKES INTERNATIONAL COMIC ART FESTIVAL 2022
• The Lakes International Comic Art Festival will run from Friday 14th to Sunday 16th October 2022 – and is online at: www.comicartfestival.com | Lakes International Comic Art Festival Podcast: www.comicartpodcast.uk | Twitter: @comicartfestpod | Facebook: @ComicArtPodcast | Instagram: @ComicArtPodcast
• Head to the Festival web site now for further information about ticket options, or go straight to EventBrite and grab your tickets now
Announced guests for 2022 are, in alphabetical order, include: Charlie Adlard, Dimitris Anastasiou, Mehdi Annassi, Lucie Arnoux, Bianca Bagnarelli, Alison Bechdel, Matthew Dooley, Ulla Donner, Oliver East, Karrie Fransman, Dave Gibbons, Paul Gravett, Kalle Hakkola, Jaime Hernandez, Eva Hilhorst, Bryan Hitch, Stephen L. Holland, Rian Hughes, Marc Jackson, Leomacs, Marine des Mazery, Vojtěch Mašek, Joe McGarry, Luke McGarry, Steve McGarry, Mick McMahon, Bill Morrison, Bex Ollerton, Dean Ormston, Jacob Phillips, Sean Phillips, Mike Perkins, Tim Pilcher, Ram V, Mollie Ray, Tom Richmond, Martin Rowson, Greg Rucka, Andrea Settimo, Katie Skelly, Posy Simmonds, Václav Šlajch, Fiona Stephenson, Maria Surducan, Bryan Talbot, Mary Talbot, Petteri Tikkanen, Jörg Tittel, Twin Cartoons, Judit Vanistandel, Asya Voitenko, and Andi Watson
• Want to receive news about the Lakes International Comic Art Festival? Then sign up for their newsletter now
• Check out the LITTLE LICAF Facebook Page here and the dedicated LITTLE LICAF Instagram here