Every year, in the countdown to the Lakes International Comic Art Festival, in partnership with the downthetubes web site, we bring you a series of interviews with guests at the event. Over 70 are attending in 2018 in October (and that's not including creators you'll find in the Comics Clock Tower).
This Festival Focus for 2018 is Robert Brown, a cartoonist from the Midlands, who has been publishing his comics since 2004, when he released the first issue of his solo anthology series, Dream Logic. It ran for four issues, until 2007. He began publishing his current comic book series, Killjoy, in 2011.
Robert studied at the University of Gloucestershire, where he helped inaugurate the BA Illustration annual, Olio.
He's contributed strip cartoons to anthology series such as Solipsistic Pop, Paper Tiger Comix and Sea Mouse, as well as illustrating pieces for Soaring Penguin's Eisner-nominated anthology To End All Wars (written by Lex Wilson) and New Internationalist's Portraits of Violence (written by Sean Michael Wilson and Brad Evans).
Robert, what are you working on, comics-wise, right now, and when will it be published?
Robert: I'm currently nearing the completion of The Many Not the Few: An Illustrated History of Britain Shaped by the People, an episodic cartoon history of people's uprisings and labour movements in Britain (written by Sean Michael Wilson & published by Workable Books). I don't know the exact release date yet, but I expect it will be out in late 2018 or early 2019.
Which comic project you've worked on are you most proud of and where can people see it or buy it?
Robert: Probably Killjoy, an autobiographical comic series I've been publishing since 2011. It's currently up to its fifth issue. I suppose I'm most proud of the first issue ('Cub Camp'), which came out after an extended period of inactivity. Generous people can buy copies via my. web site.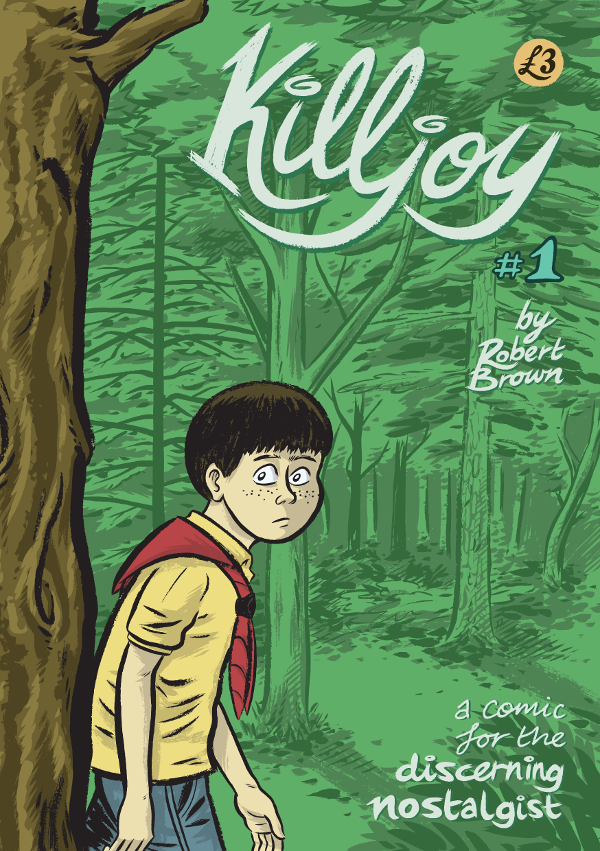 How do you plan your day as a creator? (Do you plan your day?)
Robert: Recently I've been starting my days with an overly-ambitious plan of how much I want to accomplish, after which I just try to get as far as I can before I'm too tired to continue. It's beneficial for me to get into a good working rhythm before midday — oftentimes all is lost if I start in the afternoon. Along the way, I set a timer for a short break between every hour of work, to rest my weary hands and refocus my eyes.
What's the best thing about being a comics creator?
Robert: Getting to play about with that mysterious alchemy of words and images.
And the worst?
Robert: I suppose the inefficiency of the form — the time taken to draw a panel compared to how quickly it will be read — can be demoralising, sometimes. (Also, constant drawing can contribute to health problems, exacerbated by poor practice: back pain, eye damage, irregular sleep patterns, etc.)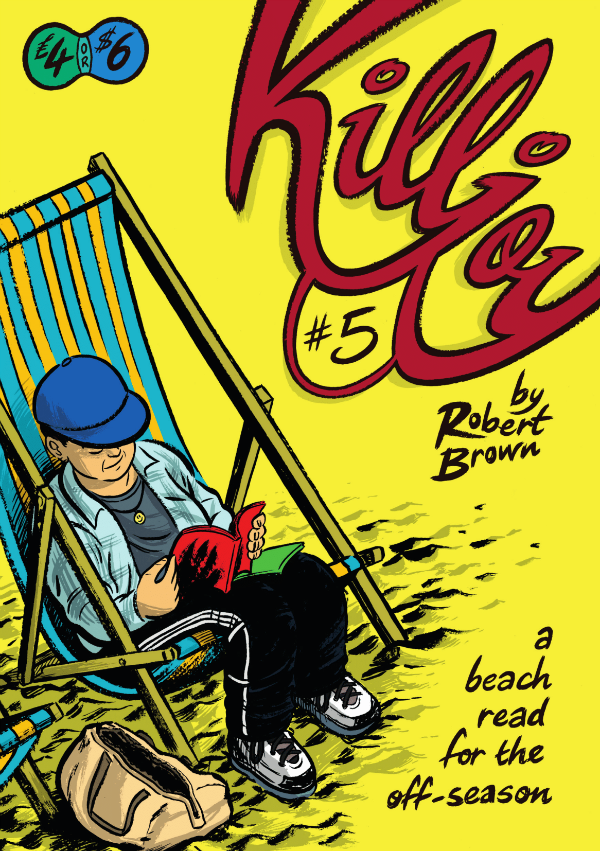 What most distracts you from getting your work done?
Robert: The near-implacable desire to do anything else: reading, planning a different project, drinking, Web-surfing, socialising, etc.
Do you think it's easier or harder for young comic creators to get published today?
Robert: Hmm. Assuming a broad definition of 'published', then I suppose it's much easier than it was twenty or more years ago, given the ubiquity of the Internet — yet with that comes a sense of jostling for attention amidst a crowd of smarter, cooler, more talented, and more prolific creators. (Not the most original insight, sorry!) But I don't like to think about this stuff in competitive terms; this global network of creators is making comics ever more interesting and diverse.
In terms of 'traditional' publishing, I can certainly see a lot more small presses active in the UK compared to when I first got seriously into drawing comics (around 2004), as well as a friendlier attitude towards the art form from mainstream publishers and arts organisations. So, alongside the increasing numbers of creators publishing on social media and exhibiting at conventions, there appears to have been a concurrent growth in publishing/funding opportunities… But I'm not sure if this balances out to "easier or harder" in terms of individual creators' experiences.
Also, the potential for self-publishing is better than ever due to developments in digital printing, which is now a very nice middle-ground between photocopying and lithographic reproduction (in terms of both quality and cost).
Have you ever been to the Lake District before and if so what did you think of it? If you haven't, what are you expecting?
Robert: Yes, and I like it a lot! (Although I've yet to hike its mountains, which I've been meaning to do for ages). I went to stay near Ennerdale Water for a friend's thirtieth birthday some years ago, and found the area quite lovely. I've also been to LICAF a couple of times before (once as an exhibitor) and enjoyed that very much.
Which one comic creator would you most like to meet, and why?
Robert: I'm very prone to getting star-struck (and consequently saying inane things), so I'm not very eager to meet my heroes. If I was cooler and also able to reanimate the dead, I'd probably meet George Herriman or Peter Arno. (Albeit the latter is not technically a 'comic creator').
How do Festivals and other comics events help creators most, do you think?
Robert: My response to this is quite subjective: hitherto, I've not tended to sell a great deal online or at shops, so festivals give me an invaluable opportunity to actually sell comics. Plus, I enjoy the social element: meeting my randomly-allocated table neighbours and blathering at people who linger at my table for too long.
What one piece of advice do you offer people looking to work in the comics industry?
Robert: I don't think I've ever been asked for such advice! I guess I'm one of the people still trying to find my place here, too.
What's your favourite comic right now and where can people get it?
Robert: Sadly, I've been too busy drawing comics to read them, in recent months—but the next volume waiting patiently on my bookshelf is Furari by Jiro Taniguchi (published by Fanfare/Ponent Mon). I love Taniguchi's work, so I expect it to be top. People can order it through the usual channels.
Robert, thank you very much for your time and thoughts on creating comics. We look forward to seeing you in Kendal in October!
• The Lakes International Comic Art Festival will be back in Kendal 12th – 14th October 2018. Tickets for the Festival are on sale now.
• Web: www.comicartfestival.com | Facebook | Twitter | YouTube | Podcast 
ROBERT BROWN ONLINE
• Web: www.robertbrowncomi.cz
• Twitter: @pygmyking
• Instagram
Interview questions and feature by John Freeman