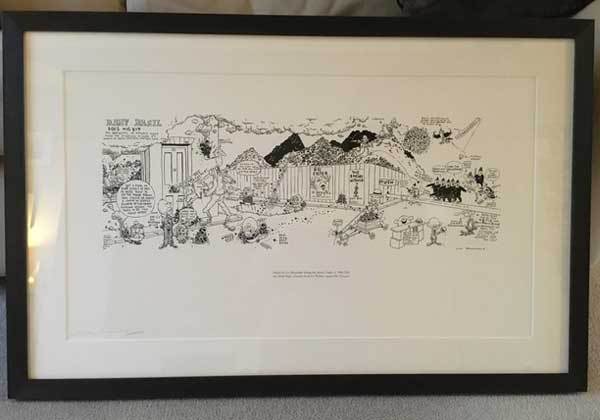 Honouring the acclaimed comics creator Leo Baxendale, the Lakes International Comic Art Festival is has announced a specially-made print – "Baby Basil Does His Bit" – is now on permanent display in Kendal's Brewery Arts Centre.
The installation is a a permanent tribute to an extraordinary and influential creator who, sadly, died earlier this year. Leo donated the print as a lasting memorial to his work, which included creating much-loved characters such as the Bash Street Kids and Minnie the Minx for The Beano and was a powerful advocate of creator's rights.
"My entire life has been 'Art & Science Entwine'," he told the Festival organisers on donating the print, "and I am happy for this one inkjet image to stand for my life's work, and to be put to potent use."
Leo Baxendale was not only the creator of the classic Beano strips "Little Plum", "Minnie the Minx", "The Bash Street Kids" and "The Three Bears", but he was instrumental in the creation of the much-loved Wham!, published by Odhams Press, in  1964 (his characters for that title including Grimly Feendish), and for creating Clever Dick (for Buster, later "ghosted" by Steve Maher) and Sweeny Toddler (for Shiver & Shake, but who became the star of Whoopee!).
Leo created the Willy the Kid series in the 1970s, published as three annuals between 1976 to 1978 by Duckworths. In 1987, after a seven-year legal battle with DC Thomson for the rights to his Beano creations,  eventually settled out of court,  he founded the publishing house Reaper Books, and his adult comic THRRP!, an adult comic book, was published by Knockabout. Reaper Books titles include Hobgoblin Wars, published in 2009.
Inventive, thought-provoking and above all, very, very, funny, Leo Baxendale helped shape so much of British comics and his legacy lives on still, not only through his own work but the work of those for whom he was a major influence – and one he was well aware of.
"After A Very Funny Business [Leo's autobiography], I got a fan letter from Alan Moore, who was just starting his career," Leo once told comics archivist and frequent Festival guest Paul Gravett. "He'd imagined that pros like me rattled off five pages before breakfast and was so relieved to read that I got tired and did stupid things because of lack of sleep.
"Alan, Steve Bell, Savage Pencil and others have taken the ethos of my work, The Beano Spirit, that uninhibited outlook, and they're carrying it on in their own work. I think that's wonderful."
"The Brewery is delighted to be exhibiting Leo's memorable work," comments Richard Foster. "He was just such an iconic figure within comics and has brightened the childhoods of so many of us. The work is also a symbol of the ongoing relationship between Lakes International Comic Art Festival and the Brewery which is growing from strength to strength."
"It's a real honour for us to have this print," says Festival Director Julie Tait. "Leo had begun to make plans with us to develop the legacy of Baby Basil even further just before he died so I intend to keep this flame alive, as he requested, for as long as we possibly can."
Julie has just put the finishing touches to this year's weekend-long Lakes International Comic Art Festival programme (13th – 15th October 2017), which includes numerous British comic guests, some of whom worked with Leo or who have been influenced by his art.
Comics archivist, Beano and EPIC artist Lew Stringer will be at the Festival to reveal more about the curious history of British comics past and present (read our "Kendal Calling" interview with him here), alongside comics editor John Freeman. Private Eye cartoonist Tony Husband is also at the Festival, one of the leading lights in the fondly-remembered weekly comic Oink!, a title much inspired by the anarchy of The Bash Street Kids in the 1980s.
Festival patron Bryan Talbot has made his own personal homage to Leo by dedicating his final Grandville story, which will launch at the Festival, to the Lancashire-born cartoonist, who started his publishing career at the Lancashire Evening Post.
Other British comic guests include Comics Laureate Charlie Adlard, Hannah Berry (author of the new graphic novel Livestock), Hellboy artist Duncan Fegredo, 2000AD, Dan Dare and Kid Lobotomy writer Peter Milligan, former 2000AD editor Steve MacManus, top cartoonist Steve McGarry, Emma Vieceli, the team from VIZ, and many more.
The Festival's "Comics Clock Tower" will also be packed with British comics creators, including the Etherington Brothers, Jeff Hawke creator Sydney Jordan, Knockabout Comics, Beano artist and Bog Eyed Books publisher Gary Northfield and the Cartoonists' Club of Great Britain.
• The full programme of events is now live on the Festival web site, along with details about its new Weekend Pass.
• Buy your tickets for the fifth Lakes International Comic Art Festival here
• For all events information visit the Lakes International Comic Art Festival web site: www.comicartfestival.com | Find the Lakes International Comic Art Festival on Facebook | Follow the Festival on Twitter @comicartfest
More about Leo Baxendale
• In Memoriam: Leo Baxendale – a tribute on the British comic news site downthetubes
• Beano artist Nigel Parkinson pays tribute to Leo Baxendale
• Leo Baxendale's official website is still here: www.reaper.co.uk