Michele Hutchison has been announced as the winner of the inaugural Sophie Castille Awards for Comics in Translation, for her translation of The Philosopher, The Dog and the Wedding by Barbara Stok, published in English by SelfMadeHero. More Awards for translation, inspired by the late Sophie Castille, are set to follow, across Europe.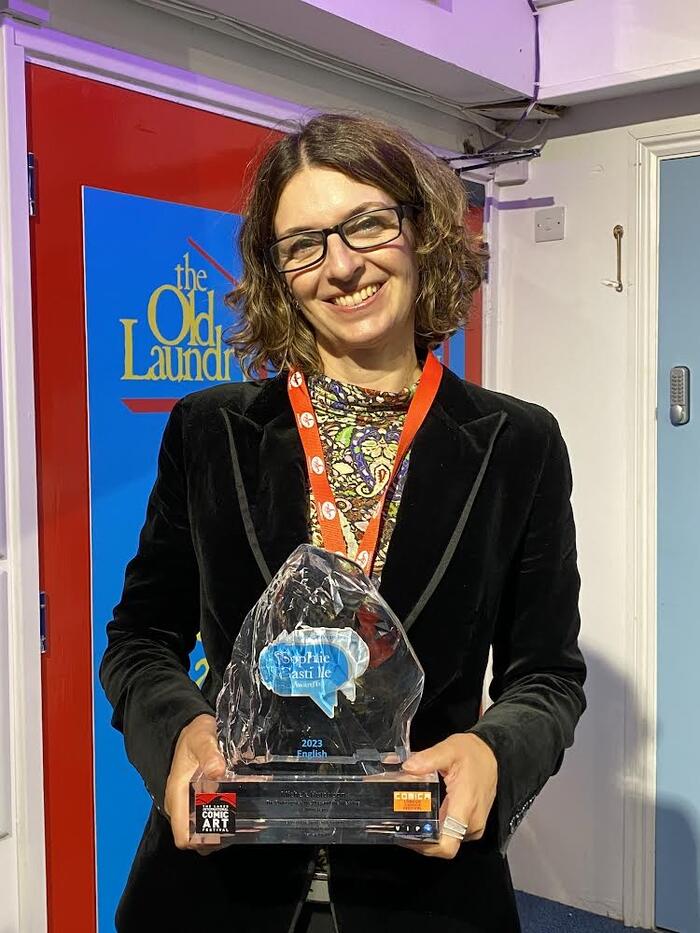 Michele was announced as the winner at this year's Lakes International Comic Art Festival (LICAF) last weekend (29th September - 1st October) in Bowness-on-Windermere, at an event attended by several publishers and comic creators.
The Sophie Castille Awards for Comics in Translation, established by VIP Brands Ltd., aim to recognise a much under-appreciated, vital aspect of comics publishing, for the best translation of graphic novels into a variety of languages around the world.
These awards have been created in honour of Sophie Castille, international rights director and V.P. of licensing for Mediatoon, cofounder and director of Europe Comics, who died unexpectedly last year.
90 amazing works were submitted, and the organisers were overwhelmed by the response.
This is the first award to be organised in honour of the late Sophie Castille, with partners now being lined up by VIP Brands Ltd. to select translators not just into English, but other languages, too.
Commenting on her win, Michele said: "This prize set up in Sophie's memory affords an amazing opportunity to highlight the wealth of graphic novels produced in other countries, and the value of having them professionally translated into English. I'm so thrilled to be the first recipient of a prize for something I care deeply about and for a book that was a dream to translate. I also want to congratulate the author Barbara Stok, the publisher SelfMadeHero, and compliment the other finalists on their work."
Three judges - Karen Green, Peter Kessler and Dean Simons - decided the final winner, with two other finalists chosen from a previously announced shortlist of books: All Princesses Die Before Dawn, translated by M.B. Valente, original work by Quentin Zuttion, published by Europe Comics; and Always Never, translated by Montana Kane, original work by Jordi Lafebre, published by Dark Horse.
"The significance of this award is not just to honour Sophie's memory, and her work, but to recognise the contributions of the translator, the nature of whose job is to be unnoticeable," notes judge Karen Green. "Like many Americans, I speak only English, and it was the work of unknown translators in my 1980s issues of Heavy Metal that opened up a world of comics I'd had no idea existed. Barbara Stok, the creator of The Philosopher, The Dog and the Wedding, took the philosophy of the Greek Cynics and made it utterly accessible. Michelle Hutchison took the Dutch text one step further, and made Stok's work accessible throughout the Anglophone world."
"Stok's The Philosopher, The Dog and the Wedding is an impressive work that uses simplicity of style to tell a powerful story set in a complex ancient world - with small details adding to a greater tale of love, agency and existence," noted Dean Simons. "Hutchison's translation takes the original Dutch text and matches the simplicity of the comic's approach, making the whole an effortless read in English."
"It was an immense privilege to be one of the judges for the inaugural Sophie Castille awards for translation," said Peter Kessler, who is also chair of the Lakes International Comic Art Festival. "Comics cross cultural boundaries in unique ways, and the job of the translator is incredibly skilled, preserving the identity of the original while making it transparently accessible to new readers. We read over 90 submissions, and the top three are all superb books that I would recommend to anyone. I cried, I marvelled, and I even learnt quite a lot about Greek philosophy.'
Commenting on the Awards overall, Ivanka Hahnenberger of VIP Brands said:
"It was wonderful that the inaugural global series of awards for comics in translation, a project I have envisioned for ten years, took place at LICAF, as the Sophie Castille Awards 2023 English. LICAF honours global independent comics creators and publishers so incredibly well, and there is no better home for this award in the memory of Sophie Castille someone who worked tirelessly to bringing comics players around the world together.
"To see this award go to Michele Hutchison, SelfMade Hero, and the lovely work The Philosopher, the Dog and the Wedding, was heart warming. The judges had a difficult choice to make as all three finalist titles are great translations of excellent works. It is also quite notable that amoungst the finalists was a web comic.
"This is a wonderful start to what we hope will be a global honour. We are striving to see Sophie Castille Awards for many many languages around the world."
These first Sophie Castille Awards come against a backdrop of growing demand for the recognition of the work of translators. Britain's Society of Authors is, for example, co-ordinating a "Translators on the Cover" campaign initiated by Jennifer Croft (translator of Olga Tokarczuk's International Booker Prize-winning novel, Flights) and Mark Haddon (author of The Curious Incident of the Dog in the Night-Time), asking writers to commit to asking that "whenever our work is translated… the name of the translator appears on the front cover".
The next awards in Sophie's memory will recognise excellent translations into other European languages. Negotiations are taking place with several international festivals for them to host Sophie Castille Awards in their respective countries.
• For more information about the Sophie Castille Awards for Comics in Translation, visit this page of the LICAF website or sophie-castille-awards.org
The Lakes International Comic Art Festival returns to Bowness-on-Windermere Friday 27th - Sunday 29th September 2024
• The Lakes International Comic Art Festival is online at: www.comicartfestival.com | Facebook | Instagram | Twitter | YouTube | Little LICAF on Facebook | Little LICAF on Instagram
• Sign up for the Lakes International Comic Art Festival Newsletter
Sophie Castille Awards 2023 - The Winner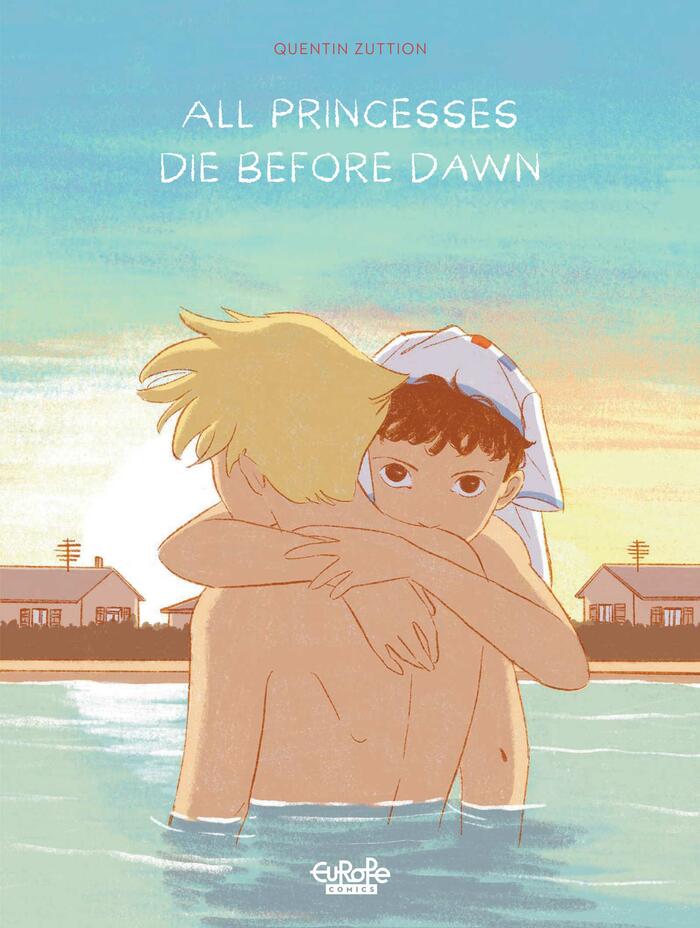 The Philosopher, The Dog and the Wedding, original work by Barbara Stok, translated by Michele Hutchison, published in English by SelfMadeHero
It is the 4th century B.C.E in Greece. Hipparchia is about to marry the rich son of a family friend when she meets Crates. As the wedding day approaches, Hipparchia becomes increasingly captivated by the views and way of life of this strange philosopher who lives on the streets.
Gradually she starts to realize that the safe, comfortable, and cushioned life of luxury that has been mapped out for her is actually one of emptiness, and spiritual imprisonment. Crates and Hipparchia came to develop a central strand of the so-called "Cynical" movement in Athenian philosophy – so-named for the dog-like tenacity or canine fury of their rejection of all conventional values.
One of their fundamental principles was that we can only attain true happiness if we are independent of material possessions and social position. Hipparchia was a strong woman who had the courage to live by her own ideals, despite all the prevailing prejudices of her time. Her story continues to speak to ours.
Sophie Castille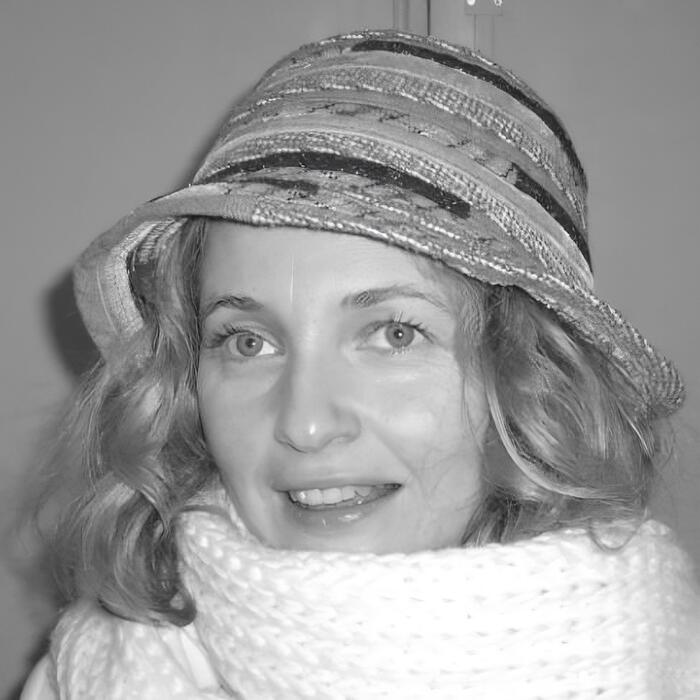 Sophie Castille was international rights director and V.P. of Licensing for Mediatoon, Cofounder and Director of Europe Comics, and a key figure in the growth of European graphic novels in North America and around the world. She died unexpectedly in July 2022, aged 52.
Born in Caen, Normandy, she studied in Italy before working in foreign rights for Dargaud in the mid-1990s. She was the cofounder of Europe Comics, a consortium of 13 European comics publishers launched in 2015. Her work at Europe Comics was instrumental in the growth in popularity of European comics in English and the development of the US graphic novel market.
Sophie loved and lived the idea of a united Europe. She was at home in Milan, in Paris, on La Réunion and in Berlin. For more than 25 years of her professional life, she was a constant source of creativity, motivating publishers from all over the world and encouraging them to exchange ideas.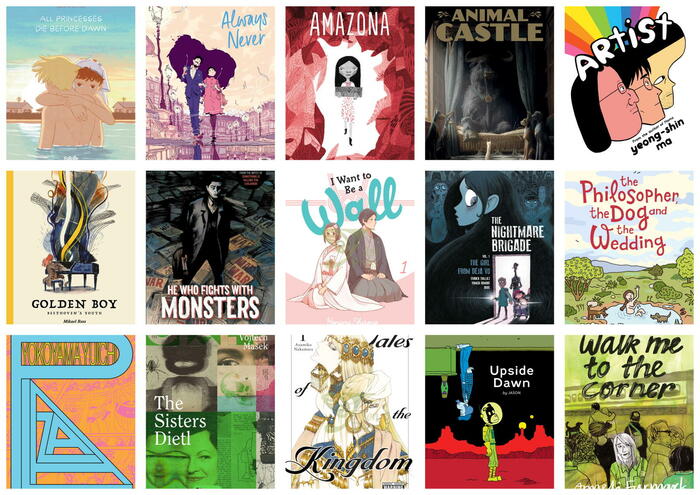 The following books made the Sophie Castille Awards shortlist:
• All Princesses Die before Dawn, original work by Quentin Zuttion, translated by M.B. Valente, published in English by Europe Comics
• Always Never, original work by Jordi Lafebre, translated by Montana Kane, published in English by Dark Horse Comics
• Amazona, original work by Canizales, translated by Sofía Huitrón Martínez, published in English by Graphic Universe
• Animal Castle, original work by Xavier Dorison, translated by Ivanka Hahnenberger, published in English by Ablaze
• Artist, original work by Yeong-shin Ma, translated by Janet Hong, published in English by Drawn and Quarterly
• Golden Boy, original work by Mikael Ross, translated by Nika Knight, published in English by Fantagraphics
• He Who Fights with Monsters, original work by Francesco Artibani , translated by Micol Beltramini, published in English by Ablaze
• I Want to Be a Wall, original work by Honami Shirono, translated by Emma Schumacker, published in English by Yen Press
• The Nightmare Brigade, original work by Franck Thillez, translated by Joe Johnson, published in English by NBM/Papercutz
• PLAZA, original work by Yokoyama Yuichi, translated by Ryan Holmberg, published in English by Living the Line
• Tales of the Kingdom, original work by Asumiko Nakamura, translated by Lisa Coffman, published in English by Yen Press
• The Philosopher, The Dog and the Wedding, original work by Barbara Stok, translated by Michele Hutchison, published in English by SelfMadeHero
• The Sisters Dietl, original work by Vojtěch Mašek, translated by Julia and Peter Sherwood, published in English by Centrala
• Upside Dawn, original work by Jason, translated by Jason, published in English by Fantagraphics
• Walk me to the Corner, original work by Anneli Furmark, translated by Hanna Stromberg, published in English by Drawn and Quarterly
• For more information about the Sophie Castille Awards for Comics in Translation, visit this page of the LICAF website or sophie-castille-awards.org