San Diego Comic-Con has announced the nominees for the Will Eisner Comic Industry Awards 2022 - and we are delighted that My Only Child, by Ning WANG with art by Ni Shaoru, Wu Yao, Xu Ziran​ and Qin Chang, edited by Wang Saili, translated by Emma Massara, published by us, the Lakes International Comic Art Festival in partnership with Fanfare Presents, is among them, in the category, "Best Anthology".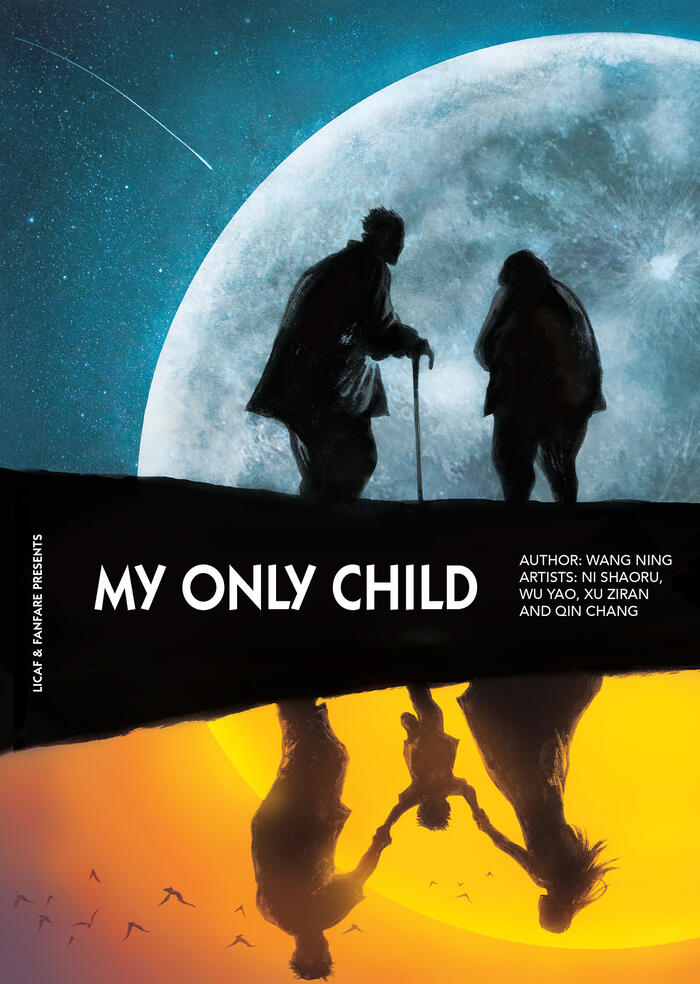 "I am beyond words of joy, and this is the first time I am close to the Eisner Award," commented Ning WANG, also known as WANG Ning, scriptwriter at Beijing Total Vision Culture Spreads CO., Ltd. "It encouragement, and gives me the confidence to create more graphic novels."
"I know how personal the stories in this anthology are to Wang Ning, so I am delighted that his first venture in English has received this accolade from the Eisner Awards 2022 judges," commented co-publisher Stephen Robson at Fanfare of their nomination for My Only Child, a powerful reflection on China's now abandoned one child policy that was in place for decades. "All our digits are firmly crossed!"
My Only Child is an anthology of four graphic short stories about the personal, familial and social impact of China's One-Child Policy. Chinese author, editor, agent and promoter WANG Ning, established the Beijing Total Vision Culture Spreads in 2004, and was the earliest comic book agent in China to cooperate with European and American publishing companies. He has exported more than 170 original Chinese comics copyrights from more than 90 Chinese authors to European and American countries. You can read an interview with him here, conducted by Paul Gravett.
Our congratulations, too, to one of our patrons, Sean Phillips, on his nomination for his work on Destroy All Monsters, by previous Festival guest Ed Brubaker, and to his son, Jacob Phillips, who also received a nomination for his various work as a comics colourist.
Publisher SelfMadeHero, a Festival partner and exhibitor, has also received nominations for two titles, Orwell, by Pierre Christin and Sébastien Verdier, translated by Edward Gauvin, and The Ragged Trousered Philanthropists, by Robert Tressell, adapted by Sophie and Scarlett Rickard, in the category "Best Adaptation from Another Medium".
Named for acclaimed comics creator Will Eisner, the awards are celebrating their 34th year of bringing attention to and highlighting the best publications and creators in comics and graphic novels. The 2022 Eisner Awards judging panel consists of comics writer/editor Barbara Randall Kesel, author/art historian Kim Munson, writer/editor/journalist Rik Offenberger, librarian Jameson Rohrer, comics journalist/historian Jessica Tseang, and retailer Aaron Trites.
Voting for the awards is being held online using a two-step process. The first step is for prospective voters to apply at https://form.jotform.com/221146151922144. After filling out the form, eligible voters will be invited to go to the ballot and cast their votes. Those who previously registered will automatically be invited to fill out the new ballot. All professionals in the comic book industry are eligible to vote. The deadline for voting is 8th June 2022. New voters must have registered by 1st June 2022 in order to be invited to the ballot. Questions about the voting process should be sent to the Eisner Awards administrator, Jackie Estrada at jackie@comic-con.org
The Eisner Award trophies will be presented in a gala awards ceremony to be held during Comic-Con on the evening of 22nd July 2022.
• The full ist of nominees is here on the San Diego Comic-Con web site | Read the announcement in full here