Stephen L. Holland, fervent comics advocate, journalist and creator and curator of Page 45, a 26-year-old independent comic shop which has won awards both inside and outside this industry for its championing of diversity, has begun his work as UK Comics Laureate, picking up the baton from Hannah Berry.
The Comics Laureate is an ambassadorial and educational role for the comics medium and aims to raise awareness of the impact comics can have in terms of increasing literacy and creativity.
Working closely with the Lakes International Comics Art Festival, supported by Lancaster University, the Comics Laureate champions the role of comics in improving literacy through a programme of educational visits, workshop events, guest appearances and conferences. A key focus of the role is working to increase the acceptance of comics as a creative art form in schools, libraries and throughout the education system.
Stephen began his unpaid role as Comics Laureate last month with an in-depth interview for Nottingham UNESCO City of Literature then with his first of many school visits, to the proudly multicultural Abraham Moss School in Manchester. There he spent the day talking to four classes of Year Nine pupils about formats, genres and styles of comics. During the talks, Stephen explored the history and diversity of the medium, sharing favourite titles and encouraging students to create their own.
To this end, Stephen's opening gambit was a passionate exploration of Charlot Kristensen's debut graphic novel What We Don't Talk About  from Avery Hill, which had sold out of its first print run during the height of Black Lives Matter within a single month. Its vivid colours and relatable content concerning racism within the home immediately struck a vocalised chord with the 13-year-old students and ignited their interest. Asked whether any of them had imagined that comics covered such subject matters, there was a startled, excited, resounding "No!" from every corner of the room.
"I thought it was vitally important," Stephen observed afterwards, "that the second image on the screen after the graphic novel's cover, before we launched into the work properly, was a photo of Kristensen herself. That way the students – who were almost all from a Black, Asian and Minority Ethnic background – could see, right in front of them a young Black comics creator who was not only highly accomplished but a proven commercial success."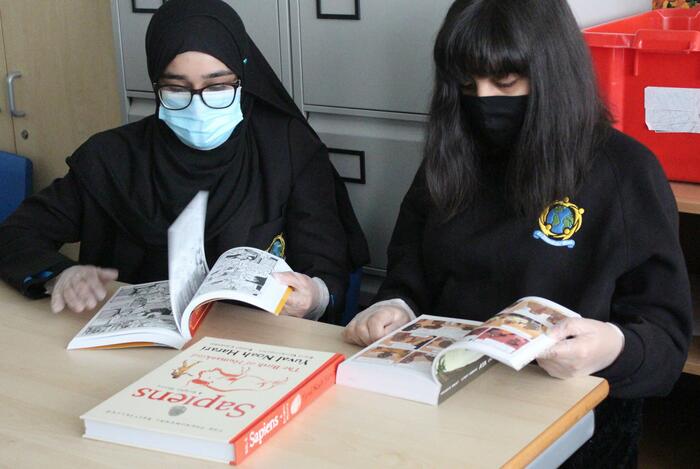 As well as performing in front of a Power Point presentation created by the Lakes Festival's Carole Tait, Stephen took with him a suitcase jammed full of graphic novels which he photographed for Twitter. "When packing your suitcase," he quipped, "forget clothes and toiletries, concentrate on graphic novels.
"When teaching comics," he added later, "there is no substitute for students seeing physical artefacts in front of them. Full stop. Hence a Very Heavy Suitcase!"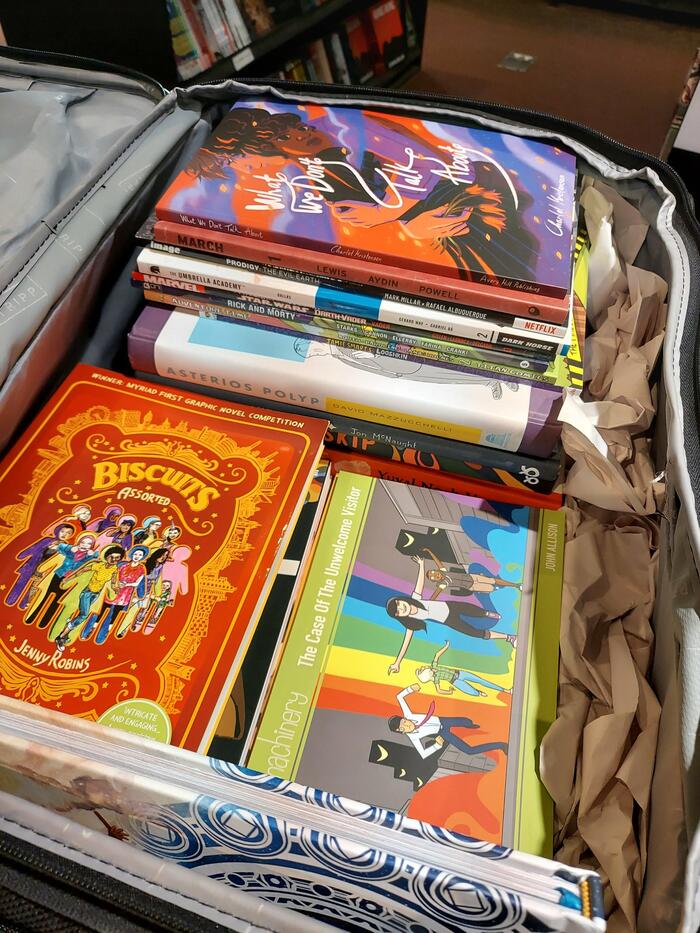 Despite years promoting comics in many different arenas including schools, the prospect of presenting them in a classroom was still a little daunting, "You know when you've agreed to do something you really want to do, you know you can do it, and you've been waiting so long for it to happen?" he reflected. "The day before, it's still terrifying, right?"
24 hours later, he returned to Twitter: "It was the Best Day Ever! Four thrilling full-on interactive teaching sessions and a Q&A, all filmed! My thanks to everyone at Abraham Moss (students, teachers and the film makers), and the team at the Lakes Festival and Little LICAF."
Reflecting back on the day, Stephen said, "I could not have hoped for a better start and feel now that I've finally arrived as Comics Laureate... that I've delivered in the way I do best, showing off the true majesty and diversity of comics and graphic novels – their nature, mechanics and origins – live to an audience that was astonished. Teachers kept coming back to sit in on the sessions, saying they learned loads and were thinking up ways of incorporated comics into their teaching. And the students were phenomenally sharp, engaged, fun and witty, even though over half were fasting during Ramadan so that their energy levels were all over the place. I've seldom felt more welcomed in my life and I'm so enormously grateful to Abraham Moss's Mrs. Rowena Singleton for organising so comprehensively such a slick, full-on day. I can't wait to do more, all across the country."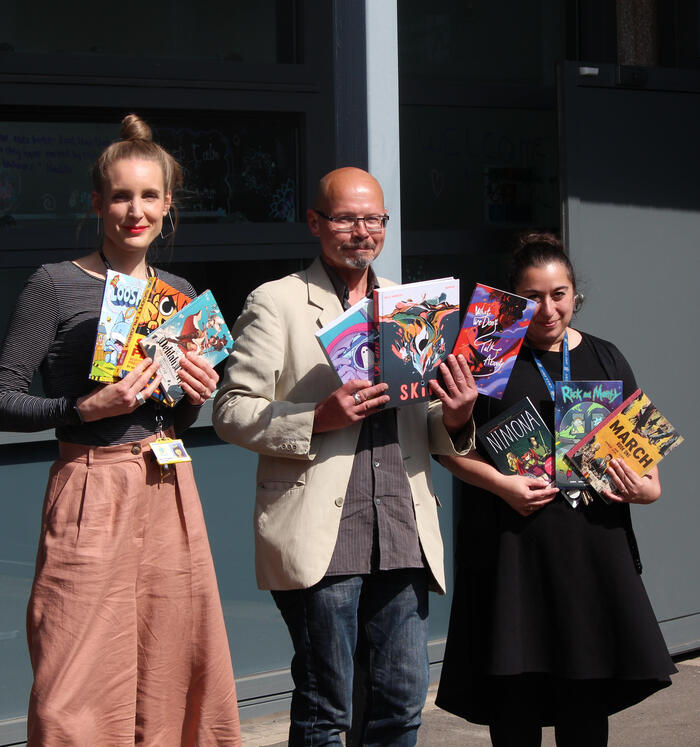 Stephen will be Guest Editor in June for the prestigious website LoveReading4Kids.
His next physical stop is at Manchester's Festival of Libraries, also this June.
"When teaching comics it is vital to separate the medium from the genre from the style from the format. Comics is a medium," he stresses, "encompassing every genre imaginable, created in styles so diverse that they're mind-melting, and as to the formats [REDACTED]. We'll be exploring them all."
• Read more about the worj of the Comics Laureate here on the LICAF web site