Ahead of its first guest announcement including both British and international guests, and the reveal of this year's Festival artwork by Dave McKean, the Lakes International Comic Art Festival has announced two new patrons have joined its team.
Award-winning Transmedia creator, producer, filmmaker, and storyteller Yomi Ayeni and comic creator Kate Charlesworth, author of the widely-acclaimed and award-nominated graphic memoir and history of LGBT comics, Sensible Footwear, are both longtime supporters of the Festival.
They join existing patrons, comic artist Charlie Adlard, incoming Comics Laureate Stephen L. Holland, comic artist Sean Phillips, cartoonist Zoom Rockman and comic writer and artist Bryan Talbot and comic writer Mary Talbot, the latter integral to the founding of the project back in 2013.
Festival patrons provide valued advice and support to the Festival's organising team, alongside the Festival Board, whose line-up includes Lancaster University lecturer, marketing expert and councillor Helen Chaffey, artistic director Patric Gilchrist, academic and TV producer Peter Kessler (author of The Complete Guide to Asterix), barrister and president of Magdalen College at Oxford University Dinah Rose, librarian and literacy expert Gemma Sosonowsky, and comics academic Maheen Murtaza, who is also the programmer of LICAF's new anime festival which will now launch in 2021.
"I am humbled by this amazing opportunity," says Yomi Ayeni of his new role, a comic creator perhaps best known for the award-winning Clockwork Watch project, a retro-futurist story told across graphic novels, interactive theatre, online, and film. "It's an honour to join such an esteemed group."
"I was thrilled to be invited to join the fabulous band of LICAF patrons," says Kate Charlesworth. "What an honour!"As a kid I loved comics," she continues. "Dudley D Watkins, the Bash Street Kids, Giles, St Trinian's, Curt Swan's Superman, and the rest, seemingly hard-wired into my brain on first contact. A happy underpinning for an unplanned career of illustrating, cartooning, and comics.
"The Lakes hit the ground running in 2013, never failing to surprise with its breadth of content, invention and rollcall of guests. A wonderfully inclusive gathering of the clan – creators, publishers, booksellers – and readers. And new things to see and hear at every turn; new people to meet and learn from.
"Quite something for those of us who, basically, spend their lives in their room… Thank you, LICAF. I love it!"
"We're delighted to have Kate and Yomi join our existing patrons, who are vital to the Festival and its expanding year-round comic creator-focused projects," says Festival Director Julie Tait.
"All our patrons provide welcome input and advice on our advance planning, be it our October Festival program, international partnerships or new ways to nurture diverse young comics talent.
The Lakes International Comic Art Festival is currently preparing for its eagerly anticipated return to a physical event in Kendal over the weekend of 15th – 17th October, with an international guest line up planned.Award-winning artist Dave McKean is providing this year's Festival art, which will be revealed soon.
• Lakes International Comic Art Festival 2021: 15th – 17th October 2021
• Yomi Ayeni is online at yomster.com | Check out the Clockwork Watch project at clockworkwatch.org
• Kate Charlesworth is online at www.katecharlesworth.com
• For more about the LICAF Board visit comicartfestival.com/licaf-board
• For the latest news about Lakes International Comic Art Festival visit: www.comicartfestival.com | Facebook | Twitter | YouTube | Podcast| Tapas
• Check out LITTLE LICAF on the Festival web site | Instagram | Facebook | Twitter | Colouring Sheets
• The Virtual Comics Clock Tower is online at licafclocktower.com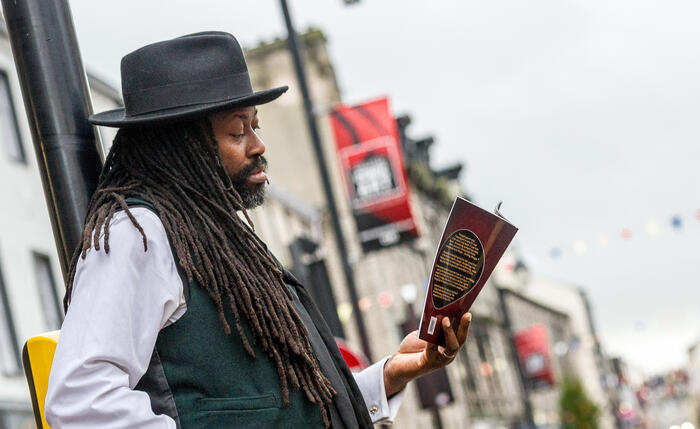 Yomi Ayeni is an award winning Transmedia creator, producer, filmmaker, and storyteller. He is best known for mapping stories to everyday life, as a way of creating experiences that nudge the audience closer to the heart of a narrative.
His current project – Clockwork Watch – is a retro-futurist story told across graphic novels, interactive theatre, online, and film. In 2002 he won the "Best Use of New Media" Award for Global E-Missions, a show he developed for ITV (UK).
Yomi worked as a Broadcast Journalist in the BBC newsroom, was an active part of the Burning Man Festival Media Team, and is a founding member of the European Burning Man Regional event, 'Nowhere' (Spain). He currently lectures Interactive Storytelling at the Royal College of Arts, lives in London, loves cooking, street art, travelling and making music.
• Yomi Ayeni is online at yomster.com | Check out the Clockwork Watch project at clockworkwatch.org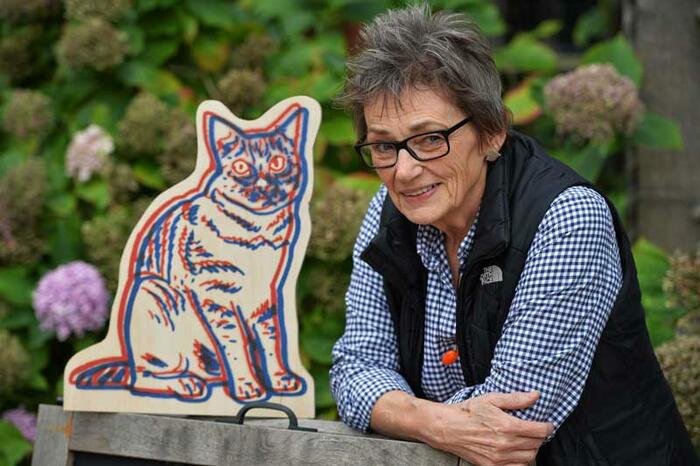 Kate Charlesworth is originally from Barnsley, South Yorkshire and lives and works in Leith, Edinburgh.
Starting out as a freelance illustrator in the 1970s, alongside the day job she worked in the 'golden age' of gay publishing – where she and other cartoonists accidentally documented LGBT+ history.
Cartoons and strips gradually became the day job too, and her work has appeared across mainstream media (including storyboard work for Hot Animation and Aardman); latterly her focus has been on comics and graphic novels.
Strips include Twice Nightly (Manchester Evening News, 1975), Life the Universe and (Almost) Everything (New Scientist, 1988 – 2001), Naughty Little Monkeys (The Pink Paper, 1992 – 1994), Millennium Basin (The Guardian 1994-1996) and Put a Ring On It (DIVA 2014).
Publications include All That – the Other Half of History, with Marsaili Cameron (Pandora 1986), The Cartoon History of Time, with John Gribbin (Cardinal 1996; Dover 2013), Nelson, edited by Woodrow Phoenix, Rob Davies (Blank Slate 2011), Sally Heathcote – Suffragette, with Mary & Bryan Talbot (Jonathan Cape 2014) and, most recently, Sensible Footwear – A Girl's Guide (Myriad Editions, 2019), which has been shortlisted for several awards. A French edition is scheduled for 2021.
• Kate Charlesworth is online at www.katecharlesworth.com
• For the latest news about Lakes International Comic Art Festival visit: www.comicartfestival.com | Facebook | Twitter | YouTube | Podcast| Tapas